Pearls and Sharks 23:07S 134:58W

Pacific Bliss
Colin Price
Fri 17 Jun 2011 07:33
Pearls and Sharks
The decision not to rush through the Pacific Islands has been a Eureka moment. We are now able to kick back, relax and stay in this, as originally perceived, god forsaken land. So we return to Rikitea with full tummies, a fridge full of fresh herbs and vegetables and with our heart tingling. We're still not in love with the place and we have a weather window to try and get through the reef to an island over the lagoon. Colin studies the map and prepares our trip in to a extremely shallow Coral strewn place. We're advised to call a Guy who live on a house boat there, ex pat French now pearl farmer, luckily we do as our planned path would have been impossible. Bertrand guids us in part way and then we have to anchor before Colin is dispatched with lead line to see if it's possible.

He returns, we then have lunch and mull over all the facts. Colin's bloody determined but this state is due to the fact that a 'know it all' German cruiser had told him it wasn't possible which is just a red rag. His comment of ' as long as we have 10cm between the bottom and the rudder seems a little fool hardy.... But we get through the chicain, at one point we have to eyeball our way through two coral heads a few meters to port and starboard with the wind blowing across the boat, and only 20cm to spare off the rudders! Once in we feel well and truly stuck and it's a fabulous place to take root.
Waves outside our secluded anchorage
Dramatic scene of Mangareva at night
Once inside the anchorage the 10cm spare has at least been doubled to 20cm which allows Colin to don his weight belt and walk around the boat with his head remaining above the water. It's the first and last time we expect to able to walk over to our neighbors. The water is clear and there are a few beautiful beaches 2 minutes off the back of the boat. We had planned to stay for a few days but time just fell into a very relaxed state and 9 days later we were forced to move on due to a weather warning, but we could have stayed.
Akamaru is a beautiful little island with a small village ashore. For the first few days I spent wondering how and why Bertrand and Lucy his Polynesian wife chose to live in a tiny home-made one roomed caravan boat. But by day five we all felt the option was a fine one.
no bugs, no people and beautiful peaceful place.
School went well and we all approached it positively, most unusual. The afternoons were spent chilling out on the beach combing for shells and the children building sand hotels and creating a restaurant serving delight like jelly fish soup, obviously got there mothers leanings towards culinary adventures!!!!

Beautiful French style church left over from Laval's days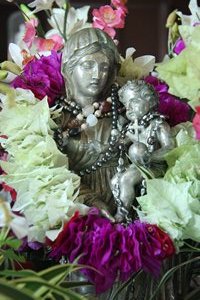 Akamaru anchorage from the hilltop You can see how we had to thread through the coral heads
Atop the hill
Colins major concern these days are his failures as a baker, so long wittering on about the upsetting results and where the point of blame can rest. It turns out after me spending a day making a complicated forcacia and the results being exactly the same as my 'throw it in a bowl without measures' bread, that our weevil free cheap flour from Panama is totally useless. Most celiac folk would pay handsomely for gluten free flour, but we don't have the problem and crumberly bread isn't going down well. Sorry, all a bit boring really, but that is what it's come to.
Not only did I waste a whole day making Italian bread that was no different from the other crumbly creations, but all Zinnia and my shell combing seems to have been a little pointless. Bertrand has been fantastic at helping us understand Pearls and the whole business. We visited his processing plant, more a extension of his land based humble house. Only there I discovered that the hours of combing could have been done in about 5 mins on land. There were Oyster shells carpeting the floor of the garden. Mother of Pearl everywhere. So now we have a boat full of 'Nacre' with the hope that Colins
pre-occupation of bread worries can be moved to carving of Mother of Pearl. Actually it's hermaphrodite pearl and most are Men, so its really 'Man of Pearl'.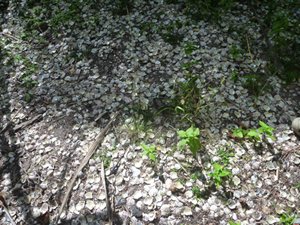 Carpet of oyster shells
An oystermans house
So lazy afternoons on the beach, getting jobs done on the boat and at last a positive feeling about education. The lazy afternoons aren't always that relaxing, we really are in Shark infested water now, each time we look over the surface of the water we see a shark fins here and there. These islands are wonderfully uninhabited with creepy crawlies, snakes etc but the buggers with the sharp teeth seem to have found there way here no probs. The water off our favorite beach defines 'crystal clear' it's the most sparkly water we have ever experienced. Z and I went out for a wee snorkel one day and 10 mins later we came across a black tip, three meters away, we stopped and I talked Z into not being too scared whilst we watched him elegantly glide by, open his mouth and make a small yellow and blue fish disappear. He continued on his journey and was out of sight second later, allowing us to make our speedy exit from the water. Only after taking about four strokes Z looks back
and starts wheezing through her snorkel 'he's coming back' ............. and we're now in his path. ahhhhhgh!?
Cosmo going native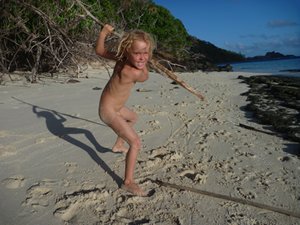 Kids same the world over play 'burying games'
The supply boat arriving is always an exciting event in cruising life (and one only comes every three weeks in Gambier), so Colin hitches a fast ride with our next door neighbors into Rikitea to collect fuel and place an order for veg that will be on sale in the shops the following day. It's dark by the time he gets back which is a bit of a worry, not really safe to be traveling over the coral at night, at least not for us novices. Bertrand and Lucy are superb and we've spent a wee while with them and learnt much about pearl farming. Lucy makes jewelry by collecting tiny shells from the Moto beaches then holing them and stringing them together each night. On one visit to there little house boat Bertrand hands over a fist full of pearls, all rather misshapen and not worth much to the average Gambian Pearl Farmer but it flipping fantastic it's not everyday this sort of thing happens.
Akamaru is the most lush beautiful small island on our first visit we met Stan and Diane, they were clearing an area and planting up with veg. Stan is a muscle bound fellow covered in the most incredible tattoos. I'm dispatched off by Diane to meet other locals but my lack of French makes me unable to communicate so I return pretty quickly to find a rather pale Colin eager to
move on. Muscular Stan, with the aid of aggressive arm movements, had spent the time explaining the islands history of Canabelism and how Children were a delicious and which bits are thought to be the tenderest . So off we whizz to the Dinghy kids in hand before buzzing back to the safety of the boat. We were invited back to their house on Wednesday but didn't feel in a hurry to get
back. Saturday we return to shore and find Diane and kids waiting for us, they'd been waiting for 4 days..opps. These guys are slightly unhinged but incredibly kind. We toured their incredibly beautiful and prodctive garden - all types of fruit and many veg. including the illusive vanilla, sadly out of season. Scary Stan shows Colin around to unearth a few hidden herbs which is not a great surprise given the look in his eyes. But we leave more ladden with fruit than ever before. And a promise of a play date later in the afternoon with their kids, and they are their parents children .
Zin with new friends
On the morning we are to leave Akamaru, Bertrand takes Colin and the kids to see the underwater life of pearls, it's beautiful and a little erie. Colin then comes back with a new delicacy of a shell fish called 7 fingers which is anything but beautiful it looks like a prop out of a horror movie, and it's still moving having been dead for 20 mins. However shaved thinly and doused with lemon and garlic it is really delicious. Later that day we wiggle our way through the coral heads which is far less tense than on the way in.
Hanging baskets of a pearl farm in the lagoon.
Bertrand cleaning a 7 finger shell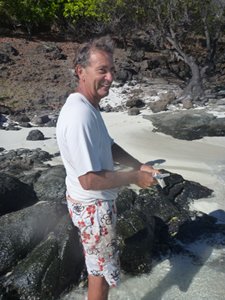 We pull into Rikitea for the night to be able to buy eggs and pick up our now rotting veg, then head to a moto (Coral island on teh lagoon fringe) 5 miles in the opposite direction. By 6pm that night Colin goes armed with torch and wading shoes in search of lobster and cecal (a local lobster with no claws or antenae) with our new French friends. Sadly his return at nine having a fruitless adventure. Thiery had been a little more successful so lunch on the beach the following day was a great treat of Lobster, Ceacal, fire roasted breadfruit, Salads, Sausson and French bread.
picnic with the French
Yummy breadfruit on the fire
After lunch Z, Colin and I go for a snorkel on the reef cut. It takes about 1 minute before spotting our first shark and then it appears we're surrounded, by white tips. All of us are heavy breathing and need to find our shark confidence a little. Z is obviously a bit concerned but once out all she can say is 'that was incredible' And it really is. Our Galapogos confidence seems to have left us along with the well paid guide! But we better get used to it, as we are now in shark infested water from here on up and the 15 we've been swimming with today is just small fry in comparison to what we should expect.
---