Perlas Islands 8:15.0N 79:05.9W

Pacific Bliss
Colin Price
Thu 27 Jan 2011 18:19
Perlas Islands (40nm South of Panama City)
Put two things together Exhaustion/Stress and a very low expectation a group of islands South of Panama City and we find a wonderful resting place, we find our Shangri-la.
We are at our most relaxed and happy. It may be due to the antics of the last month, it has been completely full-on and the weather since November has not suited a family living aboard, especially not with leaky windows.......
But the jobs are done, there is not a sniff of a rain cloud in the air and we are in fish rich Perlas, where the beaches are cleaned twice a day by the tides and the people are few, so many many under populated white deserted beaches. In fact we have never seen so many deserted beautiful beaches.
Day one: Z and Colin spot 2 Rays jumping just after hauling in our first catch in the Pacific (Bonito for Supper) During sunrise yoga on day two I spot my first Jumping Ray, it's all shaping up to be a pretty special place.
Quick Supper, Pan Fried Bonito with a Caper berry, Dill and Lime Butter sauce, Minted Potatoes and Fresh Brocolli (new discovery as kid loved Caper and Dill - bugger, now I'm sure I don't have enough Capers.) Fresh Passion fruit with Z new Passion spray whipped cream and a merigue on top (kids heaven)
Colins Christmas was a varietable feast of killing machines. Colin finally retrieved his new F.Off Spear gun from Customs, not helped by Macko's discription of contents of said package 'GUN' not fishing equipment as requested, derrrrrr.............. And the kids had enjoyed selecting every colour shape and size of fishig lure from a sports fish shop for Daddy's christmas presi, so we are fully loaded for a bonanza fish year in the Pacific. But we may have to wait
We start by having a beautifully chilled morning, feels like a peace and love camp, Yoga at sunrise, blue skys and coffee and gentle chatting. We then take a walk across the island, this place is lovely, I can only compare it to something alittle like Bosham Hoe, only really great topography and fabulous modern architecture. The small group of shops seem mostly to serve the local population but it's very good and considers the weekends by stocking the most comprehensive range of french champagne I have seen since I was last in Partriges on Sloane street, totally bizarre.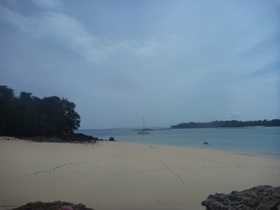 Sashimi, Rice with seaweed and toasted sesame, Pickled Ginger and crispy Cucumber
High tide and we have a fantantic time on the beach with Cosmo doing a great job of learning to boogie board, he is just lapping it up, the more the 'washing machine' effect the better. A true surf dude.
He also looks the part, with his sunbleached long hair that is now ever more mated through lack of brushing.
Day two and we muster the energy to clean the decks, Panama City smog has taken its toll on the boat and our once white boat now looks decidedly grey. What we throught would take about 2 hours took 4 and still wasn't truely clean. Dare I say it we need a really good downpour...............
PM and we move around the corner, sandwich ourselves between two unihabited islands Mojo Mojo (american survivor island) and another. Colin is dispatched off to play underwater guns with his new toy. We need fish. Alas by 4 pm fish isn't looking likely so sadly I have to resort to freezer stores.
Fillet of Pork Marinated in Soy, Ginger, Honey and Sesame Oil. Garlic Mash Potato, with lashings of grated Grenadan Nutmeg Wok Fried Ginger Cabbage.
King Julian from Madagascar2 is aboard
Early bed only to be woken by Colin at about 10pm. This tide stuff has got us and we in are already in 3 meters of water and still with 2 hours till low tide, there is quite alot of swell so if we don't move we're unlikely to have rudders by the end of the night. We finally opt for moving a little further up the inlet which leaves us far more exposed to swell but we've got enough water under us and it saves the hour long trip back to yesterdays anchorage. Quick glass of wine seems to null the pain of the bumpy swell.
We are having a completely dreamy time, started up School-lite with the kids which doesn't seem to be causing too much of a commotion and is easing our guilt. So the day goes a little like this. Up at 6ish with yoga, Pilates whilst greeting the sun. Coffee and chats whilst Colin cooks up a storm of Pancakes for the kids. We then retreat to one of the deserted beaches for the morning. ( Our washing load should be much reduced over the coming weeks) we only seem to get dressed for dinner each afternoon.
We all so chilled out that we are only having to make one meal aday which suits us all, and we can really enjoy making and eating, don't get me wrong, Meal times with our two peas is never particularly chilled out but just for now there don't seem to be any complaints about the food. Not surprisingly when it's Delicious Steak and Chips, Beetroot Salad and Green Salad with one of Colins wonderful french dressings. I've finally embraced baking and wonder why I've never enjoyed it before. Todays creation was a Sunflower seed baked in to a circle as requested by Z.
Zin and Cos enjoy whipped cream filled Passion fruit
Day 4 in the Perlas and we are getting better and better at chilling out. Yet still managing to get jobs done on the boat in readiness for our big voyage down to Ecuador. We set sail down to San Jose but get caught by San Pedro and a 1/2 mile long deserted beach. I really love these islands typography as they have height and wonderful rocky out crops and hidden coves, but best of all almost no other folk. On San Pedro we set off for a walk and find a few signs about the perlas, all in Spanish but we think we have discovered that they are areas of natural conservation. People like the Heriot Watt institue are involved with the place, research required..... but on this Island we discover there are plans underway for a very large development or to be more precise a Marina/ Hotel complex and areas marked out for private condos, It is all being done under the auspices of Eco Lodge, but there is not much eco in a marina. But this development is massive, it's also on a 5 year plan. This Year we are told it is Roads. Despite our reservations all the guys working on the project look particularly happy and the time going in to a extensive nursery seems incredible. Not sure about the team building notices though. Whilst on our recky we meet Juan who asks up if we would like some fruit, or at least we think that's what he is saying. So at midday we meet him at the Dinghy and whizz across the bay to his farm land.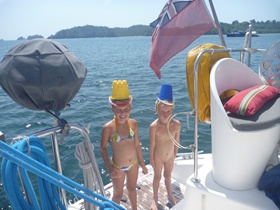 First he shimmies free style up a very tall coconut tree, he is hugely impressing Cosmo, Then 2 dozen coconuts are either dropped or lowered from the top. Juan slides down the tree to start hacking open the nuts to supply us with fresh coconut water all drank from the nut followed by scoops of the soft meat in the centre. These guy just don't starve and you feel it's mega healthy. Refreshments over and Juan disappears in to the rain forest to gather Papaya, Plantian and then gathers Colin and the kids to go find Oranges (super bitter) and limes the kids see there first Pinapples growing wild.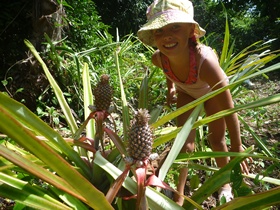 Todays late lunch is a simple cold Pork with Spicey Coucous. accompanied by a little wine.
This only lends itself to teach the kids the joys of massage, Zinnia is particularly good at it, but when Cosmo takes up the given position it all decends in to Mass Hilarity, as I turn into a bit of dough.
Day 6 after another delicious morning, today we discover the delights of smoothy making. It is remarkable because until now we have always thought Papaya tastes and smells rather like vomit, but not so after today, our 11o'clock post school treat is a cleansing Papaya, Orange Ginger and Passion fruit blend and it's delicious it energises us enough to pull up the anchor and head around to check out the village on Pedro Gonzalis; We anchor next to a comercial fishing boat and ask them if we can buy fish on our way back from the village, doesn't seem to be a problem. then head for the beach where the kids are playing jelly fish throughing, bit like snow balls but with jellies, think we can assume these things are benign. We are met by Francese who helps us with the dinghy along with some rather lovely local
kids. We give Frances some plywood we need to get rid of and for this he is persistant that he most get us something in return. 1/2hr later he's back with a bunch of bananas 3 papaya and a bag of coriander. This is such a friendly place we sit in the square out side a tienda with the its owner and colin chews the cud about the new development other islands and the local sport. we are surrounded by screeching fighting cocks all tethered to individual breeze blocks so we kind of had a clue.
Back to the fishermen who wanted nothing for our three bonito, but much to the kids and our distress they had a huge turtle, lying upside down and flayling his legs about, after a little persistant requests about how much for the turtle, but this was not for negociation it was there lunch. What can you do?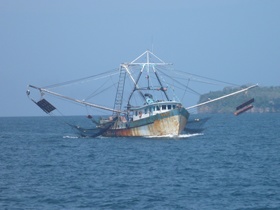 We say good by to Pedro Gonzarlis and head up to our last Island in the chain, . This Island is huge and amazingly it's privately owned, but the owner tolerated us mear mortils useing the beaches if respectful. We are Moored at an enormous bay accompanied by only 2 other boats, a sailing boat a long way away and then a mega Sport fishing boat, about 80something feet long. This is the style of boat favoured by alot of Panamanian Rich so we not surprised to see it. Only this one is a whopper and it's also mid week so strange to see it this far out. But we spend our evening working it all out and retire to bed well fed and watered.
Bonito baked with Bitter Orange and Garlic, Pan Fried Potaoes with Fennel, Mixed Salad.
Flex and Pumpkin Seed Beer Bread is todays baking triumph.
We are eating like kings, But nothing prepares us for the treats of the day ahead. For once we have to get on with a job we have been dreading, it's just a necessary evil to sort out our leaky windows before setting sail to Ecuador, and tomorrow it the day. After most of the morning digging out the sikaflex we have to start the really stressy job of applying sticky and gooey stuff a very restricted area. and we are virgins with Sika flex. After a stressful afternoon, we realise we are not ready to be fixing windows on superyacht......
We retire to the mile long beach and find some surf for us but most of all Cosmo. I'm feeling so fit and stronge I manage my first Cartwheel in about 10 years, about 2 years ago I had attempted this and ended up having weeks of physio as a consiquence but today I can do it and do it again, Life is good. From the beach we watch our Mega Stink pot neighbour return to it's spot. But before it drops the anchor we watch it circle our boat, bloody supers think they own the place. Later as we approach our boat we are beckoned over to our neibours, We are fully expecting to be asked to move, as they don't like the view of the poor relatives. How wrong can you be, as we come along side we are offered some tuna, a 40lb Yellow Fin Tuna to be exact.................................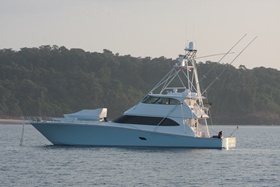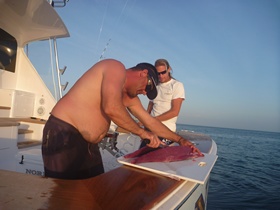 Tuna being dealt with by a pro
Cos and Zin in the chair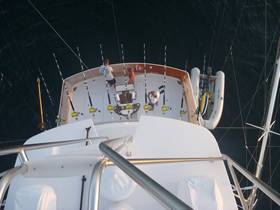 Check out all the rods
Sashimi for Tea.....
PB from the flying bridge
Plus Z gets to have her first much desired tour of a mega Yacht. We love
them.......
---