Apataki Carenage 15:33.429S 146:14.503W

Pacific Bliss
Colin Price
Sat 26 Nov 2011 17:31
Apataki Carenage

It will be nice to meet friends from our Gambier adventures, who are leaving there boat here to return to France for the 'ski season', what a marvellous life...... The yard is quiet, actually whilst sailing up to the moto we're starting to be convinced we've got it wrong. With only 4 other boats visible, all in various states of disrepair, we thought the idea of a yard in the Tuamaotos might just be one huge Polynesian joke. It should be a quick in-out job for us, a week at the most!
We've been dreading the haul-out, loads of jobs to do and yards are pretty dirty, hot, mosquito infested hell holes. Until now we've let (Ed. paid for!) someone else do the work, but following a normal pattern, having been at sea for over 2 years we need to opt for a more cost effective option of DIY. Apataki is relatively new yard, in fact we're only the 65th boat to be hauled. It's run by a Polynesian/Chinese family. Now that pearls are no longer economically viable Alfred Lau and family have been truely ingenious and built a yard that cruisers can only dream of.
Dick Wittington was disappointed to find the streets of London where not paved with gold, but here in a remote atoll in Polynisia the concrete ramp for hauling out the boats is studded with pearls inscribing the name of the yard - Apataki Carenage.
The Carenage from the water. Ramp and yard on the right and family buildings on the left.
Our first landfall at 'the carenage'
Wow -what a place.
I had been erring on the side of pesimism/realism about the haulout. Colin whilst outwardly telling us how wonderful it's going to be has also been secretly dreading it. So with some nervousness we reach this extremely remote moto ready to get our hands and everything else dirty. The nerve racking haul goes smoothly on a hydraulic trailer pulled by an old Ford 655 digger.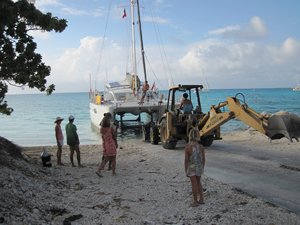 Our eyes have become slowly adjusted to Polynesian Architecture if they're not kit homes then it's just a simple wooden frame with painted ply nailed to it, the windows crude square holes with a shutter styled hinged from the top of the frame held open with a piece of 2x2 only hauled shut when the rain comes, which is darn well did far too frequently whilst we were on the hard.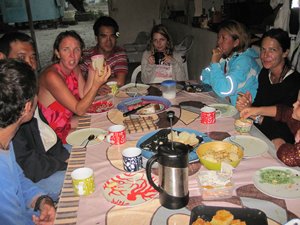 High tea on a rainy aftrernoon with cucumber sandwiches and Victoria sponge
Alfred at work and relaxing
Daph and Veries s/v Aquamante arrive after a harrowing time in the Marquesas, We've been expecting them to catch up for a year and a half, and with so many disarsterous boat stories and then being at the centre of the Murder on the Marquesas it's great to see them again and incredibly they're still smiling.
Vries tries kite surfing, and then mending kites
It is unexpected to find a yard in the Tuamotos is because the availablity of water is a problem in these remote places, rain water is usually the only option. Running a yard full of boats needing cleaned and rubbed down just wouldn't be able to survive on this catch. The Lau family have managed to extract water from deep underground with the aid of an enormous old, lister engine and generator. The the coral filters the salt out. Whilst we're not drinking it, its perfect for everything else.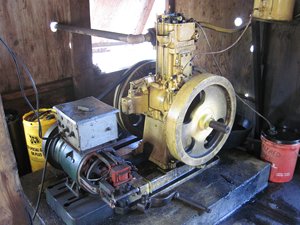 Lister engine, made in England about 60 years ago and still going strong
A quick dip at the end of the day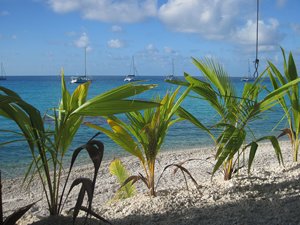 So it's now week number 3 or maybe 4 and we're still suspended in mid air, having discovered a failing propellor, thus we are waiting for a part from Volvo in the UK. Then horrible weather, we've not been able to do the job we originally came to do, which was to paint the bottom and polish the sides. However the 'silver lining' has meant other stuff has got done. The jobs I've been asking colin to have done whilst in places that have skilled and cheap labour have finally been done, by yours truely. As a result I feel a tremendous sence of satisfaction, pride and a love of 'power tools', I can safely say this trip really has changed me. We both feel a wonderful sense of achievment infact. DIY the boat, stuff niether of us could have imagined doing but after 2 years at sea or more importantly being here is wonderful Apataki Caranage. Colin not only has learnt to antifoul, polishing, fiberglassing,change rudder bearings but he's also learnt how to gel-coat and I've tackled all the loathsome varnish so now the wood work looks like new, and the rusty old fridge baskets are now gleaming white after a weeks work of sanding and acid baths. It's magic as we now will enjoy the ever increasing beauty and good order of the boat rather than waiting until we sell her one day..
Doing jobs we never meant to get to
The new hub once fitted looking sparkelly and new, a thing of beauty in Colins eye
Obviously we had no intention of being in the attol this weekend (week 6) less still being suspended. It has been a well anticipated weekend with fleets of french boats returning to celebrate Bithdays on mass, 3 folk and Pauline our patrons wife . There's been talk for weeks about the 3 day fete with expectations of lobster and other delicious fayre, Top of the bill is Pig cooked in a Tahitian oven (under the ground). But ,of course, said pig needs to be caught. Having listened to arrangements over the VHF about where and when the pig hunt would be conducted, by Saturday morning it seems time has run out. In almost Monty Python style, we watch Alfred armed with air rifle marching past the stern of our boat followed by a trail of folk and a wheel barrow. Two pops of the rifle later and Alfred return along his tracks now with an open gun. Moments later the trail of folk and a wheel barrow followed him back up to the house, the only difference being the barrow looked decidedly heavier, and sadly for us our waste disposal unit is no more. Not so much of a pig hunt more like pig-in-pen assasination.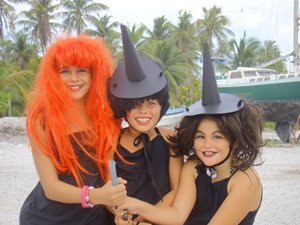 Halloween was a major practice for the birthday party
The party finally arrived, with much home made polynesian music and dancing, it was terribly hard work for Alfred and we felt the pressure he was under. I turned into full time pudding chef, which in it's self was tiring. But all went well and fun was had. But I think we were all relieved when life at the Caranage went back to a normal pace which lasted about a week until 'Suri' rocked up.
Here are some gneral shots of the long foretold birthday party for Pauline, Arnaud and three others, for which the fatted pig was killed.
Poisson Cru amongst many other goodies
Tables full of people
Lemon meringue pie

The children had a mixed time. With parent ignoring there flock the kids are mostly left to fend for themselves after school. Sadly for Cosmo there aren't any boys around. Sadly for Zinnia there is one particular French girl who demonstrate great hostility towards Z and we witness the most hideous example of bullying even in a remote attoll on a small Moto this sort of hideaous behaviour happens. Thankfully after 10 days the boat carrying the devil's spawn get popped back into the water and sails off, hopefully never to be seen again. I later discovered that the hideous 10yr old girls favorite film selection included 'Lolita', odd, but perhaps explains a little! Cosmo however after suffering many attacks of boredom and a bit of bullying too get given a life skill of fishing from grandpa, 'Papi'. He's hooked and every evening a 4pm he manages to catch the family supper. The bait is red hermit crabs which he never seems to have less than a bucket full, having been told all the secret places to catch them - thus proving that children can earn there keep at an early age. His other major experience came from Alfred and a very large ford digger. He got his first driving lesson, not a ride as we had expected but a driving lesson and other than a few dismantled piles of wood and a well bashed palm tree it was an incredible thing to allow an over energetic 6 year old loose with.
Going fishing for the afternoon with hermit crabs as bait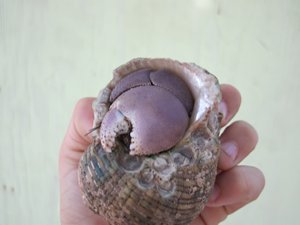 School !?!?!?
Pearls for the girls
Views around the Carenage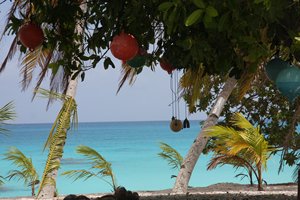 Alfred polishing oyster nache shells
Finally painting 'the blackness' as Cosmo as called it, he's been desparate to get his bottom into one of these suits since the moment Colin bought them.
and then....
Going back into the water

Major DIY jobs are being done on boats, Jupes build (swimming platforms), fridges built and sanding ('poncer' in French - je pense, tu pense, il pense) of everything. My first heart felt French sentence is formed, "Je deteste Le Ponseurs". Colin finds this all rather funny thinking about all these dudes poncing about all day.
Philip on his new 'jupe'
Arnaud and Coco
s/v Odesyee
By 5.30pm each day everyone has washed and showered. The wash is accomplished after a swim then a scrub down and hair wash on the haulout ramp, followed by another swim to rid yourself of the soap. Then off to the large bucket sitting under the boat to splash yourself down with the aid of an old ice cream box. It's very public and very basic but after 4 weeks it's de-rigeur. By 6pm everyone is marching up the road to have a well earned 'Apero' (Apperatif). This can sometime turn into dinner, but with all things 'Apataki Caranage', you just never know. We've stopped making plans now and just go with the flow.
Papi
Alfreds father, Assam or Papi as very one calls him is a wonderful source of pak choy, eggs, tomatoes and if your really lucky a cucumber. He is the most wonderful peaceful old fellow. He spends his days collecting coconuts in his two wheel chinese styled barrow, splitting them and laying them out to dry in his copra shed, watching and listening to the activities of this 70yr old was some how incredibly calming. Papi has that wonderful gentle ora around him, a man of God who has found complete peace with the world.
Assam preparing copra
The children returned to the boat at 5pm one evening insisting I come and see the biggest black tip you've ever seen. After some resistance I went along with them to find not a black tip but an enormous nurse Shark laying inches from the shore line outside Papi's hut, motionless. After an alarmed screach to Colin then he also rather alarmed calling Alfred we learn that dear old nursey nursey has been coming each day to the bottom of Papy's beach where he feeds her by hand for the past 9 years. The children got to do this. Remarkable to be hand feeding the big teethed beast, but she's so gentle she just sucks the fish from your hand never baring one of her pearlies. Whilst this process is in action the other children are able to stroke and pet her, incredible. But the boat kids just think it another normal event bit like stroking a dog.
I feel an immense sense of satisfaction about our time here firstly I've done things I never thought I could do, or is that, wanted to do! But cooking for the French started in gambier, and it was nerve racking now it just fantastic. With more than one french boat wanting to be our 'Ramora' and other folk at pains to find a British persons food delicious, I rather like that pain they feel.

Today should have been our departure from Apataki, and we're not expecting to return so leaving is totally long drawn out for Colin, just a bit more time chewing the cud with Alfred, I feel it could go on for years, if I don't drag him away 'toot sweet'.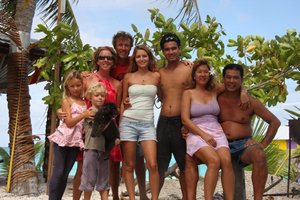 Family Lau
Spearfishing
With no shops and little else but eggs and a quickly deminishing store cupboard dinner needs to be found each night. So when Cosmo is unlucky with his rod the boys go off to deeper water. Cosmo was given his first spear fishing lesson and when a gaggle of chaps went hunting, it was cosmo who came back with the largest fish. He's still a little young to go lobstering but Colin and the other guys had yet another go, again no luck they really need to listen to the chap who knows. Alfreds son refused the offer of the trek over the reef, but went off the following night, returning with 10, it's all to do with falling tides and moon.
Cosmo's Best bits
Veron because she was nice and soft and cuddly
Kani the other dog because she never bites and was very cuddly
Driving the Big digger
Spear fishing under the rocks
The sailing catamaran 'Pacific Glisse', Arnaut made for Cosmo
Wizard Cosmo, the terror of the yard, on his new 'Beastbolt' flying broomstick
Colin's bests Bits
Alfred the Great
Sandrine (renamed sundream)and Philippe our new remoras from s/v'Orphee'
Arnout and Coco (our very young dudey friends) Very 'Nickel Chrome'
"Appero" (apperatif) at 6pm each evening, the early days where the best when everything was relaxed and very jolly with no pending parties to organise
Watching an 'Australian Bruce' recoil sharply when being kissed french/Polynesian style by Alfred
Living on a coral island
Collecting hermit crabs with the kids then catching the fish and eating them an hour later for supper
The extra ordinarily beautiful view from the back of the boat, given your in a boat yard.

Zinzan's best bits
Veron, the worlds most maluable poodle he'd do pretty much anything you wanted when you wanted it, play, cuddle, snooze on your lap, jump up and down. We're all keen to have one of them.
The girls from 'Orphee',Moana and Thais
Being on land
Playing Ghost
Adding a new tune to her Ipod 'cache cachee' by a Polynesian Rap Band
Visiting a super yacht for the first ever time it been 2 and a bit years on the wish list.
Steake frite
Octopus for super curtousy of Arnaud the octopus hunter. She even suggested marriage if it meant eating the 8 legged beast everyday....
Watching ladies and girls select pearls.

My best bits
More than one french boat offering to be Pacific Bliss's Ramora (ramora being the sucker fish that feeds off a sharks back)) and watching them painfully come to terms with the fact that the English can in fact cook.
Making yet more great friends 90% French, it's an unusual thing in the cruising world so it feel somehow like an achievement.
Watching Colin and Alfreds friendship blossom.
Seeing Cosmo's love of Fishing ignite and his bravery when it comes to Bernard hermit, Crabs
All of us improving our French language
Long lunches with Dalph and Vries
Stories from Eva and Tapio new friends from Finland.
When asking to her to marry him, he asked if she would sail round the world with him?
Eva said yes on both counts, but only once around the world. Its taken them 36 years to get this far. Tapio gets the prize for being a sly old dog.
DIY and Power tools.
Achieving so much, ourselves.
On the front of Horrible Histories book it reads, "I'm not Alfred the Great, I'm Alfred the blooming marvellous" well he's alive and living in Apataki Caranage.
---