Tahanea - Bright Moments

Pacific Bliss
Colin Price
Mon 15 Aug 2011 04:48
Tahanea - A touch of Paradise
Once we finally got settled and relatively protected from the wind that had arrived 12hrs too soon! It's blowing but by no means what we have become accoustomed to. But still it pretty bleak and I'm really starting to wonder if staying in Polynesia is such a good idea. If it wasn't for the Festival in December I might have started to mute ideas of a run to Australia.
There are another three boats spread out over about a two mile stretch. Colin goes to say 'hi' to our neighbours and discovers there is another family, with a baby and young boy within, our reach. Given we haven't seen another boat with children onboard for months this is a bit of an coup. The weathers still rather blowy and the sea's bumpy but we challenge our poor old 3.5hp engine and motor over to say 'hello' to s/v Galactic from Kodiac, Alaska. Only to discover they have an impending 5 year old birthday in five days time, the story just gets better and better.
These guys turn out to be complete stars, I've been craving female company for months now and despite meeting the wonderful French contingency in Gambier. Speaking with someone in your native tongue is on a whole different level of chat. Poor Alisa, I'm so excited she barely gets a word in from the moment we meet. And Cosmo complete fits in with Elias, it's one of his only real friends since leaving the UK. Z is obviously just about to hit nine, thus has turned into a little mummy. So baby Eric has 2 mothers for the duration. It's Serendipidy
Gorgeous colours under the boat
Zinnia's birthday is made all the more special. It had been her choice to come here for her birthday and what a great choice, her next stage of planning goes roughly like this:
Presents and home made Pain au Raisin in bed for breakfast
,
Fun, games, snacks on the beach orchestrated by Colin,
Then back to PB for family lunch of Steak Frite (last of the Panama steak),
Finally Family Galactic come over for cake and give Z the best presi of all, a snorkle with a Marine Biologist, both Mike and Alisa are practising marine biologists, so all our underwater world is about to open up.
Followed by a movie and sleeping outside on in the Salon table which turns in to a bed.
Birthday girl
Beach games for all
Where is the donkey to stick the tail in?
Birthday cake as a topical palm
Zin 'cashing in' her birthday present of a snorkeling trip with Alisa from s/v Galactic
finally, marshmallows on the fire and sleepover in the cockpit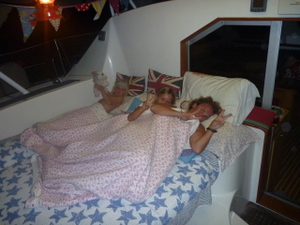 So, whilst we are rather envious of Z's snorkel adventure, her greatest pleasure, nee obsession, is Grease the movie, I think she can now sing 5 songs without reading the sing-along words. Her greatest concern is why 'girl next door' Sandy has made her hair all horrible and is wearing nasty clothes - and by god the questions are endless..............
We get to see the world's most endangered sandpiper a 'teetee' otherwise known as the Tahenea Sandpiper. There are only 200 breading pairs left so spotting one, thanks to Mike's ornithologist knowledge, it's pretty special. We've all developed a heightened hatred of rats as it's their evil introduction that will finally put an end to this rare ground breeding bird.
The very endangered Tahenea Sandpiper, or, TeeTee
. . . . and other fauna
. . . and a 'hat full of hermit crabs'
Having had evening beach fire with a bunch of boats some nights later it led to realising the level of the problem, a whole lot worse than we thought, the coconuts gethered and cut for water earlier in the day brings in a plague of rats all feasting on the discarded meat. Whilst the children do there very best at chasing them away with stick. resembling a scene from 'Lord of the flies' Alisa and my initial condoning of the behaviour turns to concern....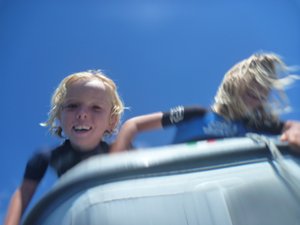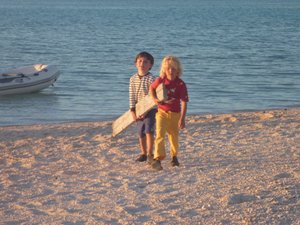 The Aussie/Danish boat s/v Gruffalo on there way from London to a new life in NZ introduce us to 'bread sticks, which has quickly made it's way into the family favourite 'Fire food'', we've adapted it a bit but it's basically dough flavoured with garlic and fennel wrapped around a good sized stick and then baked over a fire. Really worth having a go, as when the bread is pulled off the stick is has the perfect sized hole for a sausage which would be a totally exotic delicay for us.
Garlicy bread dough wrapped around sticks and cooked over a fire. Yum.
A few days after Z birthday and we head off with Galatic to try and snorkel the Eastern pass, Snorkeling passes into atoll lagoons is a big thing in the Tuamotos as it where the big fish hang out, Big Sharks, Big pelagic fish. Given the sea state and the wind it's just not possible this time and despite my reservations we're dropping the anchor on a coral mine field. First attempt fails, but Colin is gritting his teeth and as usual is determined. He spent a good time snorkeling and surveying the water. I know I'm a woose, but I not happy. He explains what I need to do and we try to execute it. Shouts from me about anchor being layed the wrong side of a coral head are ignored , dispite me being the eyes..... low and behold, and I am actually bitter a twisted, we 're not just wrapped around a head, we have caused an extremely large coral head to fall over the chain thus trapping us. It's humanly impossible to move the darn thing and diving to 15m can only be done a couple of times, so we have no other option than to us the brute force of the engines to get us out of trouble. but even this isn't easy. Colin is dispatched into the water to watch and instruct me which engine to thrust in to over drive. It just doesn't feel right on so many counts. But 40mins later we're free. I wish I could keep my mouth shut but this time I'm unable to hold back the words, 'told you so'...
Finally in a safe anchorage, and during the course of the day it turns into kid heaven. The 15 boats makes it feel like a metropolise but 7 english speaking children is unheard of. The beaches down the northern end are like most in the Tuamotae, nasty,dead dangerous coral. The children are incredible. as now they just fadapt there play, making coral sculputor or coral houses, living on board does seem to develop a great imagination.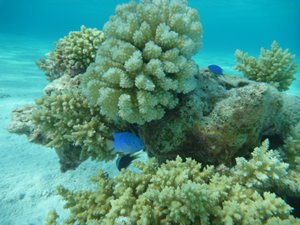 When we get up the following morning Z spots a large fish under the boat, we initially expect it to be a shark, but ohhh no it a super sized 'Napoleon Wrasse' so, to start the day we swim with this giant with the most incredible markings, then on to a mornings snorkelling the Western Pass, my best snorkel ever and dispite the large sharks looming,seeing my first pair of 'Moorish Idols' is totally thrilling, along with other wonders of the sea.
Bump head (Napoleon Wrasse) pictured from the back steps of the boat
But the pull of the South East of the island is too much and by lunch time we're heading back to our favourite spot, Galactic came here 3 year ago when they first crossed the Pacific and like us they rate this as about the most wonderful place. Birthday number two on remote unihabited motto, Elias turns 5. We gather together a host of reading books and Z and I make a 'Sock monkey', now a tradition for all those very special folk.
Elias's birthday ran in a familiar fashion.
It's the sadest day so far in our magical island when we have to wave a farwell to Galactic but it's not 'good bye' but 'a'bien tot'. They have however left us with a bag of yeast, which puts and end to 6 months of bread frustrations, it was all about the yeast... We're now quickly turning into dough balls.
Finally a bread that works
Then we relax into long days of shell seeking. snorkeling, night fires on the beach, book club for Z and me which she loves and is really helping her relucance to reading, I'm loving learning to knit have mastered Cable and Moss in the past week. We hold Tahanea's first ever sailing week, au familile, senior and junior oppy sailing and windsurfing. Cosmo inspired us all to start making shell jewellery. All this is helped by the fact we are on School holidays, so it's relaxed from dawn to dusk.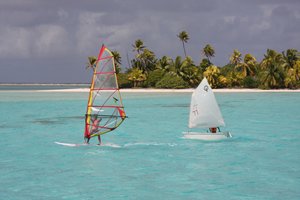 . . . Junior week, Tuamoto style
Shell and coconut jewelery
Finally get to see the illusive 'Green Flash' , twice. It's taken 2years and a heck of a lot of sundowners so we're hopping up and down with excitement. We also manage to do, and enjoy doing jobs on boat it 's just such a magical place where we have all finally found ourself and a totally magical pace of life. If only it could always be like this then we might, just might come home relaxed, suntanned hippies but alias this place is supper special, the best thing of all is we appreaciate it and that just might not have happened a year ago.
Sizziling snips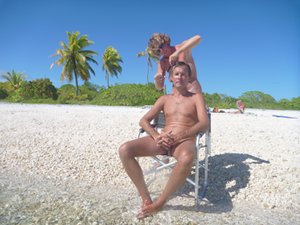 Nearly three weeks on an atoll and not much clothes washing to be done
Sept Droits
(seven fingers)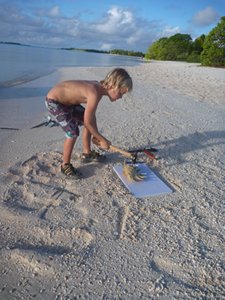 and Cosmo bashing the living day-lights out of them in order for us to eat
Baking bread sticks again leaning over the fire
Then, all too soon, it is time to tear ourselves away. Only made easy as we know we're able to come back. If not this year then definetly after Marquesas.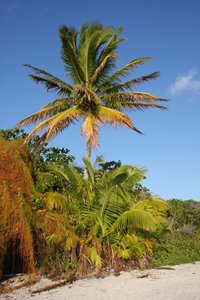 The day we leave it's another one of those extraordinary days when these's not a breath of wind and seeing through the crystal clear water makes everything look about half a metre deep - which is a little unsettling. We leave thinking coral spotting due to the conditions will be a breeze, Ill informed, 'again' and always nievely ering on the side of half full we make the journey down to the Eastern pass to try once again to snorkle on the incoming tide.
But no movement in the water means no early warning of those blasted coral heads, so in a state of hightened anxiety I'm hoisted up the mast again. Getting up close and personnal with one such head is quite an incredible thing to feast your eyes on as we drift around it watching the sharks and fish.
Grey Aramie Ray swims past the anchor and anchor buoy. Pictured from the boat in 3m of water.
Cosmo watching for coral heads as we go. Curiously it is harder to spot coral in a flat calm than when it is blowing hard. Every reflected cloud looks like a danger.
We stopped at a coral head in the lagoon (Pictures taken by Liz from up the mast)
As we approach the pass we see another boat doing the exact same thing. A large 54ft Aliminuim boat. With would you believe it British kids on board and fantastic parent who have just left Chilli after 5 year of living and running expeditions down to Antarctica. So nearly three weeks in Tahanea two fantastic families, a run of incredible experiences, things just can't get better. The pass snorkel is unbelievable, even Hamish on S/V Seal thinks it's his best ever, so it really is something else my excitement of seeing 'Moorish Idols is totally fulfilled by seeing the dozens of couples gliding around. We're swimming through clouds and clouds of fish.
I could bang on, but you get the gist.
Calm sunset
Anna from s/v Seal
We snorkel the pass twice and after a lovely lunch with Seal the grown ups opt for 'just a quick last dip' Only our trip is short lived when Colin spots 'two dark spots in the distance' The spots keep on getting large and by the time Hamish and Kate are about to board our dingy we realise we're looking at two breaching humpback whales, in the lagoon about a mile away. Being with Whale experts helps ,so seconds later 2 dingys and 2 families are racing towards two enormous whales. It's by far the most exzillerating thing we've ever done in a small bit of rubber.
Unbelievable!!
So Tahanea, just when we thought it couldn't get any better, did. So all is good with the world with more bright moments than we have had for a very long time.
and never complete without a 'Cosmina Show'. Colin and Liz have shrunk.
---