Samoa I - A week in Samoa. Well, six actually

Pacific Bliss
Colin Price
Tue 7 Aug 2012 23:39
Apia, Samoa (previously know as Western Samoa)
The passage from Puka-Puka was pretty comfy and steady under only jib, but what day was it? We had heard to watch out for the date line, then the Lonely Planet said we would still be on the same date as the Cook Islands, and then when we arrived, it was already the next day. Confusingly, only a year ago, Samoa decided to align itself with New Zealand and hopped over the date line into the next day. So, you can leave American Samoa, a mere 60 nm away in the morning of the 1st and arrive on the afternoon on the 2nd. How weird is that?
Apia marina. First marina we've stayed in for any length of time in our entire trip
Having had a wee bit of a melt down in PukaPuka I was delighted to arrive in Samoa. Desperate to find supplies in the confines of a shop and some medical assistance, being unable to move due to hideous pains in my lower back and pelvis and having just recovered from blood poisoning things had started to take there toll not only physically (read poor Colin and kids!)
We arrive first thing in the morning, which must be a first for us. Due to custom etc. we're boat bound until p.m. the 5 month long wait for the kids to have ice-cream is made ever more painful as we can see 'Ohh La La' the ice-cream parlour just 50m over the road from the boat. First trip for me is to hobble around the vegetable market, where Z and I return with a bounty of delicious things we've not eaten for months. Plus a local delicacy of seaweed – all green and bobbly like raisins, and very peppery.
Eating out was a priority and we tried the local Pinatis restaurant and the more upmarket Paddles
Pinatis restaurant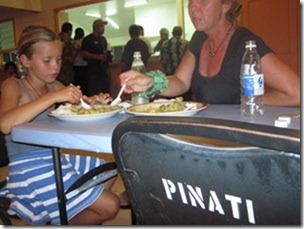 and up market at Paddles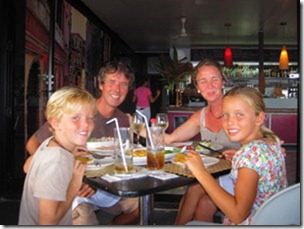 When you arrive in a new country at first you can feel a little paralysed by the energy it takes to find what you need, and for this reason it take nearly a week before I find my saviour in the form of a Japanese,' Jehovah's Witness' chiropractor - found through the lady who washes our smalls, incredible really.
We Cycled 10k and slid the sliding rocks, Cosmo was the braves of us all
After about a week in the city we were all starting to go a little stir-crazy. I'm really not very sure what we did in that first week, but Samoa at this point wasn't hitting the mark. So off we went on a land based adventure. Never keen to spend money on transport we opted to travel only by bus or the aid of our thumbs.
First bus, these buses are a work of art on the outside and the interior is all wood clad, very attractive. Having opted to get out of town with the bus we where lucky enough to get a long way south down the main island of Tuavli. The bus came to the end of it's run and we with much humming and huring decided to go where the boat waiting at the quay was heading, our poor children are being taught that an adventure really is an adventure and we really don't know where we're headed until we get there.
It worked out to be a very excellent 'happening'. We chugged along in the ramshackle marine fibre little boat for half an hour. Accompanied by 10 quiet non English speaking islanders to the little island of Manono-tai. Luckily we found a room for the night is a lovely little group of Fales, our host is a knowledgeable retired Kiwi gentleman. Ewan helps host the Palangi guests for the Chief (Matai) who has build this little group of rooms for traveling folk. It's almost impossible for a Westerner to buy land on lovely Samoa, which I personally like as it keeps Samoa Samoan.
Staying on Manono turns from one night into 2 which could oh so easily turned into 7. But what this little stay has taught us is a great deal about the very rich culture of Samoa. This and the eastern San Blas (recently officially renamed Kuna Yala) is the most culturally rich place we've stayed so far. Like all traditional cultures we have a great deal of respect, it has managed to forgo some of the breakdowns in society we now see in our consumer culture.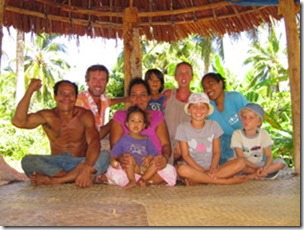 Half way round our stroll of Manono we leave the track to visit a small Fale in the trees. We meet a very humble family who instantly welcomed us with drinking coconuts, breadfruit in coconut cream and Papaya. We stayed for a while and learnt more about how the Samoan way (Fa'a Samoa) affects all levels of society. This family were on the bottom end of the social strata, and life must be very hard. He is not a Matai, his wife has only one leg, and there are kids everywhere. The father is just finishing a small living Fale about 5 x 3m the floor is volcanic stone cobbled together and then hand woven sleeping mat covering it to give a near to level flooring , everything is hand and home-made, the kitchen is a little open sided structure covered with woven palm roofing. The plantation is in the early stages of being cleared and planted with taro and manyoc, breadfruit banana along with fish is their only food stuff given the health of the family it's pretty healthy stuff . They have little else, but what they do have they seem to want to share with us.
Paddling shortly before flipping the canoe
Goodbye to Ewan and Manono for a while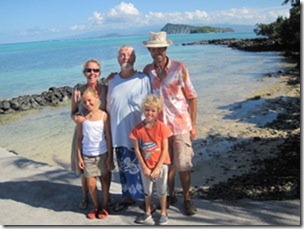 Whilst we're at Manono can see another small high sided volcanic island next door, the island that no-one else gets to visit and whilst the island we're on now is about 50yrs behind the rest of Samoa Apollomo island is apparently about 150yrs. These are the things that increasingly draw us especially Colin who I now think has developed a bit of an obsession about treading the untrodden. We're lucky enough to pass the vetting test and are able to make plans to visit the volcano island. Colin also manages to broker a deal to return to this lovely little island only on our boat a first for the island.
Buses run almost all around the main island, Upulu, but guess what we're going to try and reach the other side of the island by the aid of our thumbs on the stretch of road that isn't serviced and is seldom travelled. First lift typically generous Samoan man who is concerned about our choice of route planning but still goes out of his way to deliver us as far as possible. On account of the ladies faces who see us sitting on the edge of the unfinished road they too think it's an unachievable travel direction. This road was partially built pretty recently on account of the 'Survivor' series. Stories are rife that the whole programme is a scam, given the amount of secrecy documents signed and the difference in weight loss from the original contestant to those of today, however it seems local restaurants and resort hotels benefit greatly. Hey and who's complaining the western audiences are happy to watch rubbish and the money dropped on this island during the filming is immense. Survivor road for us is totally passable and the nice couple of Kiwi grannies on Holiday who eventually find us stranded are a delight. However, it's getting on in time and we don't want to leave ourselves stranded in the mangrove so we fly through this rather interesting part of the main island.
And the kids find time to read a bit!
Back on the bus route but it's after 1pm so unlikely to find a bus ride. after a bit of a hike we eventually get a lift on the back of the school Truck, no safety belts on this open goods truck. We're discovering the incredible kind nature of the Samoan Culture. Each lift we're given and each family we meet we are always asked if we would like to stay with them and save any accommodation costs. Not only that it's hugely unlikely that you have to wait for a lift. In the entire 2 weeks we hitched around Samoa possible only 8 Cars passed us without stopping, half of those where Palangi and the other always acknowledged us with a flash of lights indicating they where not traveling far. Samoan psycie is they could never leave someone in need so for the humble hitch hiking family this is a magic place to travel.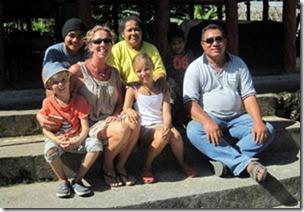 Our hiccup comes when we turn down an offer to stay with a the local chief in return for a long lift down to a resort hotel. Colin instantly gets in to a foul mood but given it's already 5pm we're a little stuck. This is when planning would save a lot of grief. And an evening staying in a expensive place, by our standards, leaves the children in raptures and Colin and I unable to speak to one another. It's time to beat a hasty retreat home and find a little space between us all.
Back on the road and yet more magic folk pick us up. A couple of brothers returning home from Aus. for a bit of family bonding and intake of Samoan fresh air. Like so many Samoans and other Pacific Islanders life and income are often lead in Aus. or NZ then once the children are through school and there part of remittance home is achieved then they too are able to return.
Next lift takes us across the 'cross island road' this is the first time I'm really in raptures about this island. From the top you can see both coasts of the island and the mountain air is fresh and cool. Of course our lift is great too, a bunch of guys who have fund raised through 'The Masons' to assist the area of the island most devastated by the Cyclone in 2009, where the whole side of the south end of the island was flattened. Incredibly there were weren't more deaths. The management of the relief fund has been highly commended by all we've spoken to. But these guys where hilarious great, on the first leg of our journey we where handed cookies and drinking coconuts then half an hour later we're on to beer. Bit of a pity really that we'd planned to get out at the Bahia Temple goodness knows what would have been on the menu next.
Keen to seen the Bahia Temple in all it's rather surreal calmness, We love the Place and the grounds
but now matter how you take the photo and then try to alter any colours, it's just impossible to make it look anything other than a great bit 70's architecture. We also like the inclusiveness of all the main religious world groups, just perhaps this might be the way to go in terms of religion.
Then a flying trip into the market to consume the local deliciousies of young Taro leaves cooked with Coconut cream in a Umu, accompanied with Ullu. kids unsure but despite looking like beatnik tourists clad with back packs we find a new addiction.
Back home to Bliss and we finally find time to visit the much anticipated Louis Stevenson Museum. With so much expectation one might expect it to be rather disappointing, but no it's magic, even the children and enthralled by our fabulous guide. In lots of way we're travelled a similar road/sea to this guy, Colin even lived in Louis basement whilst in his first year at University and now we too are considering a traditional life on this far away traditional island. It's great to know that not only was he a wonderful story teller but he was much loved by the people of Samoa in a time when the British governors and then the Germans treaded folk rather brutally, he at least supported local human rights.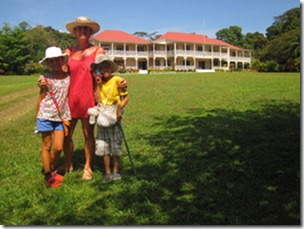 The stunning RLS Plantation house
A steep walk up the hill to RLS's grave
And in town the policemen where traditional lavalava, skirts, as a part of their uniform
Marina kids, Cosmo and Miles, having fun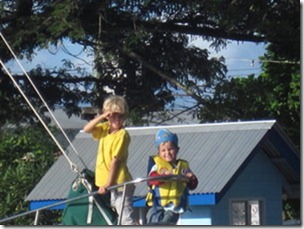 ---