Ha'apai to be here

Pacific Bliss
Colin Price
Sat 3 Nov 2012 07:36
Kingdom of Tonga – Part II
Ha'apai Group – Pangai harbour
Great to be away from the crowd, arriving 50nm South of Vava'u in the Ha'apai group of islands late in the afternoon quickly puts a smile back on Colin's face. We find a beautiful island with a wonderful coral garden lying under our hull a rather splendid first nights stay. Pangai, is the main town, in as much there is a plethora of churches and the associated schools, a few grocery shops, all Chinese run and all selling pretty much the same stuff. Rather alarmingly all the shops sell vast barrels of pure white animal fat, not hugely surprising the health of the nation is suffering from obesity and like all other Polynesian islands widespread diabetes. Best of all there's a lovely little, locally run, fresh produce market which is less expensive than the one in Neiafu. Rumour has it, there is a pricing control scheme run by a Palangi on all produce sold in Neiafu, given the exorbitant prices and lack of haggling done it seems rather likely as those prices seems unsustainable, for the local economy.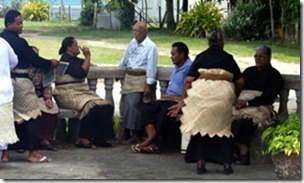 See the woven mats the people, men and women, wear for all occasions and even going to work.
Fair to say we immediately warm to Ha'apai, friends in Samoa have asked us to go and say hello to a Catholic nun in Pangai, which we quickly do. Sister Cina is a force to be reckoned, still feisty after years of having sworn her vows to the Catholic church. She's a close relative to the now Queen and royal family in Tonga, but having refused a number of suitors in her day she opted for God, not sure she could have ever played second fiddle in this male orientated society. This lovely lady couldn't wait to get on board out yacht and boy she loved it. The kids loved her too and continued to repeat her name for months only dropping the sister and replacing it with the more affectionate locally tradition of 'Mama'. Boy did this bird have a catalogue of naughty stories about her youth. So, we achieved a first for PB and had a nun for tea.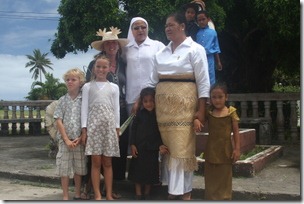 A few days later we're invited to a first communion of a set of 13yr old twin boys, it's also a church fundraiser picnic. We arrive to be seated at the only table. This enormous table is groaning under the wait of food. Whole, snouts and tail included, glistening roasted pigs and acres of cellophane covered bowls of fish, chicken chop suey, pots of Ika Mata, sweet Potato and taro among a mountain of other food stuff. Much to the children's delight there are huge packets of crisps, baskets of fruit and candy bars, not normally seen on the good ship Bliss. But for the first time ever since coming to remote atolls there's wine on the table being pour to those revered guest at the table. so we, the father, nuns and local dignitary are being very well looked after.
Then the music is cranked up and here's where the fundraising begins. First to dance are a merry lot of large bottomed Ladies all in there finest. When I say finest, I mean finest woven mats tied around there waists, this is Tongan traditional dress and unlike most places we've been, to date, it is still considered dignified and proper in society to maintain this dress code. It's rather wonderful to see the honour and respect given over to the woven ta'ovala. The other thing that's remarkable is most folk are donned out in black garment, this is largely because like Victorian Britain everyone appears to be in mourning for one relative or another, it's a big thing here, even a healthy proportion of the kids are clad in dark togs. But none of this stops the fun. A gender confused 'father' Christmas arrived early on to distribute yet more sweets and then once this job is done a chase ensues by a rather over excited group of ladies who manage to floor and then disrobe Mrs Christmas. It's all done in great high spirits and then the dancing begins in earnest. When a track comes on that you like, you're encouraged to put yourself up on the dance area and if some on-lookers likes the way your dancing then they in turn will grace you with some money by thrusting notes down your front, back or simply tucked into you armpit. Needless to say Colin and Zinnia are quiet a hit. Traditionally this process is only marginally more subtle, when a girls clad in tappa and shimmering with oiled skin is up dancing for the congregation the exposed oiled skin is a very sticky place for folk to secure their notes thus displaying to all, the amount that's been donated. It's totally bizarre but everyone is having a complete hoot, the children, the mums and once the men have drunk enough hooch around the side of the priests back wall they too relax their guard and join in the nonsense. Z and Cosmo find buddies and before long even Z is up dancing with money being thrust down her top. Half way through the afternoon the lady who's been collecting the cash after each tune has managed to tot up and announce they've already reached 5000 Tala. pretty impressive, however can't see this catching on at Bosham church fete......
We decided for reasons of damage limitation it might be a rather a good time to leave once we observe a small accidental Japanese tourist wanders on to the dance area, in true Japanese style not in the least bit abashed about taking photographs of the event, and dressed as a caricature of himself complete with hat, cameraman's vest, and 2 cameras slung round his neck. This to the local ladies, only looked like 'good sport', having floored Mrs Christmas they where very quick to chase after the poor fellow, en-mass. Whilst it might not be hugely Christian is was hugely amusing, never before has Colin seen a Japanese person move so quickly, given the massive force and weight charging towards him who wouldn't.
Very unexpectedly much to everyones delight we discover that our magic buddies on s/v Seal are in Ha'apai. We spent time with these guys in the Tauamotos. Whilst we where calling another boat on the VHF for information they over heard us and called up. We instantly made plans to make our way to a remote motu to hook up with Angus, Kate, Helen and Anna, these guys have spent the past 18 months in NZ and now on there way up to Alaska via Japan. Our only issue is, we're been followed by 5 other boats and Seal are more anti social than us their secluded anchorage is soon over run by PB and her buddies. Luckily for us every one seems to get on with one another. All boat's of course in awe of the Seal vessel and her Crew.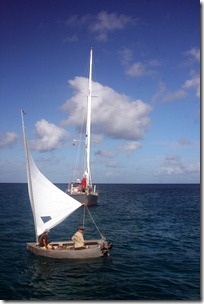 Colin and Hamish from s/v Seal going fishing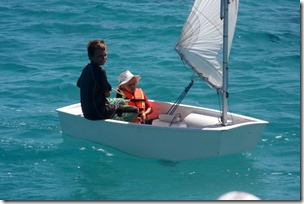 Kids day making jewellery and watching films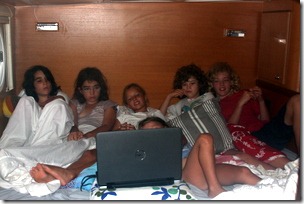 Cosmo catches a spanish mackerel trolling to Lofanga Island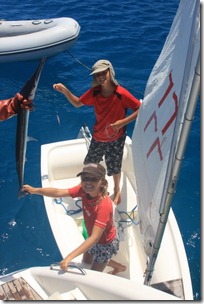 Zinnia and Charlie catch fish from the Opi
Tonga is the first time in over a year an a half we've really hang-out with Cruisers. The children are loving it firstly because English is the language primarily spoken, a first for them in nearly 2 years and everyday there's now a huge incentive to get school done and get to the beach.
Saylors birthday on the island of Lofanga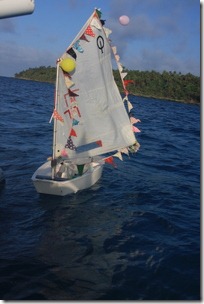 Where we had a treasure hunt for the little pirates with maps and tasks like coconut throwing and rope climbing. Great fun. Ended with cake on the beach in Uvalu later in the afternoon.
We weathered a nasty blow here one night in our little nook. Other boats didn't fare so well and it made us acutely aware that Ha'apai is a very exposed place with few holes to hide away in.
Back in Vava'u we had hit a enormous wall with school. It's never been easy and our children in particular are massively resistant to learning. It's an attitude that started back in the beginning and we've never been able to get a hold on it, over it or on top of it. So come nearly three years later the attitude we have to battle with each day has developed in to a job more akin with wading through very dark molasses. We are both at the end of our rope and decided with out another argument or any more pleading or shouting that school on PB is to stop. However it would be unfair to allow the children to do nothing during those normal hours of learning so the educational hours are swapped too boat cleaning hours. Like so many children in the undeveloped world learning is a privilege, they've both witnessed children unable to go to school and out working in the streets, so we're going to assist our children to become very good cleaners. This tactic seems to hit the nail on the head, only a little more extremely than we could imagined. For the next 4 hours the children are wailing in a state of high emotion, we apparently are "being illegal" and considering 2 and a half years of monstrous behaviour they're now desperate to learn. So they hatch a plan, they will both clean in the mornings and then squirrel themselves away after this to help each other learn......... We've vowed not to return to teaching until they've proved that they're desperate to learn. We'll wait and see.....................
Our time is wonderful in Ha'apai and to be honest I could stay here for a mighty long time. I do feel rather regretful not having spent more time with the lovely Tongan people in so many of the places we've been we feel we really understand each island and it's very wonderful local culture and national psyche. But despite this the weather's good, the company is convivial, the children are having a ball and the snorkelling is sublime. The best I've seen to date.
Halloween night
Lucas from s/v Santa Paz skinning fish for the Brazillian feast
We're planning to spend at least another month here and then perhaps at least 2 weeks at Minerva reef on route down to NZ. For the first time on the entire trip I'm now out of some pretty basic stock. We've heard on the cruisers 'panic-grapevine' that NZ is not particularly welcoming when it comes to other countries produce so I've been running the boat down to extreme low stocks. Having begged from everyone for the past few weeks it's now time to provision for the next 6 weeks. All these plans made and a large restock in Pangai the following day we get the call that a weather system is developing and it looks like it may well turn into a Cyclone plus it's got every chance it's heading straight for us. As beautiful as the Ha'apai group are there really is no where to hide, and given the state of our anchor chain we wouldn't stand a chance in a cyclone so we've no choice, we need to get a wiggle on and run from the storm. Two hours after having worked out we need to leave we're on route to NZ, a mere 1200nm – and we know we're going into the roughest weather we will ever have faced.
Happy memories of Sue and Doug 'doing the rounds in comfort'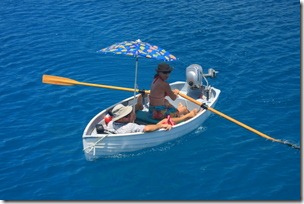 and
more dolphins
ps. we did eventually start educating the children again.
---