Ua Huka our Shangrila

Pacific Bliss
Colin Price
Thu 17 May 2012 23:10
Ua Huka - Our Shangrila
We've often been told not to return to a place and expect it to be as good as before. Perhaps that's been good advice thus far - but I suspect most folk haven't been to Ua Huka, twice.
It is without a doubt a love affair for the adult Prices, seeing the island appear on the horizon out of the brightening sky after a nights sail made both of our tummies do a flip and left them feeling tingely. Then to top it all, we were greeted by about 40 huge bottlenose dolphins. Our giddiness lasted for another few days.
It's normal for us to take it easy after a night passage, but there's no time for R&R for us today. First call was to go and deliver banana cake to Teri, the magic guy who taught the kids to carve. This little trip ended up with Colin and the male members of Teri's family hunting for octopus, and Kalista their 11yr old daughter coming aboard and diving off the boat with children for the afternoon, Cosmo quickly renamed her 'Kalista Baby'. The Octopus hunt was mostly initiated by Z as she's really rather partial to a bit of the eight legged fellows. Colin returned untriumphant but not empty handed. All of the catch that day was, in true Polynessian style, handed over to us. 'Yum yum yum, two days of ocy in our tums'. It soon turns in to a 'giving war' so with the glut of yellow fin tuna we have on board, I'm able to make sushi for the Terri's family. Infact I go into over-drive rolling and delivering sushi, once we realise it's an island delicacy. We've carried a large amount of nori (seaweed) with us since leaving France, but until the Marquesas we've never really had the occasion to use it. By the time we leave we don't have a single sheet left.
An Octopus
Z visits a 2 month old pony
As much and we love the place we're only giving ourselves 2-3 days, so school is cancelled on Tuesday and we hitch over to the main village - Vaipee. We want to see our rather unpredictable charming chum Daniel, who we've commissioned to make some Tikki bone necklaces. Well, to make things just a wee bit better we find Nia and John the young hippy Americans hanging out at Daniels beautiful house. Given we left 6 weeks ago and these guys are still here living dangerously, they still haven't managed to check in, given that US citizens are only allowed to stay in Polynesia for 3 months, they're somewhat in breech of this rule but given officially there not here they perhaps not breaking any rule. Turns out their rigging is shot and leaving without parts sent in from Tahiti is impossible, but it's great to see them and the idea of hanging out is a good one. Our visit is short but sweet and we get a lift back with Daniel and our other friends Franck and Stephanie who are all off to the dentist on his annual visit to the island - they're so funny, just like 16 year old kids brushing there teeth 10 times before entering the surgery -not what you expect of a man covered in tatoos Having finished with officialdom the boys retreat to the beach with a box of wine to steralize their mouths from the dentisted hands. Colin joins them and actually has a great afternoon talking rubbish. The bay we're in is hemmed in by two mountains each with a road laced along it, so when the boys finally get driven home there are lots of flashes of head lights and hooting of horns to bid us goodnight and farewell. Only thing is we don't seem to be able to leave.
High speed mango eating with a view of Hane bay
Interesting carvings at Deniels house!
Our giant of a pillon master (stone carved garlic crusher), Dennis, invites us for dinner the day after arriving. There appears to be two very large families who inhabit the island (Z later commented that most of the children in her class at school where either one or the other), Dennis is part of the Fournier family who seem to own the commerce, the other family are the Leichlet who seem to be in the thick of running the place. Leon Leichlet remained Mayor for some 30 odd years, following on from his father who had been the 'chief' of the island before him. We rather liked the new mayor, Nestor, but particularly loved the second in command the rather jovial and strangely named Napoleon Leichlet.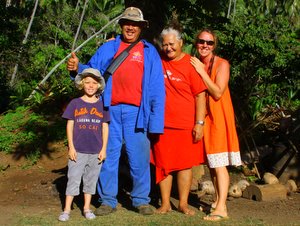 Dennis and wife who had us to diner and provided the machette holster
Since last time we where here Cosmo has been banging on about wanting, for his birthday, a bone and wooden sword he saw in the neighbouring village of Hokatu. So with great joy having been told to go and buy something for his birthday by his Godfather in Scotland (thanks Ant), we walking at high speed to the next village, he's now the very proud owner of said weapon.
Co
CosmoCosmo
Wednesday, means back to school and after much soul searching we decide to invest in a treasure of the Marquesas, so we start the process of finding 'The Master Sculptor', Turns out it's our mate Teri's father in-law but asking if it might be possible for him to do a commision for us, is another matter. I think it took about 4 days for Colin to gently get round to discussing anything as obscene as the cost, then after 3 more day a price is mentioned. Not a natural to business, Joseph gives his much considered price and then immediatly suggest we negociate this price on a number of levels.
The original bowl, the sculptor and the log it will start from.
The village school is having a cultural week, sadly the kids miss the weaving day, but we are able to get them in for the sports day the following day. The head teacher is so enthusiastic about the kids joining them she almost bites our hands off at the mention, then again she hasn't met Cosmo yet...... So Thursdays is a busy day for the kids and we're finding ourselves getting sucked in to the community little by little. After a week at the School Cosmo's teacher seemed to have got the measure of him, and had renamed him 'Cosmo the Terrible' and justly so. In an attempt to include our little cherub in to the class activities she asked Cosmo in broken English 'if he knew his ABC's?' Cosmo in his quick-talking quick-thinking replied, 'Yes . . . and I can burp them too.' Not knowing what he had just mumbled, she asked if he could show the class. Which he proceeded to do.................. If anyone thinks it's a dream living and teaching your own children think again. Sorry Papa your inventor grand son is a little terrorist.
Z quickly meets friends and sorts our who is going to be her best group of girls, Cosmo is a bit of a tougher nut to crack, it's just a pity there's a school holiday the next day. Whilst they have fun during the day at there 'traditional sports day', it's not the same instant success as Fatu Hiva. We decided to spend another week here and enrole the kids into school the following week, that way Colin and I can have a well earned break. 3 years and no break from your offspring's education isn't really very normal.
It's the weekend, so we hop off to Vaipee. There's a fishing competition going on, a single-species competition going after the inapproriately names 'petit' which is a type of grouper that lives on the bottom in about 200m of water. They're flipping enormous and illusive, so, we're keen to see the spectacle of these enormous fish being hauled in. 13 boats went out only 3 came back with a catch, and the winner lucked out with a 77kilo beast.
Sunday was a total joy, not what you'd expect for your average Sunday, well not in the UK anyway. We take a leisurely walk up the hill to go and see Daniel who is busy at work when we arrive. Our outboard lost a part yesterday so Colin is rather concerned as it won't work without it. But as with all things Polynesian an hour of searching and asking one or two folk and the problem is solved. The kids and I are treated to watching Daniel in full artist flow, giving Nia two enormous tatoos, this is the first time I've ever seen this process being done, fascinating. I then make sushi for us all with some of the enormous 'Petit' that had been caught the day before. Then Daniel and Coletta troop down the hill with us and sail with us back to Hana for our promised Pizza supper at Stephanie and Franks van. Magic magic day.
Cap'n Tattoo
Sunday night and the swell really starts to build, in fact it's so bad by the middle of the week we've got a bunch of surfers balancing on boards 50meters off the stearn of the boat. This all makes getting ashore during the week of school rather challenging, the two other sailing boats that arrive in the bay don't stick around for very long and meanwhile our daily routine turns into earlier morning 'D-day styled landings' finally by Wednesday the 'Grand Mer' gets us. We know we're chancing our arm, but today she got us; we arrived on the beach in a fury and realised soon after we had sustained severe injuries to both outboard and first mates toe. ie. both really rather broken, plus pretty disturbed children. Given the fact it was 6.30am and we had made a dash for shore early so we could catch the bread van, at least we have a whole day to find solutions to our problems. By Tuesday of this week we had realised that it just wasn't prudent to make more than one trip a day on or off land. So while the kids where being schooled, Colin and I found ourselves with much time on our hands or at least thats what we thought on day one. But it didn't pan out that way.
Each morning we left the boat with all our things packed in water tight bags ready for the days challenges; change of cloths, food, computers, and eventually enough equipment for cookery classes and knitting classes and powerpoint presentations! One day in particular the sea state was so fierce that we where forced to head back to the boat and rethink the exercise, only on our second attempt we forgot to take the bag with Cosmo and my clothes in and we ended up having to beg and borrowing outfits from Teri and Marie-Jo, you can imagine.......
The Aranui re-embarked its passengers from the beach - perhaps too exciting for even Granny and Papa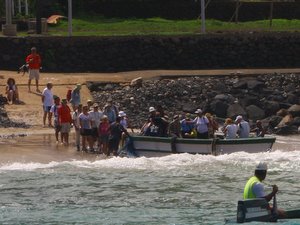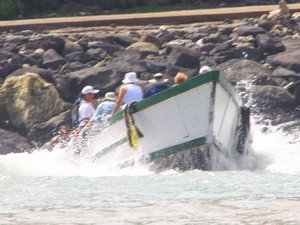 Our week here is challanging in many ways but the friendships we developed are ones that will remain very stronge in our hearts. Poor Teri and Mari-Jo found us rocking up most mornings and staying for the rest of the day, Us adults where rather keen on learning to do a bit of sculpting, it didn't look that hard when we watched the kids and Teri doing it, sadly neither of us are naturals. The hours we thought we would have, being stranded on land for 9 hours a day quickly got used up. By Wednesday I'm teaching 3 ladies to knit, my lovely friend Stephanie is passionate about so many things I love, she's a great cook but can't knit, a hobby she'd been keen to learn for some years. It costs £80 an hour for a lesson in Pappeete! With very little language in common we all coped expremely well, however they are only able to knit in English. So so so gorgoeus and enthusiastic where these lovely girls I promised to send more wool from the UK when we got to Papeette. Actually it's Kerry in the UK who has been so wonderful at buying and posting so many things we need and would like to give the lovely folk here. She has been a blessing, and I know the ladies on this far away island will really appreciate it.
After 4 months here and spending a lot of time with folk from this infectious group of islands we definitely feel we understand the Marquasan people far more, than when we first arrived. The polite nature and welcoming smiles goes a long way to enchant but sometimes getting any closer is difficult, especially with those born and raised. Marie-Jo I feel is one such person, it took so long to get a smile that came from her core. But when seeing this lovely lady skip with the most enormous beaming smile to join the knitting party, still now 2 months later is fills my heart with a glow. The unravelling of Marie-Jo was wonderful and an extremely special friend made. By Wednesday everytime I started to speak or think about leaving I'm involentarily 'welling up' and find tears rolling down my face.
Carving can be very relaxing
Stephanie's Dad at work
Each day our lives on the islands felt busier than the last. Thursday morning and the children are presented with deliciously fragrant garlands and Z is doned with a crown of Gardinerair, It's a look she promised herself already for her wedding day, boy does she look beautiful. Colin and I, meanwhile, continue our 'lessons in the community' - Thursday we're up at the CGA college. This is a vocational school for children aged between 11 and 16 for those kids that can't or don't go off to live on another island and continue their studies. The concept is great seeing as a majority of the children on the island will become sculptors it's good training. However due to political or perhaps personal wrangles the only things it seems they're learning is gardening and cooking. My contribution is to teach them how to make sushi and Japanese pickled ginger. And whilst the rice is cooling we end up doing a wee bit of tricotage (knitting). The kitchen is increadibly clean and efficient I just wish I could have stayed a bit longer and get excited about food with these fabulous kids. We're invited to stay for lunch and eat with kids and staff at the college. Then after Colin talks about our travels and show pictures of the world thus far. The rest of the day is spent hanging out with my girls getting on with the next stages of knitting, whilst Colin and Teri hang out and create a rather rude carved 'raper de coco' (a device that you sit on to grate coconut). Then we're all treated to delicious steak frite at Stephanie's van, finally managing to get back through the surf in the dark, aided by the headlights from Frank's old 'landie' . 13 hours a day spent hanging out with friends, we are flipping exhausted.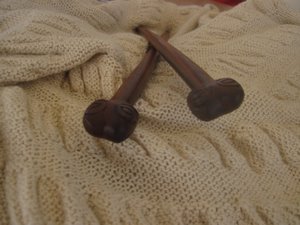 Tikki needles and Tikki
rappe de coco
We're staying for various reasons now: One, the finish of school for the kids; Two, for me to complete all the important steps in knitting, ohh and; Three, I think Colin is still negociating with Joseph, if it's possibly for him to make a precious bowl for us, but more importantly; Four, Hane is to hold it's bi-annual Ball on saturday night and the 6 man rowing teams from 3 other islands are due to hold a 'grand concours de rame' (rowing competition) We're getting sucked in and enjoying the vacuum.
The children after school on Friday are weighed down with bead necklaces and after finishing for the day at 11.30 they're totally happy just hanging out in the garden with Nestor and Kalister Baby, Teri's lovely kids. I return from a road trip with Stephanie to see the magical plot of land she's hoping to build a house on, seems building regs here are worse than the UK. She has also had her father, as a surprise, make me a pair of tikki knitting needles, oh the love. Back at Teri's we get back to find a scene of wonderful tranquillity, not a word that you'd normally use when Cosmo is in the picture. Teri's playing chess with Cosmo, Marie-Jo's knitting away, Nestors cracking open coconuts for their water, and the girls are rolling around on the matt or trying to help Zinnia master stilt-walking. It's a 'pinch yourself' sort of moment. Lunch miraculously appears, a combination of fish, that Teri caught, cooked in coconut milk. Uru (breadfruit) from the tree which has been roasted on the fire then pulverised with a pillon, all eaten Marquesan style, without the aid of any metal instruments and tasting all the better knowing not one penny has been spent on it. This was no special affair we where just accepted as family.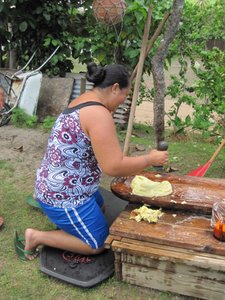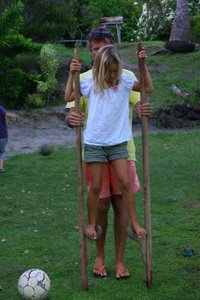 Saturday and it's actually a massive relief not to be getting up at the crack of dawn and risking life and limb getting ashore. And of course the swell has abaited. But instead we spend the day hanging out on our boat watching the magnificent spectical of the out-rigger competition, it's bloody impressive. Colin, Jon and Teri chase the boats for part of the 20 km race and Colin returns open jawed at the strenth and agility of these guys - surfing down the swell, and particularly the change over of crew members jumping in and out of the powering canoes whilst paddling at full speed. We are of course backing our favourite team, Ua Huka, who return a full 6 mins trimuphant over the Ua Po, ther previous champions. It's another magic and relaxed day with Jon and Nia and we discovered that John is a great talent with the guitar as a writer and musician - poor Colin is now feeling rather dispondant about his skills with a guitar, and is feeling that there not much of a limit to anything Jon can do (we later learn that spear fishing may be something. One day he shot a fish and instead of staying shot it turned around and bit him, requiring 4 stiches adminstered by a fellow yachtie with guidance over the SSB from a doctor).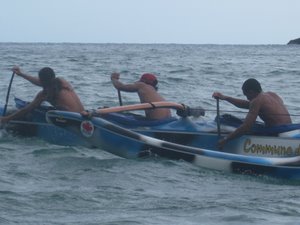 Sunday really is our last official day on the island, we're already 2 weeks behind where we expected to be. We've no idea what's going to happen but we half mentioned the idea of a BBQ with Daniel, Frank and the girls, but we've come to terms with the idea you never really know what's going to happen when it comes to Daniel. Its midday before we get the phone call asking where we are?! The fire on the beach is lit and the fish and pork (which used to be their pet) are on the fire and the wine is being uncorked. So for one final debauched bash we have a very very long lunch on the beach. After much merriment we wiggle our way up the road to the 'snack van'. John had been dispatched to his boat to collect his guitar, and lovely Steph and Frank had called family musicians to come and seranade us during during dinner. Just when you think things can't get any better the electricity fails, so we're left to dance to the sounds of the ukalalee and Guitar by the light of the moon surrounded by thousands of swinkling stars, if ever you wanted a magical farwell to our Shangrila we got it.
the gals and me
All we need now is to say our final farwells. We finally leave the wonderful terra of Ua Huka as the light of the day disappears, our hearts and weighed down and our necks our wrapped with half a hundred weight of beautiful seed necklaces. If getting ashore was like a wartime act of courage, this final farewell on the beach was intolerably heart rendering, all we needed to hear was Vera Lynn singing, 'we'll meet again . . . '. With so many of our friends waving good bye whilst the others continuing to stuff wooden carvings and stilts and regimes of banana into the dinghy we all leave in a bit of a state.
Some of our parting gifts
We finally leave with a warm and gentle breeze in the evening, watching UaHuka in the moonlight disappear over the horizon, given the level of emotion we all strongely suspect it won't be forever.
---