Fatu Hiva 10:27.89S 138:40.10W

Pacific Bliss
Colin Price
Thu 8 Dec 2011 01:30
Fatu Hiva, Marquesas, French Polynesia
As expected the trip up to the Marquesas was not an enjoyable one. Actually it was the first trip where we very nearly turned around. But we braved out the hideous crashing waves over the deck and squalls of wind from every direction day and night, after a few day out at sea things became the norm and perhaps a little less scarey.
Catching yellow fin tuna on the way
Seeing landfall non the less was a very happy sight and a dramatic on too. Having been in the moto's for so long the arcapeligo where you never have to raise your eyes to see land it's rather refreshing. We got to Fatu Hiva rather quickly which was a blessing and managed to anchor off Hanavavae at dusk. It's known as the bay of virgins but this hasn't always been the case. Pre the invation of the french missionaries it was called the 'Bay of Penis' but this was deem rather unsavory so the missionaries renamed it.
It tends to take us a few days to truely recover from a 5+ days passage. On our first morning we're greeted by a Pod of Spinnar dolphins practicing there namesake. But with such rough weather the children have been too fragile to contend with any school, so we need to get back to the grindstone immediately. With all these mountains about and the mountains are really lush, it requires a rather large amount of rain. The clouds above the phalic mountains are threatening for our entire stay.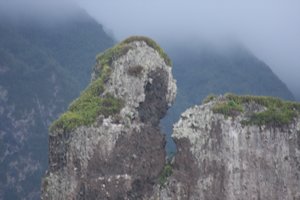 And so to Hanavavae. It's a town weaving along the bottom of a steam valley so seem rather dark and damp. The first person we speak to is Rosa, Later tagged by us as 'Rosa the Ruthless.' Within milli-seconds of greeting us we where invited to trade which at the time we were more than welcome to. The following day we duely arrived laden with kids books etc but Rosa had failed to produce any fruit. What we have now come to realise about Hanavavae is it's the first port of call for most boats sailing from panama or mainland U.S, with the exception of Galapagos. Boats come laden with trade which was a big thing 5 yrs ago but now it's less necessary. So now anyboat coming into the harbour is expected to do great trade for fruit. Not everyone in the village is like this and we suspect we just came across a bit of a bad egg but it didn't help with any blossoming love affair.
Visiting the ancient petroglphs of whales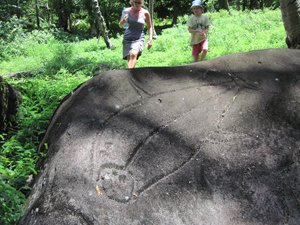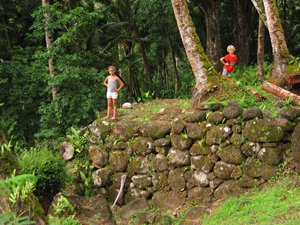 A jungle walk to the ancient marae (religious place)
The following day we moved on to the bay next door, Omoa. It's a much less visited bay which always works for us and the folk seem genuinely happy to see us. The village it totally beautiful, but most of all it's a joy to the nostrils every 10mtr you head is full of another beautiful fragrance eminating from ylang-ylang, gardenia, jasmine, frangipane and Tiare and that's just the once that smell the others are just an abundance of colour like hibiscus, strelizia.
As we have said before sometimes the children are a bit of a ticket and here due to the children unable to currently walk more than a few meters without gallons of water we had to find a water tap. We chanced across Alfonse and Francois - what magic folk. Alfonze grow up here with his 9 other siblings and like all good polynesians spent his 2 year national service in France, where he met the rather wonderful Francois. Thor Hyadahyl was just playing at escaping civilisation, but she really did. With their 1yr old daughter they returned to this extremely remote part of the world. It's pretty remote now, but then it had nothing, no ammeneties at all, nothing. For the first 2 years her new mother in law continued to ask when she would be returning to france. Remarkably she never has, and together they loved there lives here. Cricky it most have been unbelievably hard just scraping a living together collecting coconuts for copra. The two of them are just fabulous, full of wonderful insights into the people and the change of life style that they have witnessed over the years and would have stayed longer but for the impending Festival of Dance. Alfonze in his spare time carves wood and we're treated to see some of his work, it's beautiful, but because it's just a hobby he's not keen to sell anything Only gives us the most beautiful carved bowl. So with promises to return we make tracks for Nuka Hiva via Hanavavae for a night to pick up the promised fruit.
Alfonse and Francois visit us for elevenses
We dropped into Fatu Hiva and pick upa beautifully hand scultured bowl from a chap called Temo - a young guy from the carving capital of the Marquesas, Ua Huka - more of this later.
The Aranui, which is a supply ship come cruise ship, moored off Omoa
We have a pleasant 24 yrs sail up to Nuka Hiva. We're all terribly excited to be here for the festival our anticipation is to see a rather wonderful display of cultural dance dress and music. Cosmo however seems more excited about the fact that Christmas happens immidiatedly after.
---