Zinnia Birthday - Poppy Opi

Pacific Bliss
Colin Price
Sun 1 Aug 2010 01:15
Zinnias Birthday was a huge success.
Optimist was officially named Poppy Opi
Christening Opi with chocolate (Z, C, Phoebe, Alex)
"I name thee, 'Poppy Opi'!"
10 adults for lunch outside s/v Bonaire (Steph & Tim), Blue Sky (Jim & Emma), Libis (Jelle & Flora), Scorpido (Eric & Robyn)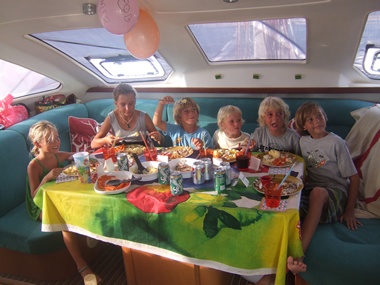 and 6 kids for tea inside (Zinnia, Phoebe, Sam, Cosmo, Fin, Drake).
---