Royal Visit of Granny and Papa Part-II

Pacific Bliss
Colin Price
Thu 10 May 2012 05:41
The Royal Visit Part II - Hiva Oa and Tahuata
With the weather due to break and Peter not on top form we make a quick retreat to Hiva Oa where G& P are booked in to a hotel with probably one of the worlds top views. It's also within walking distance of the boat and from there bedroom window they are able to keep close watch over us.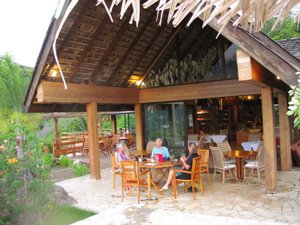 Our trip over land to Puamau to see Takaii, the worlds largest tikki, is a bit of an eye opener - when they say villages on this island are remote they're not joking, Children leave on Monday morning for school and realisticly couldn't return till Friday the dirt road is both dangerous and long.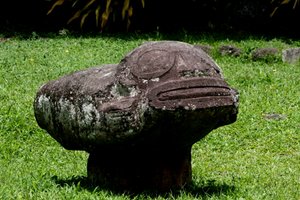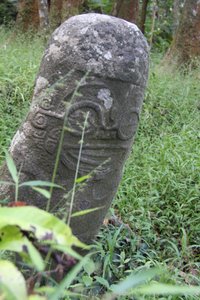 G&P dwarfed by Takaii
followed by lunch at a snack-shop
Much to our distress the children find the luxury of the grandparent's hotel all too appealing, so despite being made to live the robinson crusoe life style, our offspring are in raptures about the stylish abode with a clorinated swimming pool that G & P are now residing in. They are so taken that Cosmo opts to have his Birthday meal and sleep over at the 'flipping' Pearl Lodge. In fact it all turns out to be a blessing, resting in Hiva Oa turns out to be a good thing for everyone, especially for Gill, who, on our return to Tauata gets to snorkel with Morrish Ideals and a Manta Ray in fact this magnificant creature almost headbutt her.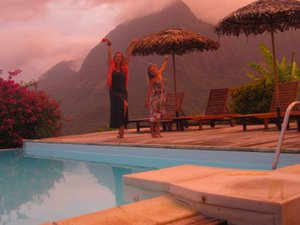 Birthday presents both hitech (iPod) and lowtech (T shirt)
G, C and Cosmo go on a petroglyph hike with friends Michel and Philip from s/v Tereva
Jobs for everyone
Peter grating coconut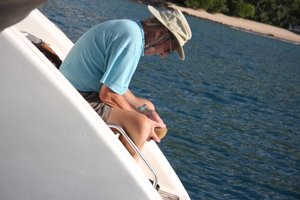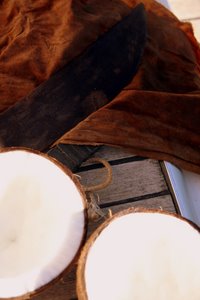 Delightful anchorage on the last night
Mantas
Relaxing in the evening with iPad games for the kids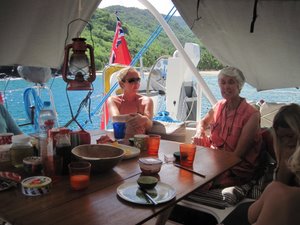 Journal writing continues
Idyllic bay for scrumping coconuts, limes, pamplemouse, breadfruit.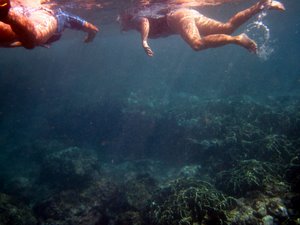 and a good snorkel to round it all off - luckily granny didnt see the shark that glided past quite close.
It's a horrible sad farewell to Granny and Papa, I don't think I've seen both children so upsett. Cosmo's playmate and friendship with Papa firmly s ealed and Zinnia's great love for her Grandmother stronger than ever, it's all rather wonderfully heart breaking, not many folk have this strong a relationship especially at this distance.
---