Apataki North and Superyachts 15:23.04S 146:12.295W

Pacific Bliss
Colin Price
Sat 26 Nov 2011 17:31
A weekend away to the North of the Atoll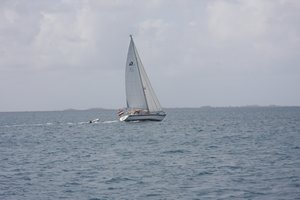 A stunning 9 knot sail across the lagoon with s/v Aquamante
Colin wakeboarding
Long lunch with s/v Irene and Aquamante followed by Pot-it
A master Class from Eva and Tapio on Fish Smoking best taught by our friends from Finland.
Zin wakeboarding, she has a real talent.
Super Yacht SuRi

But having watched our wonderful new friends on 'Orphee' finally splash after 6 weeks on the hard there's news of Tom Cruise arriving in the caranage for the evening, on the mega Yacht SuRi. Both of us find this too intriging to leave so we work as kitchen hands for the rest of the day. or at least colin volunteers me. Obviously it turns out not to be Mr T's boat and only the crew onboard relaxing having said goodbye to the owners, they're all in civi's looking for a party - and again the Caranage doesn't disappoint. Goodness knows how these guys are able to sustain it. But as quick as a flash a last minute Tahitian oven is dug and the provisions from the big boat are deposited in the Lau Kitchen, whole fillets of steak, over sized ducks and vegetable not seen in these parts for a life time. The crew are a delight and the evening is an enormous success, I've just left Colin ashore with a request that he sing on final time 'Halleluliah' for our patrons daughter in law, it might take some time but I suspect with alittle more pastis he'll get the courage. With any luck, Z will see inside her first SuperYacht tomorrow morning. Never a dull moment.
m/v SuRi - not your calssic super yacht, but a floating fun-boat
After all the girls from the yacht had come to see the family Lau to buy pearls we then headed off on the launch to super yacht land, whilst the interior was lovely rather like a 6 roomed floating boutique hotel, the toy cupboard was something else. No point banging on about it here's the list of toys:
4 seater Helicopter; 2 seater foldup plane; 2 BMW motor bikes; 4 seater Jeep; 8 surf boards; 5 wake boards; 4 kite surfers; 4 mountain bikes ; on childs tow along; 2 jet ski's; 1 landing craft; 1 classic 10 meter gentlemans Launch; 1 super fast luxury speed boat; and a mega crane to lift the toys into the water, ohh and a massive box of sweets.
It's said that Bill Gates charters the boat as a toy cupboard when aboard his own gynormous Super Yacht, it really is another world. SuRi owner is said to be one of the original primary investers in Microsoft so not short of a bob or two he now sells Water - suspect not the stuff we're floating on.
---