Coconuts and friends 23:07S 134:58W

Pacific Bliss
Colin Price
Sat 18 Jun 2011 03:45
Coconuts and friends
Like all good sailors we have to keep a twice daily check on the weather and move the boat accordingly. So we're unable to make any plans for Colins birthday. However delights of delights we run for cover and go back to Taravae and our friends Eduard and Denise who have promised to let us have a birthday party at their house. Colin's birthday adventure begins at 9am with a trip around the islands with Eduard to hunt for Pigs.
We're hugely excited about the prospect of running after wild bore. But in fact these boys are semi tame, the arrival of a human invaribly means coconuts to eat, a Gambier pig's favourite. So with a little calling and some cracking open of nuts an over eager herd of pigs gather on the beach all going a little demented over the foder. So much so Eduard is able to select two wee piglets, snuffle them into bags without their aggressive hog-parents blinking an eye. This episode brings a whole new meaning to, "Eating like pigs" .
Pig hunting Pigs duely named Scally and Barnaby
Back to the garden and a pig house is constructed. We're with our young french friends Tomas and Claire, they are rather remarkable 26yr olds, and the children love them. I love them too as Claire whisked Zinnia off the day before to learn to make croissant for Colins Birthday breakfast. So Z not only makes coffee for her parents in the morning, she can now make croissant. She might not be the most accademic person on the planet but she's ticking a lot of life skills boxes and rather gorgeous on the eye too.
Camp Colin 2011 . . .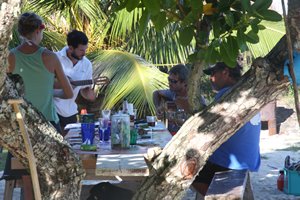 Claire & Denise
Some of the menagerie . . . .
We have the most delicious meal of toro-locale (a bull which wandered into their garden one day, so found it's self in the freezer the following day), canard and poulet local, read 'local' as ferral. Champagne, a wonderful marble cake from Tomas, all followed by guitars and singing. We're feeling rather pleased with our family musical improvements but compared to Tomas we're rank amatuers. So listening to Tomas play Micheal Nyman is dreamy.
Three days later . . . . .
Three days later its Tomas's birthday, so it was rather more 'tuef' than 'fete' only it's attended by old folk. For 3 days a preparation for todays meal has taken place. The reconstruction of the Tahetian cooking pit, the collection of volcanic stones, the cutting of palm heart, the shoveling of sand from the beach to the pit and most importantly the collection of coconuts of various conditions. Unfortunatley the hunting for Goats was unneccesary as one was sitting pretty in the freezer readily awaiting the fire.
The assembled party started by gathering coconut. The fundimental requirement was that they're fertile and sprouting into a tree, thus the coconut water has turned to a solid moose, good for making bread..
Firepit construction and lighting under a roof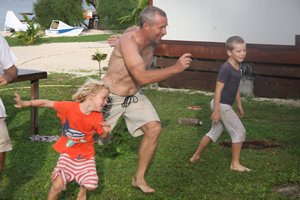 Rugby as an interlude
Ladies who cook . . .
Cosmo with a leg
Colin & Claire with meat for the fire
Eduard lays it out
Denise and the ladies
Zinnia joined the ladies helping to wash and crush the coconut this was an all afternoon practice. Cosmo and Colin under Denise's tutelage went crab hunting. This involves thrusting a stick down a crab hole until it reaches the end and then digging hoping to find a crab hanging out in the hole. Colin managed to get one, and Cosmo managed to get a bleeding finger as a result of a crab nip, and Denise swiftly extracted 9 of the little critters. In true 'bad parenting' style Colin stood by laughing whilst his son stood crying over the shear pain this small raving clawed beast produced once latching on to his finger. Back to the house Denise smashed the poor crustations, extracting all juice and excreetions from their crushed limbs, that'll teach them for nipping my son. This juice is then mixed with fresh fish and young smashed coconut, it's then left to ferment over night. It's actually rather delicious but you do have to forget the concept of fermenting crab juice.

This is the sort of meal most Polynesians are lucky if they have once a year and the effort is incredible. The following morning the fire was lit at 6am to start heating the rocks, and most of the occupants of the assembled boats were already ashore. I arrived to find a group of french ladies being advised by Denise how much Indonisian Tapioca to add to the mashed butternut, banana and mango. Then it was on to coating the meat in Soy, Onion and Salt having already wrapped the coconut bread ,'epo', in banana leaves.

By 8am all the above had been burried on top of the hot stones in amoungst freshly chopped palm heart, and frond after frond of the palm. Then a bit of not so traditional blue tarpaulin was laid on top and all was covered in heavy sand, feeling all a bit like a burial.

Four hours later once westerner's salads had been prepared, pudding and cakes baked and a few jugs of mojito drunk, the fire pit was unearthed. Which feels like unearthing the dead. The smells, the taste of the palm heart, the flavour of the meat, pork, lamb, beef, goat the texture of the banana, butternut and mango the bread, is a whole new experience.

Having to leave... again...
We said goodbye today to the first real friend we have made on land. this fact is a bit of a shocker a big realisation of cruisers isolation from real life the only way this can be corrected is by staying longer in places, this way we think one's cultural experience is greatly heighted. We said goodbye to Denise who is one of the worlds kindest people. All of us have heavy hearts saying our farwells. In true Denise style the contents of her garden and fridge are dispatched in Pacific Bliss's direction. Cosmo has always loathed kissing since the word dot. Whilst he is an incredibly affectionate fellow when it comes to cuddles, kisses are a no no, which is a bit unfortunate when you live in a French enclave. Denise seems to have broken the back of it, she has helped him overcome his compulsion to 'wipe after kissing', and without doubt he relishes her pointing to her cheek with a motherly finger to let him know what is expected.
Eduard with Roxy
Denise will be flying up to Tahiti on a trip paid for by the French tax payers. She has detected lumps in her breasts which she has been in denial of, for a long while. A muched loved locum french doctor will be leaving the island in a few days time and he is forceing the issue to make all and everyone address all medical concerns. Come the end of June this distant land will be left without a doctor and in the hands of under paid, overly pressured nurses, ( the same all over the western world) If you are ill in Gambier you just better hope it's on a Tuesday or every other Saturday and the flight can take you off to medical care in Tahiti.

Coconuts . . . .
It might not be everyones idea of a rounded education and Colin and I seem to have survived a wee while on this mortal coil without knowing too much about Coconuts but it is totally facinating how useful these coconut shire props are in the climes that they are grown in.

We now drink the chilled coconut water. Grate the fresh coconut flesh, and then squeeze out the milk for the use in curry and other culinary sauces. Cafe au lait here means a squeeze of fresh coconut flesh into your cup of the strong black stuff. We've eaten coconut bread, using the flesh and the milk we've had parties and kept the bugs at bay by burning the husks and today Cosmo and Colin made neclaces out of an abandoned bit of shell, and, when ever a ashtray is required there is always a shell available on board. We've put pigs in to a state of orgasm feeding them coconut whilst capturing there young. The children now daily feed the ducks abandoned coconut as their main source of fodder. Today however the resourses of coconut became alittle more dangerous in winds of 30-40knots however then we are told they are considerate enough not to fall during the strong winds and wait to descend unexpectently in the calm. canny bastards!
Angry young man . . . Amazing young man
A week into our stay off Taravae we see a man walking across the coral from the island on the opposite side of the bay, he's waving his arms, so Colin buzzes over to see him. He's met by a very angry young man, Who has had to watch us for a week and we haven't had the courtesy to go and say hello. There appears to be a conflict between him and Eduard so this just exaserpates the feeling of resentment. We promise to go visit the following day. In true Polynesian style there's a bounty awaiting us. He offers to guide us up the hill which is another off piste skamper, and when me in my flipflops and the kids decide we're high enough up Manu disappears off, only to return 10mins later with a 40kilo goat strung over his shoulders but now he's only half dressed as his t-shirt is now being used as a blindfold he carries, drags the poor beast down the hill so he's able to introduce him to a young nanny. We mention poulet and moments later we're catching chucks then watch him somewhat macably murder our supper. We're rather uncertain whether this side of world school is particularly enriching for the kids! Manu is a special kind of boy, at 15 he got in to trouble fighting and was banished to this isolated island, where he built his own house, kitchen and oven. He has learnt to farm the land including growing and roasting coffee and bakes an incredible coconut loaf. He obviously doesn't come from the most stable enviroments with a dad in prison not surprisingly he is already the father of a 3 yr old. But if a child in the UK is in trouble they get sent off to hang-out with other troubled soles and most results seems to just aid there knowledge of the criminal world. Manu might grow a few herbs discreetly but I know of no other 18 year old who can do the things he does, bless him he even asked for my recipe for Lemon Drizzle Cake.
Oven made from an oil drum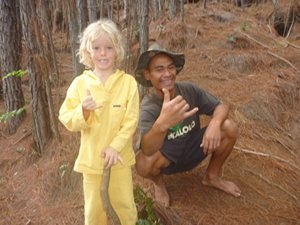 Manu and Cosmo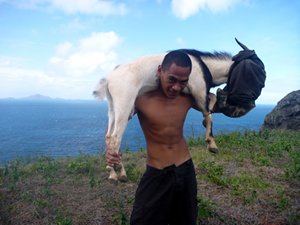 Bounty from manu's garden
We've now made great friends with our collection of french friends. They've slowly come to accept us, and now we are part of their family, which is most unusual for French Cruisers to socialise with the Brits. We are on our way, well that's the plan anyway, So we organise to have a final 'soire' on Pacific Bliss. We want to invite the whole anchorage but between the first invite to the party 7 boats arrive which means we have 35 folk due on board. Everyone brings a delicious something and with the new influx of a young Scandinavian crowd we have a wonderful evening. Our French chums are resigned to the fact there stuck with us for another 8 months but seem to have come to terms with it as they have decided that we're, "pas comme les Anglaise normale"......
One of the Scandi boats has a very lovely rather couragous couple on board a 24ft boat with only a 5hrp engine to assist them when the wind gives in. They have already made the epic journey down to Easter then Pitcairn and on the way here they suffered a knock down. Once safely docked there kind friends rename there boat, Mare Liberum, with the aid of some black tape to 'Night mare'.
Last activity in Gambier is to visit a pearl farm, which might sound a wee bit dull but it's fantastic. Blimey there's a lot that goes into a pearl. The operation to get the pearl to grown is a cross between gynocology and dentistry it is incredibly fine work. Zinnia is going to write all about it so I'll leave it for her to explain. Only I now know why a pearl from here is so darn expensive.
A bucket of black pearls, just to give you an idea.
Rikitea anchorage
Cosmos friend
Zinzan takes an unusal form of transprt to French lessons today aboard s/v Tereva with Michells and Phillipe
It's time to go but on the day we're due to up anchor Bertrand and Lucy come by to say goodbye and we are terrible tempted to stay just one more week.
We also get a goodbye from Galipet
This is all done in haste as we're unlikely to be within internet range until later part of august other than emails that's it for some time to come.
And finally . .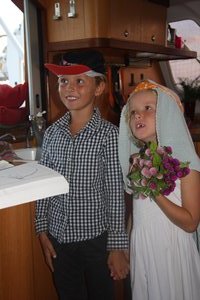 Zink and Cosmina get married!
---