Day 16 - Speedy night and bouncy day 16:15.86N 50:52.95

Pacific Bliss
Colin Price
Wed 16 Dec 2009 09:32
Last night was fast and furious with 20-25kn of wind from the NE and we piled along ay 8-9kn most of the night. No moon at all now, so you sail along just with your tiny world illuminated by the navigation lights and a bit of starlight. It is such a contrast from the days when you are surrounded by openness whichever direction you look in.
We are about 650nm from Antigua now, and everyone is beginning to focus on that more and more. Funnily enough it is alomst exactly the same distance as the delivery trip from Mallaga to Lanzarote, and that seemed like a long way. This feels like it is just around the corner.
On the net this morning there were a load of boats ust about to arrive in Barbados. They had set off ahead of us, and had similar passages, TIm and Steph on Bonnaire will get there today.
Into the 50s today. Feels like we're really getting there. Crew starting to speak with Caribbean accents.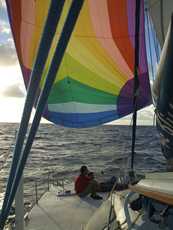 ---