Day 17 - The other half 17:09.77N 54:16.70W

Pacific Bliss
Colin Price
Thu 17 Dec 2009 09:37
Almost no wind today, but we figure that we're close enough to be able to
use fuel for the day, and once its gone its gone.

How the other half live. 150 yacht skippered by Giles's friend Alex is 300nm behind us and IS running short of fuel. He has a charter starting on 23rd and must get to Antigua on time, but has lighter winds than us. So, in order not to be late he is calling for a fuel boat to come out of Antigua to refuel him, and then follow him in.
Giles has been in contact and asked if we might have some green veg, orange juice and girls delivered to us.

Still, it's not all bad for us either.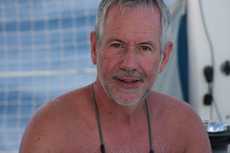 ---