Maskelyne Islands

Pacific Bliss
Colin Price
Sat 26 Oct 2013 00:13

Keen to head out of Port Vila, Colin ever keen to escape any form of urban captivity. We found an uninhabited bay at south of Havana harbour on the North western corner of Efate. The children busied themselves on the beach Cosmo managing to fall out of a tree and scream the place down under the impression that he'd die of his injuries, it must have been painful falling on to the craggy volcanic stone but we're experiencing a great deal of histrionics from his quarter at the moment. Wonderful bay great sand and a very dark dramatic bat cave to wander into with the aid of our torches. A few days r&r and then on with the adventure.
We put in a short overnight hop North to the Maskelyne Islands on the southern end of the dog shaped islands of Malekula home to the Small Nambas and where Dugons swim in the bays and huge flocks of mammoth sized fruit bats sore over head day and night. Leading to a distinct impression your back in a Jurassic age especially as all the vegetation is draped in vast over hanging mile-a-minute courtesy of the US military in hope of disguising abandoned 11 world war arsenal and now suffocating the indigenous fauna.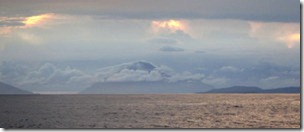 Volcano's on the horizon
Uveleo School
First stop was Uveleo school where we parted with some of the goodies we'd brought up from NZ.
Colin also got to have a go a trying to mend a desalination plant for the island that had had aid money thrown at it was destined never to work properly as it was just not robust enough, and the people not trained enough to be able to use it. After less than 3 months it was already broken, but hurrah, the solar panels used to run the pumps were able to keep a fridge cold and cool down ice pops for the kids, given the annual rain fall in Vanuatu you've got to ask why and by who was this project ever conceived by, sadly is one of many ridiculous aid projects.
"Mission Statement – Education for Everyone. Education brings children to a better and brighter future. Education alone is the solution of today's needs". Powerful stuff – if you can afford the 70000vt ($700) per term to send you dearest to school. Cost of education seems to be the biggest need to cash in Vanuatu, and we're not completely convinced when and where the value of the education will actually ever be reaped – growing copra, fruit picking in NZ or holding down a poorly paid job as a security guard in Port Vila?
We learnt that copra (dried coconut meat) is dried using heat rather than just sun – does this suggest that it rains more in Vanuatu than we've had in the past? Possibly.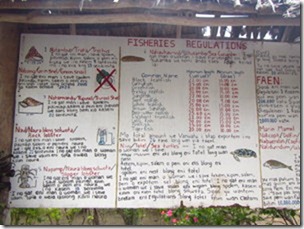 Ministry of Fisheries has strict catch size and quotas on species in some parts of Vanuatu.
Avok Village
The weather is wet the disparity between our wealth and the Ni-van poverty is extreme and so we're having to spend a lot of time considering our impact. Church like so many places in the Pacific Islands is very strong and whilst we're were on Avok a visiting group of Prespertarian church elders were performing prayers in all the village houses and buildings, presumable expelling the any devil like spirits that might be hiding out. We time our church going activity rather badly and got stuck with a very uninspiring 2 and a half hour service in Bislama. The children and I spent the last hour and half praying for an end of church, but given we were told to sit pride of place in the front we couldn't escape. Zinnia and Cosmo are now confirmed atheists.
Each Sunday, I suspect as a treat for their patients, the village comes together for a mammoth lunch. Never have we seen so much Lap-Lap. We are 'again' , and rather painfully, made to sit at the high table with the god squad. We still haven't got our heads around the joys of consuming local food. Sadly the monotinous Speech making is not over yet and we have to sit through yet more painful gift giving money exchanges and Bislama speeches in thanks of the Presi church group. Interesting but perhaps miss able, especially for the average 10 and 8 year old.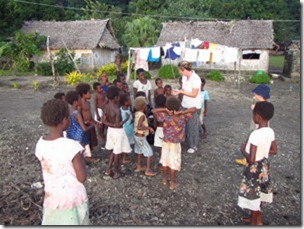 Preparing monster LapLap for Sunday lunch
Preparing Kava for tea time
Local bakery make reasonable bread a few times a week.
The folk here are super friendly and appreciative of any small gift a pile of worn out cloths I'd just handed to Colin for any mopping up jobs are quickly retrieved once you realise what the norm for wear and tear is for cloths here. All the children are wearing nothing more that dirt engrained ragged bits of cloth. But saying this is never stops them wearing a huge smile. Vanuatu is the 7th Poorest Nation in the world, but also considered to be the happiest, all of which we starting to see for ourselves.
Avok Village and School
Life here is hugely physical the children walk or paddle to school each day. It's about a miles wad through knee height mud it's easy to see why all cloths here are engrained with dirt. We rather like the Head teacher in here and it's the first place we're able to leave of the hand over some of the kind donations folk from Clifton Terrace School gave to us before we left NZ. Primary school here in Vanuatu became free to all 3 years, due to 'good' aussie aide money, as a result new schools are springing up in communities, however the head teacher is the only trained, one years schooling in Port Villa, the rest of the teaching staff attended school until year 6 or 8 and then have done a couple of week long workshops, not that these guys aren't willing we're quickly involved with writing and printing C/V's for two of the guys how would dearly love to be trained even if it means leaving there families for a year to undertake the training. One particular gift was someone gave us was a flour puzzle, something you'd find in a nursery this was devoured by so many of the children especially the 10yrs up who had never tackled anything like it before and found it hugely challenging.
We did our normal talk and slide show for the older children in the school who's English was a little for developed and what was very shocking for us was the fact that the fascination of the talk started with just seeing our computer, it was a first time for most. You can imagine what they made of all the rest. Again we were asked to show the real wedding, which we found everyone keen to see. Old Lizzie whilst heard of has never actually been seen and to see a church building cars carriages of the size and scale of London is pretty awesome for these folk.
We're finding this trip very challenging.
School rooms are basic and even a puzzle is a treat. When we took our computer in one day to show a film the the headmaster asked the kids what they thought it was? a television?
Muddy getting there though.
Avok village is reviving their Kustom traditions and over the past 3 years some of the younger men have been taught their traditional dance by the only remaining spiritual elder still alive and with knowledge of the dance. It is still considered a honour to be able to learn from a very old Spirit Man, a payment and pig killing ceremony has to be conducted as a payment of the knowledge. But wow it's worth it. These guys seem hugely proud and seem happier than we've seen them looking, certainly happier than when there in church. The Kustom dress here is rather revealing much to the delight of the kids, unlike the Nambas in Tanna this penis sheath only covers the penis leaving free all other equipment to dangle, known on Pacific Bliss as a 'mans Chicken', Cosmo quickly renames the Pigeon dance to the Chicken dance. Photographs later show Zinnia's head dangerously close to places she perhaps wouldn't be in anywhere other than Vanuatu. Luckily the kids are hardened to bush life and find it all rather hilarious. It's a magic performance and we'd recommend anyone to attend if in these waters. Interestingly we're told by the head teacher, but you never really know, that the women and children of the village are unable to observe this traditional dance when performed in traditional dress due to the exposure of them men's buttocks, this is as a result of the impact of the church which is another huge frustration for us.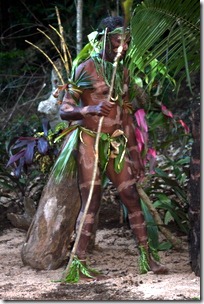 Getting ashore here is really rather difficult so after 5 days we make our leave to Dugong Alley a creek were dugongs pootle about eating the turtle grass and then coming up for air. These are the cousins of the manatee we're pretty sure any sailor who confused these gentle beasts for mermaids must have consumed a bucket of rum first, pretty they are not.
---