Manihiki - Part 1

Pacific Bliss
Colin Price
Fri 20 Jul 2012 07:59
Manihiki - 'Le Crunch'
We arrived at Manihiki at dawn after a slow two days down from Penhryn. The m/v Kwai, anchored off the SW of the atoll, told us of a ship-buoy off the village which we found and tied onto. We were only expecting to stay a couple of days maximum as its written about being a dangerous anchorage in all the books.
Manihiki is a very different island to Penhryn but no less charming. We only spent 18 days here, so didn't get so close to the people, but still we had a great time!
It is an organised island with more get up and go than Penhryn, but less time to sit and chat - both places work really well. There is still vibrant pearl farming and two Cook Island presidents have made Manihiki their constituencies - has that something to do with the lovely people, or with the aforementioned pearl farming?
Cyclone Martin hit the island in 1997 and that really is a datum that people refer to all the time. Everything is refered to as either pre-97 or post-97. The event was as cataclismic to the island as 9/11 to the USA. Twenty one people were killed and the population halved overnight as many people didnt want to come back again. Then, loads of cash was pumped into the island to rebuild, which is very much in evidence with grand cyclone shelters and lots of grants for machinery.
Hanging off a bouy that would comfortably hold the QE2
There is a great little dinghy dock through a small pass they has been blasted through the reef. The dinghy is held off the quay by a continual outflow of current.
Thirty two of our Penhryn friends had arrived on the Kwai and we spent Sunday and Monday with them at church and kaikai before they had to leave again.
Magnificent singing and food altogether, even though Ma Aroha doesnt look too happy.
Liz visits the Kwai to beg some onions from the Japanese cook, Eski
Papa Pia and Ma who run the shop - note cash register under the cushion. Papa Pia is a Radio Amatuer and speaks to the Kwai and Hawaii to place orders for his shop - a far cry from Tescos-online.
School
Traditional two story house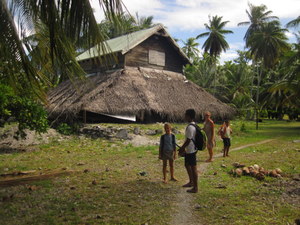 Island cleaning day. We picked up rubbish along the shore, but there really isnt very much.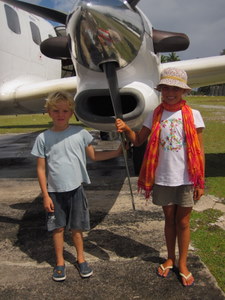 The bi-weekly plane to Rarotonga is pretty regular, and unlike Penhryn, which is not on the schedule.
Colin makes mates of Papa Toka, Junior, Prince John, Papa Pia and Ma
One of the marvellous things about Manihiki was the Hydroponic vegetable farm. Its was set up by the school as a project and then taken over by the community to provide veggies for all. It really works, and Cosmo had a great day learning how a lettuce goes from seed to picking in three weeks. We were able to get pak-choy, lettuce and cucumbers here in plenty. What a joy to the green loving members of the crew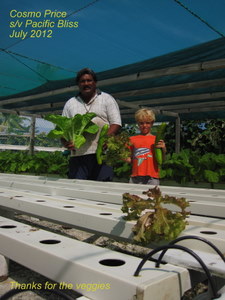 We went to church, CICC, a couple of times and though the singing is different from Penhryn it is still powerful. Here the singing is a bit more melodic, but still with the Maori power. One overriding memory of church was watching someone we knew well give their baby a bottle to calm it down during the service - but, what was in the bottle was not white, but brown.. CocaCola!!! Shocked.. No wonder you come across children with only stumps for teeth at the age of 5, and everyone seems to go for serious dental work from a young age.
Jean-Marie Williams is a local force in the village, and is decended from the kings in Penhryn and Manihiki - the family own land all over the atoll and it his daughter that is competing in the Olympics Laser 4.7m class as I write. His stories of daring do, and pearl farming and massage, careening boats off reefs, and, and and.. can keep you amused for hours... so much to hear about. During the day he is the local health inspector and clears boats and planes in and out, so he knows all the comings and goings. He told us that no yacht had stopped here for three years - wow.
Jean's wife Cathy is the commodore of the Manihiki Sailing club. What a super place for the children, and they have bred three world class competitors at the moment. Colin spent a day here sailing optimists of the beach in the lagoon, though there wasnt much he could teach them. They are used to sailing their dinghys off a lee shore in strong winds with nothing but coral to hit if you get it wrong. I guess they have learnt quickly - and it makes sailing anywhere else seem easy to them.
Whales at night
Chocolate cake without eggs
courtesy of s/v Reality. The key is the vinegar. We tried it here for the first time, and it makes a pretty passable cake/ brownie
The water around the boat is stunningly clear, and though we are moored to a bouy in 18m the bottom is clear. Just behind us it drops away to infinity. Quite a strage feeling..
We were so luck to meet Rangi and Matieu from the other village one day, and they invited us, after we had mentioned that we like the meat from the oyster shells, to come and harvest some of it with them at their pearl farm. Here in Manihiki the system for pearl farming is similar to French Polynesia, except that ten maturing oysters are hung off ropes, 'chaplets', dangling from the suspended horizontal 'lines'. In FP you may remember that they were 'stiched' into baskets. Below you can see a picture of a chaplet that Colin dove down to untie and carry to the surface. Zinnia was allowed to open it and keep the pearls inside - wow.
As for the rest of the day, we picked up discarded oysters in trays from the lagoon bed, and then took them back to the shore to open, and take out the meat. What we hadn't appreciated was that the by-product of this is natural pearls, or keishi which are all sorts of odd shapes, and occassionaly round.
The collection you see Rangi with below is what came out of the nine baskets of shells we collected - from which we got 10 bags of Kororee, oyster meat, which works particularly well just cooked lightly in a little lemon juice, garlic and oilve oil - with chips it is a wonderful meal.
Here in Manihiki they have koeva, or farms, biult on coral heads. Some have been there so long that there are palm trees growing and concrete wharf.
At the moment pearl farming is fighting a losing battle against Tahiti who are dumping the market price. Hopefully things will recover for them, as it is a hard job.
Rangi and family returned us to the boat and visited for a couple of hours. Their son Tairi stayed over for the night and celebrated his tenth birthday on board the next morning. Just as we were about to go ashore two whales surfaced no more than 20m behind the boat and blew spray into the air. We were literally just getting into the dinghy, so off we shot chassing them for the next few times they surfaced. Probably humpback whales come here to mate. Anyway it made the lads birthday, and our day.
---