Bequia. Cosmo the super-hero life saver................ 13:00.0N 61:15.0W

Pacific Bliss
Colin Price
Thu 1 Apr 2010 00:36
Bequia
Arrival to Bequai has been a bit of a goal for us. During the last few months we have realised that we have been putting an enormous pressure on ourselves, whilst it's been thrilling and adventurous, it's been bloody hard work and testing on each of us, and as a group. Anyway Bequai = stop the rush. And true to form it has lived up to expectation. We are heading towards the end of the Caribbean season and the Grenadines seems to be the meeting point for all boats about to make there next leg either North up the east coast of US or Down to Trinidad to rest up on push on towards the Panama. So for all these reasons it has a great atmosphere, you seem to bump into so many folk you have met up along the way and a party or drinks are arranged instantly. We LOVE Bequai, it's comfortably uncommercial but still has great fresh products and rum so consumption is good. The first cruising family we met where on a boat called, Trinity, we first met up in St Barts back in January, but only had time for a quick play on the beach and there after a few "where are you now" emails, So great to hook up in a more time relaxed place. Trinity is the most remarkable of boats as it not only looks great it is the home of 6, Doug, Ann, now know to PB as 'St Anne' and their lovely kids Lily 8, Sophie 6, Georgia 3 and Bruno 15 months. So lucky for us, men, Doug has a racing boat (Comcordia Custom 46), and low and behold we are in Bequia for race week.
With a 10 days to go before the racing began we decided to sail around the corner to a bay called Friendship, Colin is still in move, move, move mode, he couldn't even bear to sit tight for 2 consecutive nights at the same anchorage so even whilst at Admiralty we had to let Fidget Bottom, relax into the new staying put mode. Day 4 in Bequai and we have only moved the Anchor 3 times!
A cluster of the Moonhole houses.
We had a good sale over to Friendship, past an architectual treasure in the form of Moonhole, well worth a google, I really could become obsesses with the place. Plus, joy of joys we spotted Whales, in fact a big old Hump back standing on his tail, We where able to watch them for a good 20 mins. The children have been out whale spotting for sometime now, without any success, so it was all rather thrilling, especially as they appeared to be swimming ever nearer. Grown-ups whale spotting soon switched to Whale avoidance. It was a strange place to hang out as they where precariously close to the only active whale station in the whole of the Carribean. Bequai has a strong tradition of whaling and this has been permitted to continue only within very strict guidlines, namely only a couple are allowed each year and only if caught under sail and with traditional spear, you can imagine they are generally not very successful (see next post).
We fell in love with this sweeping beach. It is little developed and there are already a couple of small Western Style hotels. These were better off left to the holiday makers we found, given the price of the Rum Punch. We head up the hill in search of a local bar called La Pompe, and local we found. The Pompie Bar,inside, was a visual treat to behold. Like so many of the stores in the Carribean a shop has so many functions, Grocery Shop, Bar, Restaurant, Boutique, Bakers and Weekend Party destination, Quite a party given the metal grids around the shop bit of the store. All the merchandise was displayed on bare wood shelves, selling a range of goods from Lux Soap, very strong Rum, Corned Beef and a continued range that sent Colin in a Spin of must haves. So now in love we stoped for a beer so the kids could watch the old boys play loads of games of Dominoes being slammed down on the table followed by hoots of laughter, and another sip of very strong Rum..........
The Pompie Bar where strong rum is drunk along whilst playing dominoes.
Just round the corner from the Pompie Bar we find another bar called the Step Up, there are about 50 steps to get up from the Beach and 4 from the Bus Stop, This doubles too as a Bar and Street food is served at the weekends. We ended up meeting a mountain of great folk here, Reanna, being very special, she runs the Hospital in Bequai and is the most lovely lady, born and bread on Bequai, why would you leave. Reanna brother had just arrived back from the US to join in the racing in the Double enders Class in the regatta. On the last Morning in Friendship the Kids and Colin got up to watch the local fisher men Skipjack fishing, and we were all delighted to be given a fresh jack for our supper.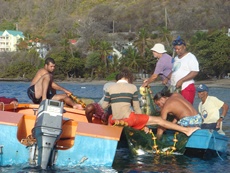 On our return Journey to Admiralty The Littles Join us for there first sail on a Catamaran, we are usually poo poohed by monohull sailers so we are not expecting any conversion. The Children love the Littles Cosmo and John instantly bonded, kindered Cheeky Spirits me thinks. And Zinnia clung to Chris like a Limpit.
John and Chris Lytle came aboard for a sail from Freindship bay to Admiralty. For hardy sailors, they were quite taken by 'flat sailing' I think.
Once back in Admiratly a bit of a boozy lunch was had. after such a gruelling experience for the virgin cat sailers. We were then invited to a beach party with a big group of cruising families, all from North America and all going in different directions, a more friendly, welcoming and enthusiastic group of folk you couldn't wish to meet.
Zinnia and Cosmo and Very very excited at the moment as Big Brother Giles is about to Join us. Giles is expected to belong to our family on various legs of our trip and I was delighted to recieve mother Day call from him earlier in the month. He is also acting as mules for us and delivering the kids a couple of boogie Boards. another reason for great excitement is we will be rafted up to Trinity for the whole of the Regatta, which means 3 girls to play, sleep, eat with for the next week. Cosmo is pretty delighted too as Georgia and him are great mates and Bruno is delighted to see another one of his species.
Saturday Reading club behind the Port Elizabeth bookstore organised and run by the indominatable Miss J. 50 odd kids each Saturday benefit from her energy in getting them to read.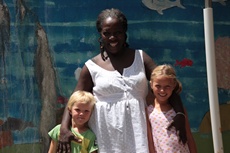 Best Friends
Lilly, Sophie and Georgia from s/y Trinity
Bequia Reggatta 2010
Trinity (a Concordia Custom 46) was racing in the Cruising II class and cleaned up on all three races. Background grumblings about handcap were ignored. First prize was a very special model replica of a Bequi double-ender.
The crew were Doug at the helm, Anne, Tim, Kirk, Wesley Giles(arriving at the 11th hour) & Colin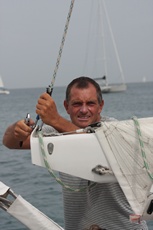 Rafting up, seems to work. However, I am not sure Colin came clean with poor Giles that he would be the 7th addition to the Children on Board. I suspect it would not have enticed him if all the fact about his stay had been relayed. Amazingly we have never had such peaceful mornings in the whole time we have been on our trip. The Serenity of the Girls from Trinity seemed to morph itself on to the Price kids. So from 7 each morning the breakfast was cooked up and peacefully consumed by the 5 oldest kids. Followed by peaceful drawing or Lego construction or Salvanian play and set building. Leaving Giles to sleep in peace.
Trinity wins the first race, followed by a celebration supper on PB, Mahi-Mahi Curry for 15 adults whilst Trinity became the venue for a gazilion kids for pasta and a movie.
For the next few days life was a bit of a party, lots of happy kids and Grown-ups, no racing on Sunday but Kids day on the beach at Friendship. The rum punch had all the kid gloves removed and left the adults rather silly.... so silly PB had 13 sleepover guests, more wake than sleep.
The next day, after an early morning flit from Friendship to Admiralty Bay I experienced my first bit of big sail boat racing which was very exciting and left me thinking I rather liked the sailing bit too.
Trinity continued to reign as a victor and left Bequai with the most amazing stash of prizes and good memories, plus great great friends both bigs and littles
did i say i like Bequai................?
Cosmo Saves the Day
Trinity wins the race but Cosmo saving Georgia's life...............
The first day on board PB otherwise know as creche, entertainment, cooking, school boat started really well with a gentle breakfast followed by craft school. We got taught how to finger knit and make necklaces, rings etc out of the collection of things I had stowed away for a rainy day. The big kids were totally self sufficiant which enabled me to cook and Ann to tend to Bruno, no easy task looking-after a very excited, active 15 month old. After craft morning Swimming,for a cool off and the Big girls you don't really need to concern your self. Cosmo and Georgia where hanging out at the boat steps, Bruno was still refusing to give into sleep and so Ann had her hands full I just popped down to pick up a swim suit when we heard the most high pitched, hairs on the back of your neck kind of scream. Georgia and Cosmo were about 4 meters from the stern of the boat with Cosmo trying to keep Georgia from sinking, Cosmo thankfully is now ver exposed to swimming in currents but not alas with a 3 year old on his back. The next few seconds was a bit of a blur but Ann jumped fully clothed into the water got hold of Georgia and tried to swim back to the boat in the current, it was not easy for an adult with a child on your back. I had hold of Bruno and Cosmo got back as I would expect him to do. I few tears were had, mainly Cosmo, I think due to the relief. I am so so impressed with him as he was really really aware of the predicement Georgia was in and so knew he had to do some thing about it, lucky for us he knows how to scream................
The end of the regatta and Giles heads up to Antigua so the boys go out for a farewell drink. They discover that a whale has been caught. But that is another Story, perhaps not for the faint hearted.
Once all the excitement had carmed we headed back to Friendship to say a fond farewell, we managed to fit in a trip to the sometimes controversal turtle Sanctury, good educational trip for the kids though.
Turtle Sanctury
C
Brother King has been running the turtle sanctury and raising turtles from eggs until they are 3 years old, then releasing them throughout the Grenadines.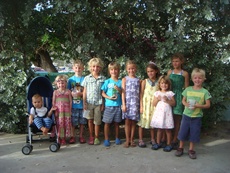 The whole team
It was with heavy hearts we left Bequai, so to many adventures and folk we met, far to many to recall, not much school though, but definitly an education.
---