St Eustatia & Nevis 17:28.6N 63:14.2W

Pacific Bliss
Colin Price
Fri 12 Feb 2010 11:54
St Eustatia
Our new sails finally arrived 6 days later than expected and are now looking rather magnificent. So with a a gleeming boat lots of fetterling done to boat done over the course of a week we are ready to set sail again. Zinnia on her last day had her first oppy lesson which was a great success, talking of tacking in to the wind rather a lot now.... it's a rather disconcerting sight watching your 7 yr old sail around mega yaght on there first lesson, the cost damage is slightly inconcievable next to a bump at Cobnor.

Time is a bit short due to the late running of the sail delivery, so we have had to narrow down our whistle stop tour of the next few islands. Sadly for me we had to miss Saba due to the swell, and opted for St Eustatia which was a complete delight. We so could have stayed longer, fantastic place historically, great for walking, forna, floura and snorkeling, but the most fab bit of it is it's pretty undiscovered and peacful and the people are so so so friendly.
35nm SW of St Martin we found this to be a charming and happy little island. Suits us just fine. Worried about an iminent Northerly swell of up to 4m we were worried about staying in the open anchorage for too long, so only stayed for just over 24 hours, but that was fun.
The harbour is not far from a huge oil jetty with tankers, pilots, and tugs all over the place. Though we were a distnace away from them there was still light and noise 24/7
Lovely checking in there with our passports being stamped by the local bobby on the passenger seat of his jeep, and he then gave us a lift up to the top of the cliff from Lower Town to Upper Town where most of the dazzling attractions are. We found a sleepy, and warm town of a few thousand souls with at least one car each. THe village bakery was a highlight with the most lovely kind couple who bake bread each day, and picked a huge bag of mangos for us, from the tree outside the bakery, to take away.
We just loved it, the museum as very family friendly our kids particularly fascinated by the Privi Chair, very cultural. I think a week here would be great. We made friends with the loveliest folk in the Bakery, just opened, who when we had returned to by a loaf of bread had striped there mango tree and sent us off with a carrier back full of ripening mangos. Just wish now i had a photograph of this lovely couple in front of there humble backery looking normal, happy. We had a great snorkel along the walls of the old warehouses, now a coral reef and in all honesty could have spent a good while relaxing and getting into the grove but it has gone on the list for a place to return too.

The little museum is lovely, but did not hold too much for the kids except some gruesome bones dug up on the isalnd, and a commode which they thought was hilarious.
Definitely Dutch character to the architecture, and to the headstones in the graveyard, the most bizare of which read, "XXX came here to recover his health, but died eight days later"!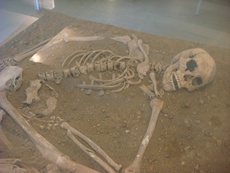 View of the castle from the boat
View of the boat from the castle. You can see why it would be a perfect place to defend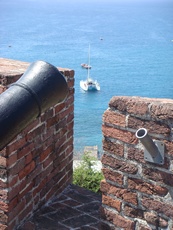 Sighting of rare Corbia fish about 1.5m long wich just sheltered under the boat for the day eating bread.
A shark like looking thing with a flat ribbed head. Defintely not a shark though. There was great snorkelling along the old submerged town wall, and Z got right into spotting all the fishes.
Nevis & StKits
Next we head down to Nevis, I love all the history and think it might be rubbing off on the kids a wee bit, I have been downloading some slave stories which Z is loving suitably grusome. Its one way to get a
bit of history by her.

We left Statia at 4am to get down to Nevis before lunch so that we could check in before the weekend. You'll notice that our lives are much concerned with checking in and out of places, and as we are going from one small country to the next each time we up-anchor, this is likely to continue. In fact it is one of the rather unique, charming and often frustrating things about cruising, but you do find out about the cluture pretty quickly - grumpy, happy cheerful people. Colin often takes the kids to see the 'chief of police' looking to use them as a tool to crack a smile out of a stern official.
Nevis looks lovely, but check in was the most complicated so far, having to go to three separate offices not all in the same place, and then back to the first, before we were finished. Grumpy customs man, mad immigration lady with wacky hair, and sleazy port officer did not bode well for our stay. Indeed the town had a much edgier feel and not much to offer the casual visitor.
Nevis was rather unexpected, we had been told that their had been problems with crime there but nothing too much, but you did feel like you where in a caribean country; lots of guys smoking under a covering as we walked up the jetty saying hi and pointing us in the right way. After our walk around the town looking for the police station and then a bit more we discovered the one cafe/art gallery I had been keen to visit, had closed down. Colin discovered that it had moved up the hill half an hours walk, so after a local lunch of Roti on the break water we started are quick walk up to the art.............. 3 hours and 6 melt-downs later from Zinnia we realise we are never going to get there, having asked some local 13ish year old school girls the way they informed us that is would take about 1/2 to walk to the cafe, perhaps we are living in ground hog day. Colin and I attempted to hitch but no one was driving up this old track eventurally a car comes and out goes our thumb only for the car to park in the drive way previous to where we are sitting, not to be dis-illusioned Colin and Z ask for a glass of water and explain our plight. hoorah hoorah in to the lovely ladies car we hop in the search of art. Art in fact from an artist from West Sussex that Barry Sampson had suggested we seek out. We climbed and climbed in a car past the old derilict sugar mill and plantation house and up we went. Close to loosing oxygen we reach our destiniation to find a great but expensive rum punch. Colin's new request is ' go easy on the ice' our socks poped off so stayed for another and got to meet the owner, meet her dogs and have a guide of her lovely new little house on the grounds, Gillian is a resilliant, inspired slightly nutty lady from Darlington, England who runs an great bar after being a professional dancer with a weight problem opted for the food as her industry not the dance. During the tour of the home stead we saw our first Wild monkeys, which after lizard catching most of the afternoon ( one tail court) was a big highlight.
Rastas down the road had a sign on their wall saying, "A people without a knowledge of their past is liek a tree without roots". We loved it.
Back to town via lift with Gillian and bus and off to sail down the coast, Only in our post Rum punch state we off for St Kitts to avoid the long predicted northerly Swell. Only to be hit on by the fall-out from the monsterat Volcano.
Majors Bay - St Kits
A lovely evening sail over to Majors bay on St Kits which is more sheltered from this looming Northerly swell (it never really materialised!)
Found a wild monkey to feed our ageing bananas, which was great fun for the kids but I guess it will be the first of many.
Two days in quiet little ancorage off St Kitts then back to Nevis to check out and buy our very favourite local lunch of Roti, kids have started to get a taste for hot carribean food, Cosmo loves wasbi peas currently but has a mass screaching attach every time we clean his teeth with anything stronger than 0-3 year toothpaste complaining it's too 'spiky'.
We are now on a course to get to Guadalope and decamp so the boat can be ripped apart and stuck back together again. Interesting sail past a very grey looking Monserat, It must be quite an lucrative business owning a cleaning company on the island. But the cleaning job at St Martin and goodness how many dollars spent on water to get the boat ship shape seems rather unneseccary given in the last 3 days we've been dumped on by aviation detritous and now a volcano. Welcome to paradise.............
---