Papieri & Tahiti-iti

Pacific Bliss
Colin Price
Sat 1 Oct 2011 18:47
Papeari
It was infact an incredible relief to finally leave Papeete. Having heamoraged money on parts and stores Colin 'bless him', was at near breaking point. I do at times wonder if our decision to stay in the worlds most expensive group of islands was indeed a sensible one. Thankfully niether Colin or I consider these sort of facts or there conscequenses. So we're, luckily, now stuck with the joys of Polynessia, all we need to do is catching fish and scrump fruit and veg.
Back to beautiful sunsets again
We've all been keen to visit the 'Gaugin Mueseum', the first Gallery we're seen since Cartegena. Colin edged us into an uncharted anchorage next to the gallery on the South ocast of Tahiti-Nui. We were also parked off only municipal park we've seen in an ages. This coupled with a newly built 'traditional Polynesian meeting house' which we seemed to have the run of. Our one afternoon cultural stop ended up being a magical week.
Inside the meeting house. Traditional construction without nails.

Our week was filled with English and Maths each morning followed by Art every afternoon. Our first visit to the museum was a voyage of discover, mainly discovering the place was totally void of anything original and eally rather tired, other than a few flat print information board in amoungst some very faded photo copies of the original masters. However, the space and light, coupled with the fact no-one else seem to vitit, it soon becomes our own art palace. Having paid the enterence fee on day one, the ladies on the desk just waved us though for the following 5 days. So as sudo journalist armed with note pads and pastels we all discovered that art was fun and wonderfully achievable whilst sitting each afternoon under the Airy Polynesian thatched roof.
Inside the Gauguin Museum
Zinnias favorite picture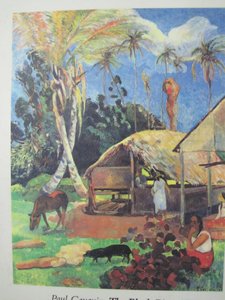 Which is the original?
Art lessons in the afternoon focused on Gauguin.
Zinnia visits 'Cruising Cuts'
and . . . .
Colin gets a cabbage hat
Tuahupoo
Having spent far too long studying Gauguin we pulled ourselved away in the direction of what was to be our original destination in Tahiti-iti, , one of the surf capitals of the world. Colin and I are becoming increasingly keen on giving surfing a go, think its a middle age crisis thing. Having seen the breaks we realise this isn't the one to start with, firstly given our level of fitness it would be impossible to even swim the distance from the shore to the reef and secondly even on a calm day it looked totally trecherous. On arrival, we find the anchoring untenable leaving us no other option than to tie up to a filthy quey, and where charged royally for the honor. Whilst the surf was impressive the town was not, so the following morning after listening to the beautiful church singing we left in search of a more remote spot.
A blustery sail to Tuahupoo
Moored off the quay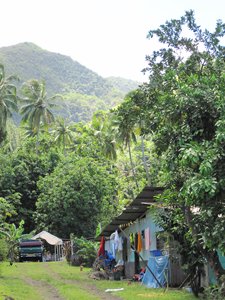 The famous Tuahupoo wave. Rather timid when we were there
Vaipoiri


Remote the next spot was, uncivilised it certainly was not. On arrival we ask permission to anchor in front of one of the houses in the bay. Permission granted and Colin arrived back with a plate of the most delicious Wild boar stew accompanied with fire roasted bread fruit. This offering lasted about 5 mins. Colin also returns with an invitation for drinks that evening. Having strolled around their beautiful tropical Garden teaming with flowers we slumbered into chairs watching the sun set over the reef whilst drinking champagne with the whole extended family who were visiting for the weekend. I'm suspecting this doesn't happen everyday in Polynesia. As Colin said when originally returning from Micheal and Maria house, "I think we might have stumbled upon a 'true treasure'".
Moored in 17m with a sand bottom off the family jetty stern tied to a buoy ot stop swinging onto coral.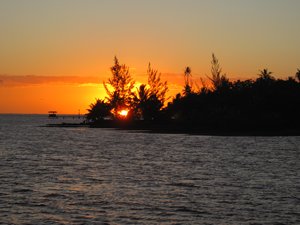 The Sunsets of Vaipiori
Maria and family
Average flowers in the garden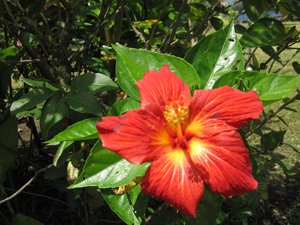 So first impressions where not wrong. With strong elements of not wanting to impose we found ourselves fully ensconsed each day with the wonderful Mercier family. School had to get done triple quick as each morning by about 9 or 10 we were off on an adventure. We visited a remote cave with wonderful local legends of princesses, Wild Reptiles and warriors.
This was followed by swinging from ropes before plunging into freezing fresh water mountain rivers and enivitalbly ended in an invitation for a scrumptious lunch Polinesi/French
style. Our only weapon in order to repay the kindness turns out to be pudding, it's a polynesian weakness. So each evening having left our wonderful hosts apres lunch I set to work making a delight for the following days lunch. This pattern continued for days. The children where gloriously happy as they had the granddaughters to play with 13yr old 'Ana via, meaning clear water' and 13month old 'Tara via, meaning surf water' there is an awful lot of water in Polynesia hence the origin of names. Taravia's mother, Sabrina, is magic her English is incredible, she teaches in a school in a deprived area so is hugely interesting.
Family outing to the Grotte de Vaipoiri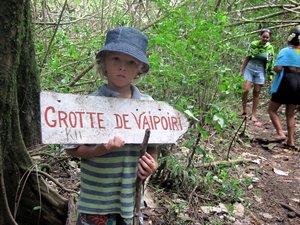 Snowy's birthday
with tea on the boat for everyone
Our time spent with this wonderful family is possibly one of my most treasured. We eat royally, buckets full of Lobster salvaged from a dangerous reef in the dead of night, Sashimi, Poisson Cru, always accompanied by Micheals delicious fresh green salad, green leaves have been an ingredient I've so 'longed for' during our trip.
Eating together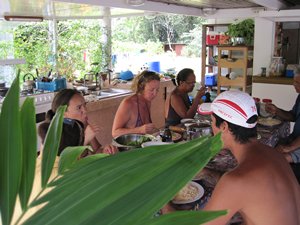 time and time again
A speedy trip to the village in Michels boat to get bread
There seems to be a stream of family and house guests coming and going, From ex French Legionaires turned bee keepers, who came armed with two lovely daughters. We got to have a collect wild honey from the forest and have an incredibly indepth bee science lesson plus Hive demonstration.
On a wild honey expedition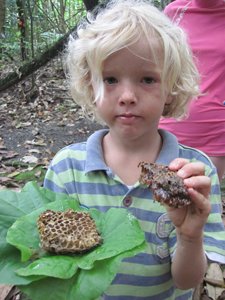 A river swing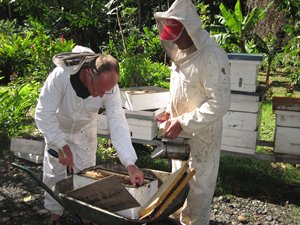 Stefan the beekeeper looking after his hives, results in . . .
Honey on porridge
A toast to the Foreign Legion
and kids
Jungle trek to waterfalls deep in the centre of Tahiti-iti

Maria is a wonderful cook and so it's now time to start my Pacific indoctrination of Ottolegi. Maria was quick to select, which enabled me to provide lunch for the family. This might sound like a week of food, which it was, But it was also a week of fabulous chat, I've learnt so much more about the economic and political state here. We just hope it's the beginning of a great friendship. One of my favouite visual memories is seeing Maria with flowers in her hair each morning and evening as the light is at it's most delicious s serrenly out on a outrigger armed with a net gathering food for the day.
Maria fishing with her net which she does every day
Cosmo and Zin ride a dumper with Michel just to top things off

With fear of out staying our welcome, which would have so been the case had the shoe been on the other foot. we pulled anchor and headed to find our next port of call. But sea outside the reef was brutel, causing both kids into a state of vomiting, So with bad visability we ended up heading to the last bay on the North of the island. The bay where we expected to do our last provisions before heading off to the Taumotous once again.

We decided to stay in this rather unprotected bay for one night, which left me enough time to hitch to the next town to do the last grocery shop. Given it was 2pm when we arrived, colin dropped be a shore armed with empty bags, hoping he would see me before dark. thanksfully the first car that past took pity. The extremely large tiki tatooed chap managed to tollerated my inane, random, incomprehendable french muddle of word for the next 30 mins before despatching me at the supermarket door. Having filled a trolley and then struggle the 200yds down the road with 6 enormous bags I then had to tollerate the humilliation of sticking my thumb out. Luckily after 8 cars passed a father with his 5 children decided to pick the 'odd' white lady in a homemade polynessian fabric dress. This guy was fabulous, not only did he speak incredible English his family had originater from Marquesas. His Grandfather, aged 6 remembers meeting Gaugin, but far more interesting than that, I think, he talked of the trail of devistation the Artist left behind. It seems that for every girl he painted he also killed with his hideous diseases of the goin. By the time he departed this moital coil it seems he wasn't much liked by the Marquasans.

Having shopped so well and so quickly ment we could hoist the sails taking advantage of wonderful winds that will take us back to the Tauamotos. So by 6pm that night we're off.
Cooking lessons; the Children find an ingenious way to chop onions without crying
Cosmo visits the 'Cruising cuts' saloon
The request was a Harry Potter haircut, but he ends up looking a bit more like Malfoy (the bad guy)
Mummy showing off the last bin bag.
The significance of this is that Liz bought enough bin bags before we left France to last for over 2 years!
---