Samoa VI - Teuila Festival

Pacific Bliss
Colin Price
Wed 8 Aug 2012 04:26
Teulia Festival
In classic Pacific Bliss style, we guaranteed the first folk who mentioned the Teuila Festival that we would a long time gone when it started. Well here we are, barely ready to depart and the festival is in full flow. The very positive side of taking our time is a bounty of wonderful experiences and folk we have met. Our final wheeze came in the shape of a ketch call Long Shot II. Family from Canada escaped life and work for 18 months, sound similar....
The Teulia is an annual week of local colour celebrating Samoan culture and sport.. Excellently am-dram, poorly organised, and with no idea who their target audience is – locals or tourists, but it has some gems in there too, and plenty for all the family.
The Girls go off to find out who is going to be crowned Miss Samoa 2012
Given I grew up in the 70's when Cindy Doll's, Miss World and Eric Morely was all the rage, this was the first opportunity I've ever had to see anything remotely like a pagent. Thinking every young girl will love this Susan and I take the girls. The Beauties are given a remarkable amount of things to achieve, wearing amazing creations and Preforming a talent, all of which they did admirably. However they also had to do a Q and A to a mystery question, it can only be remonisant to 'Miss Congeniality' wanting to be kind to animals and save the world, only worst. Goodness knows what the organisers where thinking of when wording these rediculars questions.
Traditional tattooing done by hand with the aid of instruments of torture and a hammer
The Master at work, our friend and hitched lift from earlier.
Samoan Krikkit
We've been terrible keen to see this local style of Cricket, sadly until now we've been out of luck because it's the end of the season. During the festival they put on a tournament, so Colin takes the kids off for a bit of Samoan culture. Krikkit seems a lot like British cricket only with a bit of team dancing done by the fielding side when the batsmen are out and changed over. I think our wicket is in the colourful and noisy version of the game.
Having had a bit of a hard time with health etc I treat myself to a massage, facial etc, and boy I luck out. Having explained I lived on a boat the lovely guys from 'Le Spa' assumed I was from the super Yacht tootling about in the harbour. I'm so not complaining as my 2hr session turned into 3. It was possible the most sublime feel good massage I've ever had. So much so I felt so guilty and booked Colin in for the following day. He didn't complain either. Ivy, ex miss Samoa mixed up postions that made your skin and well being tingle. If I had the money I might just bet her to be the next 'Jo Malone'.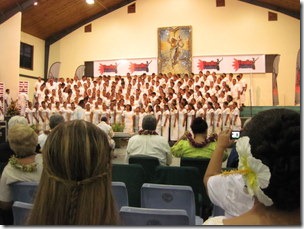 Opening night of the Teuila festival and we go to the evening of massed choirs from around the islands.
We've found ourselves is the height of a social whirl which is causing me to hyper-ventilate there's so many good things going on in the new Samoa. Not sure if this culture really lends it's self to Performance art, it is a largely oppressed society, so other than the fire dancing it's not really our thing. But Susan, our coast guard friend from Canada has been hand picked by possible the most gregarious Samoan on the planet. A performing buddy of Paul Daniels, need I say more. At every opportunity he finds the good natured Susan to come up on stage. I'm am for once rather delighted to have be too earnest to be considered for a second meeting.
Fatusi racing with 46 rowers per boat is an important part of the festival
A very Samoan affair, Huge boats of 46 man crew paddle in unison and at high speed. In our dinghy we're clearly in breach of regulations as we're the only boat without a Police escort – oops! No wonder they try and T-bone Doug and the boys, only it back fires and the exNavy boat managed to go aground.
Samoa with out a doubt held very little expectation and has delivered more than a bucket full of experience, learning, friends and a bit of a love affair for me.
We've hung out with Captains and crew of Super Yachts, along side captain and Crew of Eco warriors, Finance ministers, Folk that recently hung out with Hilary Clinton. Chief Matai and just plain old wonderful humble samoan folk. All of which we have learnt and loved. Oh and we met a few magic cruiser folk too.
---