Isle Sous le Vent - on our way out of Polynesia

Pacific Bliss
Colin Price
Mon 28 May 2012 04:55
Tahiti-iti to the Ilses Sous le Vent
A Gentle sail of 270nm across from Tahenea takes us 3 nights and we arrive, if not rested, not in a bad state.
Le Presque Isle, Tahiti-iti
We loved being here before and made friends with Maria and Micheal who have chosen to leave the vigors of Tahiti and move to their family land that sits on the bottom of Tahiti-iti, the land mass that's tacked on the the bottom of Tahiti. It's less populated and visited, where M&M house is there aren't any roads either. We are gobsmacked about how beautiful Iti is on our return visit, by now we've seen quite a bit of Polynesia and this place really is a top and dramatic spot. Super seeing our friends Maria and Micheal but again the weather isn't being kinds. After a few days recovery and a waterfall hunt up the valley to find one of the impressive cascades we can see from the boat followed by a delicious lunch with our pals we make our merry way up to the metropolis for the next stage of work.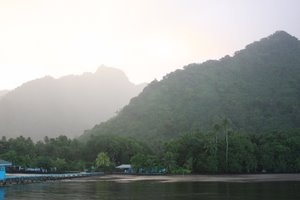 Jungle trek towards a waterfall
for obvious reasons it alludes us, the kids are now fabulous at crossing raging rivers and bashing through jungles with machette in hand.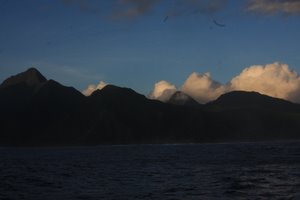 Papeette
Our evening trip back into Pap's doesn't turn out to be a walk in the park. We're obviously feeling particularly brave and perhaps a little cock sure, after all 'we've navigated the Tauamoto's -- what could be harder!' Our approach into the harbour at 11pm is no joke. More than one of the entrance markers lights are out and Colin is having to push the engines at full pelt to keep our course due to the outflow. I'm up front with the big torch desperatly trying to find the channel markers that, infact, aren't there at all. The other flashing lights are beckoning us on perhaps in the wrong direction. It is for Colin the most excruciating nervy enterance into a lagoon to date.
Up early the following morning to get on with Jobs Jobs Jobs, none of which perhaps would seem big or time consuming but living in a city with no car makes everything four times longer and then double that again given your in Polynesia. I walks up and down an industrial estate at least 6 times with more than one back pack over stuffed, this bit isn't the stuff of dreams I promise, but it's necessary evil. Our last experience of Taina Marine, or rather the anchorage wasn't one to savour. But this time the anchorage area is empty and the weather benign so it's really rather pleasant.
For Colin it's Hydraulic steering, refuel, retreiving packages, checking in checking out and a wee bit of hardware shopping.
For me, more bloody food shopping, thank god it's only every 8 months so at least the endless and mindless pushing of a trolley only has to be endured twice a year, even if it's does take a whole week. I also manage to replenish a bit of my now progessively rotting wardrobe, a necessary expense.
It doesn't take Colin long to develop a look of high aggitation at being here. We're tippped off by fellow sailors that dinghying Down Town is a good alternative to the rather painstaking 1 hour bustrip, turns out it's a brilliant heads up. We even manage to pursued Colin to take us for a family lunch. Top Tip, when in Papeete find a large-tummied-bonviver French man in the street and ask where is good and local for lunch. We hit the jackpot and find we're eating the best meal we've had, in a restaurant, thus far. Given I could probably count on one hand the amount of lunches out, isn't the point. It's just fab being in the city and eating Steak Tartare and the children for once are being delightful at meal time.
Moorea sunset from Tahiti
Oppi sailing one afternoon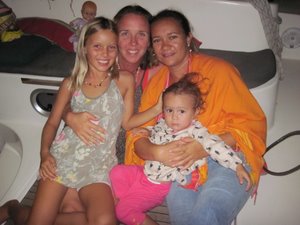 Sabrina & Taravae come to visit
Moorea
We vowed never to return to Moorea after being boarded and robbed. But having met and become friends with Alfred and Tania we couldn't possibly leave this wonderful place without saying farwell. They really are the kindest of folk. When all the hideous stuff about the Marquesas Murder hit the press, they were the first folk to contact us, concerned for our welfare and worried what effect it might have on our impressions of Polynesia and it people. With all the crazy antics in the Marquasas we'd been remiss at writing recently. We had expected to be passing through Moorea by the end of April so due to us being lax and remiss with our correspondence we found them really delighted that we hadn't passed them by. Folk here continue to surprise us, it's seems full of delightful, honest and generous folk. We promise once back at Crabapple we'll go armed with apples and carrot to any visiting Polynesian boat............
Lovely to be back 'dans le bleu' after a week in Tahiti
Alfred in repose and at work
We cook a leg of lamb and Alfred prepares his poisson cru - both times around it is simply the best we have had in all the time in Polynesia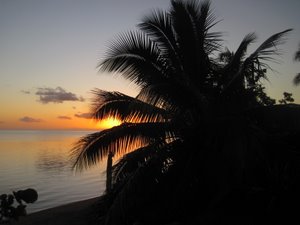 Relaxed sundowners
Tania cutting pineapple like at the hotel
Alfred and Tania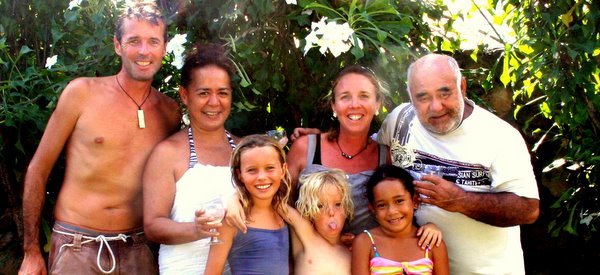 Family
The kids play
with a cat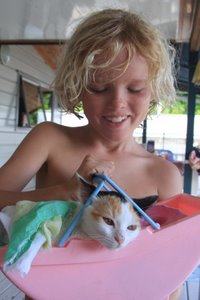 Papeette for a last time
Like our last visit to Pap's after a week here Colin develops mental and medical issue, it's essential our stay here is no-longer than it takes him to forefill his jobs. Incredibly we managed to complete everything under the estimated time limit, and we're off in record time 8 day after arriving. Final final lunch with our first friends made in Polynesia, Coco and Tierri without whom we would have fleed Gambier and been home by now. We definitely feel it's the goodbye run and deflating it is too.
Final lunch with T&C colin produces a really quality pudding of tinned fruit and whipped cream from a tin.
Moorea for the very last time
Back to Robbers bay, Opunohuu Bay. This time we're extra specially careful. Lovely friends Coco and Arnaud have lived here for 5 years, teach in the kids sailing school here, during their time here they've been robbed 7 times. So we shouldn't take it personally - it's just that Moorea's economic state is pretty bad. Anyway, we get away with it this time, but not before remembering to write a hazard report to Noonsite.com
To add to the concerns of the bay we find the customs boat prowling, given we've already checked out, and are full of duty free wine, we shouldn't be here by rights. The fact is we're waiting for Arnaud, who's delivering a boat from Raietea. Then we'll be delivering him back as we pass through. Luckily for us daylight hours are almost over so we get away with it, this time........
p.p I had in fact written Costumes boat first time round and Colin was loath to correct it, I'm laughing now thinking about these beefy men boarding our boat wanting to check our bikini's and trunks!
A visitor behind the boat
Probably the highlight of the kids trip thus far, Arnaud takes them out for a lesson on a 'hoby cat'. According to the sign at the school they should be at least 10 years old to have a lesson but Arnaud thinks differently and has Z up on trapeeze of an adult sized catamaran. It's probably the clinch pin for the two of them, the oppi is boring but the hoby is fun and definetly a reason to keep learning to sail.
Zippy Zin out on the trapeeze
Much to Colins excitement we now have a professional skipper on board. The kids are delighted as they both adore Arnaud, Z is determined to win his love so starts to power knit and make blankets and scarves for his teddy Pingu. I'm very happy 'coz I'm getting more sleep and this lovely lovely young man not only pretties the place up, but he's a damn good washer upper. I think this probably goes down as Colins favourite passage. Ohhh, praise be to Arnaud.
Arnaud, our proffessional skipper
Cosmo, our professional .... ?
A very peaceful passage overnight
Moorea disappears over the stern
Raietea
Not much to mention other than the fact the chief engineer from 'Dream Yacht Charters' is from Ua Huka and as they have many Catanas manages to talk Colin through our ongoing hydraulic problem. Did we ever say how much we love the folk from Ua Huka.....
And yet more rounds of farewells to Arnaud and Clautiel.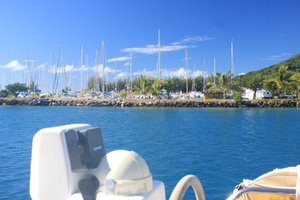 On a buoy outside the marina
where Aranaud and Coco and Pingu are moored
Bora Bora
Colin, has been keen to visit Bora-Bora. Increasingly I'm finding that whole 5 star chain hotel a rather hideous, pescriptive over priced cleeshay. I have to say he's right to go and see it. I suspect if I was to visit this wonderful bit of the world for a few weeks, Bora really does have it all and without a doubt it's beautiful - it's just we're used to the wilder stuff now, but our quick snorkel in the well trained 'fish tank next to the Sofitel is fun when armed with an old baguette. Mates of ours stayed longer and everyone who does has a great time and there are amazing hikes to be had apparently. But given we're not supposed to be in Polynesia at all need to keep a low profile, not easy with two rather loud blonde children. So, as if by magic, we're spotted by Customs and boarded! Luckily for us these guys are super super friendly, not sure if it helped mentioning our friend had just become a customes official in Paps but these guy really couldn't have been nicer, if they'd stayed any longer I'd have made them lunch.

The enigmatic Bora Bora seen from the pass at Raietea
The kids get a tow as we sail down the lagoon past hotels on stilts
Classic cauldron volcano of Bora Bora - all a bit busy for us though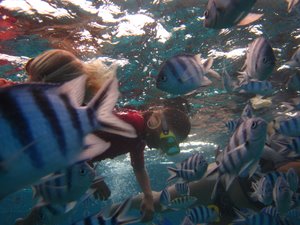 A man influenced coral-garden with a bazillion fish

A classic Bora hotel complex built on stilts stuck out into the lagoon
Poetry reading one evening and yoga in the morning
One more short stop in Maupiti then we'll be on our way..... or will we?
---