Cubed

X86
Rich Carey
Sun 1 Apr 2018 02:52
23:8.635N 82:22.830W
We call it 'Cube-a' because 'cube' is so familiar to us. But they say 'Cooba'. So why didn't then spell it Cooba?!
Sergio and I went on a little adventure. We left x86 at 05:00 wednesday, and left Panama at 07:15, arriving at 11:30 ish Cuba time (1 hour ahead). Three days and two nights at the National hotel in Havana. My first flight for well over a year, which is well odd. I haven't missed it a jot!
It was always going to be about the cars - of course. We got a 1950's Buick from the airport that had more holes in it, than an Al Capone's classic.
That turned out to be another trip punctuation point - most of these old beauties are wrecks! Lack of money and lack of spare parts would be the cause.
It just seems such a shame - but that's because we see a car that should be in a show, while they see an ancient work horse that is all they can afford. We dream of a Ford Prefect, they dream of a Toyota Camry.
Old town Cuba was great. Reminded me of Cairo !?
As you walk up the streets, quiet of neon and hoardings, you look in open doorways. Normal large street facing wooden doors, but behind them, they open into courtyards, like separate little micro villages. Courtyards; spiral stairways; passages; micro house fronts; appartments; gardens. Brilliant.
And of course 'the cars'. While they probably hate them, they certainly recognise a tourist dollar when they can grab one. The center has lots, but I was interested in knowing if they only exists in the city as taxi's and tour cars, or if they are also 'real cars'. Bottom line - they are also real cars.
Day Two we went to a famous valley 2 hours out of the city. It was 'ok'. I wouldn't bother again, but we did see a bit of rural Cuba not just the city. I wouldn't say 'poor' applied, but 'sparse' fits. It just seemed kind of 'boring'. Few shops; empty shelves in shops; bored faces; tired residential areas; tired homes.
Old cars: 20%; Russian Lada's: 20%; Motorbike and sidecar: 20%; Horse and cart: 20%; Newish mid level Japanese cars: 20%.
We hired a Newish mid level Japanese car taxi, as a 50's clunker would likely not have lasted our countryside jaunt - or maybe our spines wouldn't!
Final day we did the City hop on hop off bus. We never hopped off. Occasionally in English I got 'here we have a residential area, with nice residential houses'- man o man, outside the very center, there was ' NOTHING'!. Nuff said.
Then we again walked the city center, and again it was about those 'hidden lives' behind those big wooden doors - most excellent.
Then we flew back. Sergio to Panama and then Buenos Aires, and me the easier trip to just Panama.
All's well on x86, another big name ticked off the world tour.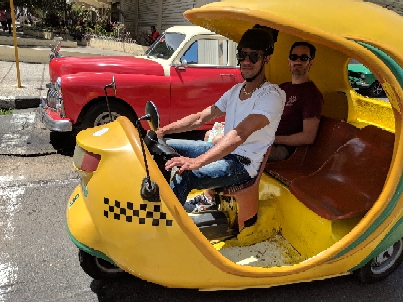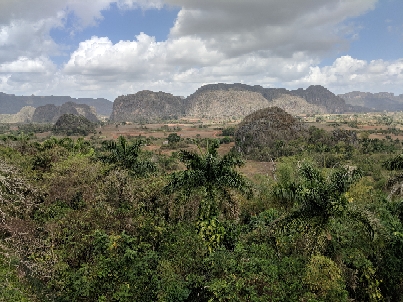 ---