Australia via 'Bumpy As All Hell' route

X86
Rich Carey
Wed 3 Oct 2018 23:00
163 54.043E, 22 43.254S

First 24hrs of New Caledonia to Australia have gone as planned. I deliberately left on the tail end of a low to the south, to get some decent early miles in as the forecasts all agree that things are likely to be rather slack for the passages mid stages. But, 150 nauticals on the north west quadrant of a low means 'rather flipping bumpy'. Add to that some minor squalls, and you get a sleepless night. I wasn't expecting the wind to exceed 25kts so I'd left the full main up. By 20:00 I was seeing regular 23's, bumping significantly, and dodging a trawler - that calls for some peace of mind, and that requires dropping to the second reef - ok, get on with it then. All deck lights on, both engines on, ropes laid out - 10 minute full on street fight, and then all's good :-).

The decision to stop in Noumea was a good one. Splitting the weather, and having a rest was the sensible, but mainly it was good for the catch-up with Bare Feet and Raftkin. They crossed from Fiji 6 days after me, but picked up strong tail winds and made it in 4 to my 5 days - so we had 2 days of overlap. Unfortunately they couldn't get in the Marina (full), but anchored near and we had some good catch-ups in the Marina bar. Chris and Elissa on Bare Feet were the very happy recipients of 5 bottles of spirits from x86, as I'd been lugging them all the way since Dubai, and was going to have to get rid of them in the final boat emptying exercise. We don't drink spirits, they were along against social engagements aboard, but while we've had several, people almost always drink gallons of beer and wine - sailing is a thirsty game.

I did no boat work in Noumea. There are half a dozen, not huge, jobs for me still to do, but I'll do them in the boatyard when x86 is hauled out, and the Kitchen work is done. I did buy a couple of new electric bilge pumps.

On the stopover, I managed to get half a dozen new films, so enjoying those this passage.

The dodgy plotter picture is my departure (red circle). Coincidentally, Bare Feet and Raftkin left at the same time and are onscreen - they are exploring NC for a week or two more, before jumping also to Coffs Harbor. We had a quick chat on the VHF. If I get held up in PIttwater with the haul out and work, I may see them again there, as they are both also being sold, and their broker is in Pittwater.

All's well on x86, although bouncing 6 inches off the saloon bed for another several hours yet.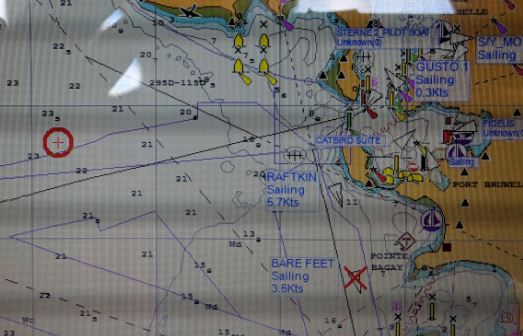 ---