Los Testigos

Sarah Grace goes to sea
Chris Yerbury and Sophy White
Fri 29 Dec 2006 16:21
Los Testigos! Saturday, 23rd December 2006
Chris raising the Venezuelan flag and Q flag in sight on the islands.
We arrived here yesterday, after an overnight sail from Prickly bay, Grenada. We left at three in the morning, having been advised to leave by various folks at three pm., midnight, dawn etc etc. The idea is to arrive in daylight, as there are loads of rocks and outlying islands, and a two to four knot current through the place. Having taken into account all the advice and working out average speeds from six to eleven knots (claimed by our anchor neighbour, seven knots boat speed plus four knots current) we left shortly before three and arrived at about three the following afternoon, having covered ninety miles.
We had another exciting fishing session, in sight of the islands. Chris asked me to put the fishing kit away, but I thought, hey, lets give it a go, as we hadn't even dropped a hook in for the entire trip. We fish in the same way that you buy lottery tickets, you never expect to win but it's a nice thought. We are famous for travelling five and a half thousand miles and catching only four fish. I was dropping the line into the sea, regaling him with a fellow sailors recipe for success, which is only let out fifty metres of line, as the fish are disturbed by the boat, look up, and see the lure.....
In the middle of this, there was a thump on the line, which nearly dislocated my shoulder, and I yelled and did the sensible thing, which was to hand the line to Chris, who landed a three foot dorado. They are such beautiful fish that you feel like a murderer and a thug, so after a combined effort of Chris with a winch handle and me pouring Rivers rum over it's gills, it was despatched. And it was very very tasty, we shared it with a French boat last night, and had dorado sandwiches for lunch today.
We lost Mimi on Iguana Island, where we checked in and practiced our Spanish, Chris excelling himself with his 'tres biens', and when asked what time we arrived all I could think of saying was 'en punto'(= o'clock). MUST improve. We found Mimi at the end of a sandy track in the middle of the fishing village being chased by boys with sticks, having a game.
We had a horrendous night, in an anchorage so rolly that things were flying around crashing and banging, and it felt like someone was trying to shake you awake. I read and sulked. Otti felt seasick. Chris only woke when a hatch flew open with a smash.
Today has been one of those times that will haunt you till your dying breath, for it's beauty and peace. After flogging into wind and current for half an hour, we reanchored in an amazing quiet bay, such peace, no rolling, what an incredible relief. There are pelicans and magnificent frigate birds by the dozen, and cacti and goats, and now it's dark, fireflies and cicadas.
We waited until four and went out, as we could go out without being fried by the sun. We climbed over the Testigo Grande to a huge area of deserted beach and dune, and swam and played in total isolation. It was an amazingly beautiful place.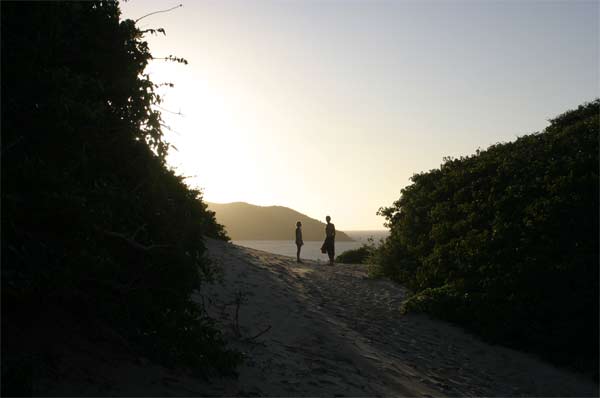 There is one boat next door to us with some chirpy French naturists on board.
We unearthed the little Christmas tree and set that up with it's decorations. The boat now feels like home again.
---