Afloat!

Sarah Grace goes to sea
Chris Yerbury and Sophy White
Sat 16 Dec 2006 21:09
Grenada Saturday 16th December 2006
At last I feel that I have a scrap of spare energy and time to devote to communication. Getting on board has been a bit like going through a washing machine cycle, wash out the old ways, and now for something completely different. Out go the clothes, cars, shopping, school runs, food as you know it, communication with friends, animals, colleagues, relatives, TV and radio,(what IS happening on the Archers?), land, houses, cold climate, mud and routine.
In come waves, sand, tinned food, boiling heat, trying to organize school, exploding engines, being cooped up on the baking boat with your nearest and sometimes dearest, and lots of bitey things,(mosquitoes, jellyfish, no-see-ums, and things that lurk in eel grass), no fixed schedule to follow, and scary responsibilities, such as taking the family to sea on passages into deserted areas. I have been very nervous about leaving the well-trodden Caribbean for our next destination, Los Testigos, islands north of Venezuela, the coast of which is bandit and pirate infested. We have met and spoken to Jim on Dream Catcher, and Shaun from Ireland, both of whom have been to Los Testigos, and I am now somewhat reassured. We may well be there for Christmas.
It has been easier and quicker to manage the transition this time, it took us a month or so the first time.
Chris and I had an exciting engine day yesterday. He had been trying to fix the outboard (2HP Suzuki 2 stroke) when the main boat engine which was idling, set off it's alarm. We stopped it at once, took the cover off, and found it and the bilges swimming with oil. There was a hole in the top of it. We had had the cam belt replaced at Grenada marine, the week before launch, and they had not replaced the cam blanking screw. It could have been catastrophic if it had broken around a tricky reef. We rang Grenada Marine on a neighbouring boats moby, and they found the blanking screw in the mechanics tool box........
So we spent the afternoon cleaning oil out of the bilges, which was tedious and annoying and hot, but a relief to be doing it in a safe quiet anchorage rather than in a heavy sea out of sight of land and help.
Mimi at dawn having slept on the roof.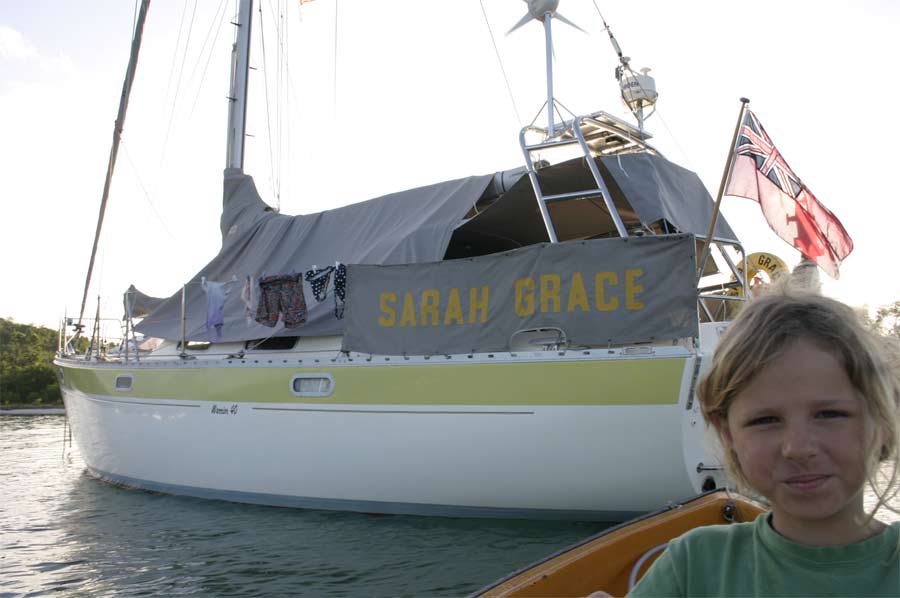 We hope to re-provision with vegetables on Monday and Tuesday in Prickly Bay, and leave for Los Testigos on Wednesday.
Mimi says: 'It's fun on the boat and I enjoy schoolwork'. Say 'Cool' to George Yerbury and say 'Squeak' to Hannah.
Otti says: 'Hiho having a wicked time to all at Chew, school is just as boring out here. See ya, Ott'.
Chris: 'I am a master mechanic, diagnosed oil leak(two litres of the horrible messy stuff under engine) and changed alternator belt, single handed!!'
---