France

Sarah Grace goes to sea
Chris Yerbury and Sophy White
Tue 5 Jul 2005 14:21
Hello EVERYONE! Tuesday July 5th: cloudy and grey. Morale: Fair.
We are some way down western France, sitting out a series of lows which have been blowing through from the west. We are gradually getting used to being on board, but have been a bit homesick for all the things that we are more normally used to, such as SCHOOL! Also dogs, friends, family, home and land, but not in that order!!!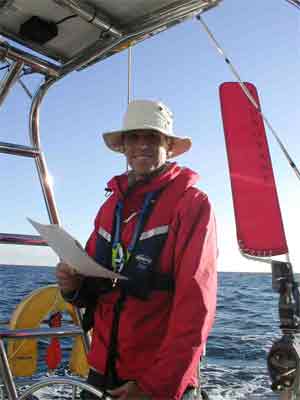 The boat is behaving superbly, all the kit seems to be working, and we haven't had any nasty shocks,YET! Chris is happy because we discovered an empty new locker behind a seat back, more space! We have just arrived at a marina (luxury) after four days rolling around at anchor off a little island called Houat. We are now in Ile D'Yeu, which is flat and warm and about six miles long. Today we all went riding with a French riding teacher, and then to a lovely pick-your-own vegetable garden, with a singular gardener who talked about heaven.
We are off to the chandlery to buy a clock and a mooring rope. We haven't hit any French boats yet whilst mooring, but our bow line is too short.
Mimi keeps rousing the ire of seagulls, maybe they see her as a bite sized snack, and dive bomb her. Her last seagull attack was in Houat. She has wised up a little, and runs like mad now.
Otti is swimming like a little otter, but missing her friends a lot. We really hope to meet up with another boat with children, heading south like us, soon. We had hoped to meet another Warrior 40 in France with a family aboard, but they are rather ahead of us at the moment.
Bob the dinghy is brilliant. Admired by seagulls. Sails. Rows. Surfs onto beaches. Causes mirth and hilarity wherever he goes, (of course nothing to do with us en masse).
Today we are looking closely at the weather to see if we have a settled pattern to make the passage to Spain. It will be a three or four day sail, which will be a challenge to all of us. We seem to eat a huge amount of fruit and vegetables, and organizing the supplies will take a day. We will put another web-site posting up when we get to Spain.
---