Baiona, the first of the Rias

Panulirus
CR and KN Williams
Thu 13 Sep 2018 15:20
42.07N 8.51W
Baiona, Tuesday, 11th September, 2018
Another pleasant uneventful journey of 65nm from Porto plus 4nm across the bay to the mouth of the river, arrived at 18:30 Spanish time. The hill on the right is Portugal, that on the left Spain. The foggy river Minho is between, not much to justify a time gap of one hour. [The white thing is not a pretentious Inmarsat (which I have seen on very small yachts) but a spherical fender on deck!]


We'd been told by many people that the Yate club was the better of the 2 marinas, and so it seems. 12 years ago they were full but I can't remember the other place at all, probably because I was installing the wind/water generator for our whole stay. This is the Monte Real Yate club which, at 64, is the oldest in Spain and has the honour of being the only one to submit an America's Cup entry. The berthing is most strange; the fairways are 50 metres wide (perhaps to accommodate the Cup entry) and although we paid an extra 15€/day to get a finger pontoon instead of a lazy line, in fact virtually all berths have both! The place is virtually full of very large expensive yachts and gin palaces.
Although there are now few tourists in evidence there are many restaurants one of which supplied an excellent Bogavante con Arroz from his vivier. Columbus first landed here after he didn't discover America, so there is the obligatory replica of a caravel which we won't visit (again).
We're all for Preventive Medicine but this sign on beach is a bit much.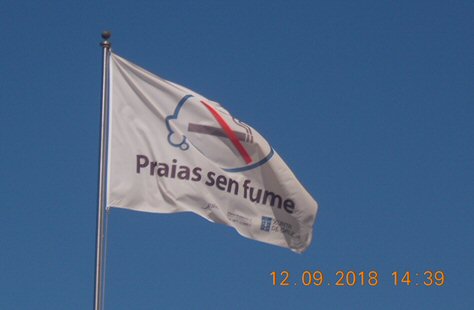 We had meant to go 8 nm across the bay yesterday but we were fogged in and again today, so I'll just have to watch F1 instead
K
The marina was eye wateringly expensive (49 euros a night) but they gave us 25% off for OCC membership. Lovely place with a view of the old castle, now a Parador, Lots of good meals and I have discovered almeijas a la marinera.
C
---