back in Turkey

Panulirus
CR and KN Williams
Fri 16 May 2014 14:56
36.39N 29.06E
Been back in Turkey for a month or so with not very much happening. Just waiting for parts etc and now we have left Marmaris drifting East to Gocek and Fethiye bay. Revisiting old haunts; not much has changed except the berthing prices which are now paid to the town council, not to the restaurants. They have also embraced 'town planning'; closing all the quayside restaurants and replacing them with empty children's playgrounds.
Only high point (sic) has been a balloon trip in Cappadocia.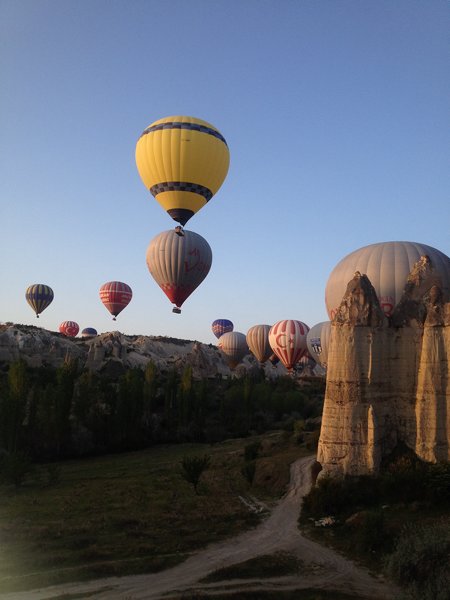 Only Jewish ladies might appreciate this which is basalt on top of worn-away sandstone .
We were tied up in Fethiye until C decided she was fed up with noisy (until 04:00) Germans and Russians so we've travelled nearly 1.5 miles to anchor, with some difficulty, away from them.
K
The weather was a bit windy and rainy so we stayed in marinas for a few days. Kept being surrounded by large boats full of hearty Germans and Russians who wandered around in skimpy speedos during the day and partied with much raucous laughter until the early hours.
Turkey has had 3 days of mourning for the 282 dead miners so all the restaurants in the fish market were shut. The fellow selling fish did however have a cousin with an open restaurant who cooked us some delicious prawns and grouper.
Now anchored in wonderful peace. Plenty of room to swing so none of the awful faff of taking a line ashore. It is beautifully sunny but the wind is chilly and the sea is still far too cold for me to swim: 21 deg.
C
---