Hi HO HI HO

andromeda of plymouth
Susan and Andrew Wilson
Wed 17 Jun 2015 14:21
Hi ho, hi ho, it's off to sea we go.........
........on Magic......Tina and Mark asked us if we would like to accompany them on Magic's first real outing since the new mast was fitted, and after the brief test sail, on to Barcelona, where they are meeting Tina's daughter Sarah and other friends. It's was an off and on few days – the mast finally arrived, was fitted (after the odd near ground miss) test sailed, a rendezvous arranged in Villamoura to fix backstay and radar reflector then off to....well all sorts of possibilities as it turned out. A very interesting, very humorous and, at times, challenging trip given they are also getting Magic ready for the ARC in November.
So, naturally, the wind refused to play ball which always happens when you have a plan and a timetable. We were seven up – Tina and Mark, us and Simon, the professional skipper engaged for the trip and the ARC, and his girlfriend, Kate and off course May – Tina and Mark's maltese dog who settled in to the sailing life after a few days at sea. We motor sailed to Villamoura and caught up with the riggers and after a few hours carried on motor sailing to Cadiz, in strong easterlies and horrible seas. We arrived in Puerto America Marina in Cadiz in 30kts of wind after an overnight sail with 3 hour watches, leading to a tricky berthing exercise and huge amounts of dust from the bridge building going on – everything and we mean everything was covered in a fine dust which got into the eyes, nose and throat – not very nice at all. The marina has gone down hill big time – there is no Wifi and the conveniences were frankly disgusting. However Cadiz is a wonderful city and we found a really nice tapas restaurant, Cafe Royalty, in what looked like a late 18th century salon with paintings on the wall and ceilings, mirrors, and exceptional service – amazing place and amazing value – we were astonished by the price of a three course tapas with a glass of wine. Tina managed to source both extra fans and plug adaptors in the town as well. The following morning we couldn't get out of there quickly enough as far as the marina was concerned – go to Rota, folks, it's far, far nicer in terms of a marina!
So it was off to Gibraltar as suddenly Simon's girl friend had to return to the UK – this was not good news. Conventional and practical wisdom says do not head into the straights from the west when an easterly Levanter is blowing. So we did. 32kts of wind on the nose in steep and short seas! However Magic coped with it, the crew coped with it and we made it through to berth in Gib around 11:30pm – very, very tired but pleased to have made it. Gib hasn't changed much since we were last there, though the Marina Bay conveniences have – they are very grand now and a treat to visit. The following morning we trotted off to Morrison's to get some much needed supplies and some uniquely British bits – sausages, bacon, Marmite, brown sauce, pork pies.........ahhhhh!
A quick re-fuel of 160 litres, and after Kate's Easyjet flight to the UK, saw us heading off towards the Med and Cartegena – naturally we didn't make the place, it was that sort of trip. This was the day when we heard of Mysha's arrival and everyone on board was really chuffed for Paul, Shayla, Amaya and of course Jenny so we had a sundowner or two to celebrate her arrival – as we didn't know her name at the time, her arrival was recorded in the log on Magic as "thing-a-me-bob" – very affectionately and with much love.
Heading for Cartagena we came close but as the wind was once again on the nose it was decided by the skipper to divert to Ibiza as a mid-night arrival in Catagena didn't appeal – so a course change was announced. We were looking forward to visiting Ibiza instead as we had never been there either and the anchorages and beaches looked really interesting. However dawn the following day (noted because we came off watch at 6am) saw another course change and we were off to Janvea instead. Ibiza – another time it would seem. We dodged tankers, container ships, cruise ships, fishing boats and saw turtles, dolphins – large in the Atlantic, small in the Med, amazing skies, clouds and a lot of lightning, and a fair bit of floating plastic and other debris.
An early afternoon arrival at Javea saw us tied up to the dock once more with an interesting challenge about getting ashore from the swim platform. Tina and Susan headed into town to supplement supplies and after sundowners at the marina we headed off for a meal before enjoying a quiet night on the dock. Friday lunchtime we set off again straight for Barcelona with the wind picking up through the day and we even managed to sail without the engine for a couple of hours before once again the wind turned to on our nose and on went the motor once more.
Saturday morning and Barcelona appeared and Port Vell beckoned. And this meant dry land, a marina, a flight to Paris for Tina, a flight to Seville for us and the end of the trip for all, but the start of a month long stay for Tina and Mark and time for them with Tina's daughter and other friends.
Barcelona is an amazing city – 1.6m souls hosting 7.5m visitors! The Port Vell marina is very upmarket and designed mainly for super yachts with golf buggies all over the place. It is very convenient to explore the city, which takes days, and has all the amenities the more well-off boat owners look for. Desigaul (a Spanish fashion chain with stunning designs) took a few visits by the girls! However given we only had 2 days in the city, we will need to go back to do the place justice – very vibrant, busy, colourful, full of culture, history, new and old – quite amazing and a city well worth spending time in, even though Gaudi's cathedral is still unfinished, he left his mark elsewhere in the city. Even Norman Foster has a tower! Tina's trip to Paris turned out very positively as well so we are really pleased for Think.
Alas we didn't have that much time so a 6:30am taxi ride saw us off to the airport in thunder, lightning and torrential rain for a Ryanair flight to Seville and an over 5 hour coach trip back to Lagos. We were very tired but really pleased to have helped Magic make the 781 nm trip from Lagos to Barcelona. She performed very well and now Tina and Mark have a few months to get her ready for the November Atlantic crossing with Swedish friends Lottie and Nissa – we wish them well.
We, however are now getting ready to return to the UK to see Mysha and everyone! We shall be having lots of cuddles with all our grandchildren and are really looking forward to the holiday planned together.
More in due course........
Susan and Andrew
Andromeda of Plymouth
Lagos
Portugal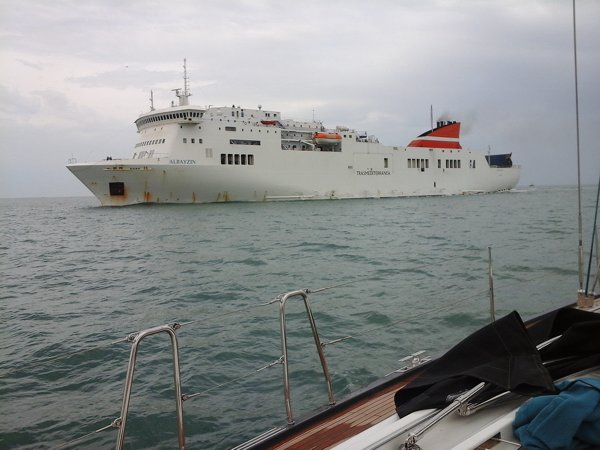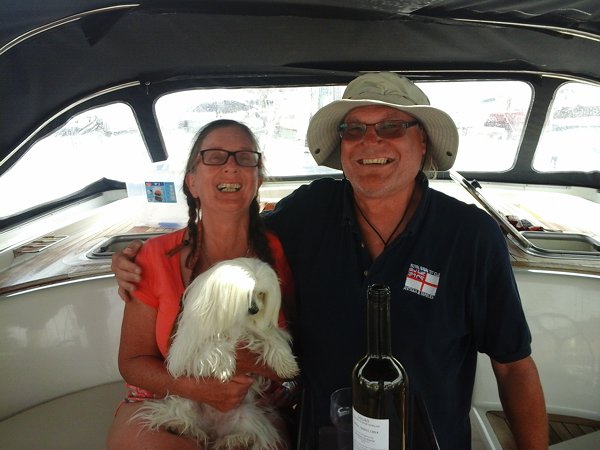 ---