Trinidad Two

andromeda of plymouth
Susan and Andrew Wilson
Sun 1 Jul 2012 15:05
Trinidad – sailing and racing and aching and, well, we had thought we were
here to relax, well at least a little bit...

....however Fred had other ideas and so we were picked up for the two day
regatta to Point Pierre, some 25 miles to the south east of Chaguaramas.
Curiously, we all had to clear out with Immigration to go the 25 miles and
to clear back in, and then repeat the whole process to come back –
Trinidad has some strange regulations. We were only 4 on Wings, so life
was going to be a bit on the hard side given that Fred is a competitive
soul, and Wings is a racing yacht fitted out for cruising! We had a good
start but the spinnaker hoist went a little awry so we spent about 5-10
minutes sorting it out before the spinnaker was flying – our closest
competitor was, however, a couple of hundred yards ahead of us, and
despite all we could do, we couldn't claw back very much. About half way
to Port Pierre Fred wanted us to change the headsail (No.1) to a smaller
one – much activity on the foredeck – but we got the smaller sail (No. 3)
hoisted ok. About a mile from the finish line the headsail tore! So down
came the No. 3 and up went the No. 4, very much smaller but at least we
managed to finish, although we had three sails on the foredeck, so a lot
of canvass to work around. Needless to say Andrew, as bow man, was pretty
tired! It was during this leg that Fred mentioned to Susan that no-one
over 50 should be a bowman – hmmm!

The regatta was organised to coincide with the launch of a new sailing
school on the site of a former club, unfortunately demolished in the
security chaos of post 9/11 – Port Pierre is in the heart of the
petrochemical area of Trinidad and security was a little zealous and they
simply bulldozed the old club on the grounds of too many people having
access! However about 20 yachts participated in the regatta and the
evening entertainment let Susan have a bit of a jig about. Andrew Lewis,
Trinidad and Tobago's sole Olympic sailor, in the Laser class no less, was
on hand to accept a dozen or so Optimist dinghies for the club on behalf
of YSATT – we wish him well in Weymouth! A new club house is planned and
the ground works are well advanced. A pleasant evening and a good sleep on
Wings saw us ready for the second day of racing, but the winds
disappointed so we reluctantly waited for Customs and Immigration – not
exactly on time – before heading back to Chaguaramas. All in all, a
physically challenging but memorable weekend. We have four more racing
weekends ahead of us – will we cope?

The next week's racing saw us slightly over the line at the start,
apparently – we're not so sure, a marginal call at best - so we had to go
back and re-start – this put us well behind our two key rivals and we
weren't able to close the gap enough. Still the weather was kind and it
was great to be on the water once more. Almost got those spinnaker gybes
sorted.
So we went out again the following Sunday, this time with a crew of 9, and
had a pretty good start and were heading up to the windward mark when
Judy, who was steering as it was a ladies skipper race, decided that the
rusting freighter ahead of us was just in the wrong place, so we tacked.
The two boats we were with didn't and consequently got to the mark way
ahead of us – ho hum – some calls work, some don't. Anyway, another tack
had us on the rumb line and we prepared the spinnaker for a hoist – always
interesting! The hoist went well and the gybe also sort of worked. So we
were well on our way for the downwind mark when Fred called for the genoa
to be hoisted in preparation for rounding the mark. However the tack
fitting came loose so the sail went far too high up the forestay. 10
minutes of fiddling by Andrew and Fred saw the genoa re-attached but we
then heard a loud crack from the main mast – ouch – it turns out the
backstay fitting at the stern had failed! Thankfully we didn't lose the
mast as the running backstay's and safety line on the backstay all held,
but all the sails, including the spinnaker which was still up at this
time, which subsequently (not good) went into the water, had to come down
very quickly and we consequently retired from the race – Fred is pretty
sure the backstay can be repaired in time for the next race. Susan,
unfortunately, got some rope burns on her fingers and arm (cue lots of ice
and white wine as an antiseptic and pain killer) as we dropped the sails
as quickly as possible, and Andrew leaked a bit from his wrist from the
gybe and shin from the genoa incident – ah, the perils of racing! Who said
early retirement was risk free?!

Despite all the apparent fun and games, we have begun the list of jobs and
arranging for the more technical stuff to be done - the trusty engine is
in pieces being serviced – we had an engine overheating problem as we
approached Trinidad so we needed the heat exchanger investigated. The
cockpit canopy is being measured for a replacement – it's done great
service for 7 years but is looking sad, the zips are failing and the
waterproofing, despite all we do, is also past its best. Another post on
the gantry for old rutland wind vane is being organised together with a
bow boarding ladder for use when we are in a marina, and Andromeda will be
"shrink-wrapped" next month so we can sort out the hatches. To cross
another ocean we need to be sure about the hatches when waves come over
the deck, as they do when beating into a rough sea, so they need to be
secure and leak proof. Anti-fouling comes later in the year but the hull
looks great following the " peeling" and re-epoxying last year, and we
have only one minor leak to track down – it's above Andrew's bunk, so no
great hurry! Ho ho.....hmmm!

Susan is enjoying her Net Controller day on Monday's and Andrew is, at the
moment, the lone weather voice on the net. Susan has had several "ladies
only" trips with Sadie (Kiss) and Judy(Wings) and Sue( Piano), who we met
last year in the boat yard, to Port of Spain – Andrew simply gets on with
the jobs and varnishing, and keeps smiling ......! The various yards and
marina's are beginning to fill as the hurricane season settles in and we
are seeing many folks who we met last year return, all with different
stories and experiences.

We went to a presentation about sailing in Guyana, the only English
speaking country in South America. It was well attended as the Tourism
Authority thoughtfully arranged for free drinks and finger food – always
guaranteed to attract cruisers on a budget. It sounds a very interesting
country with 80% rainforest still intact and they are very keen to promote
eco-tourism, but it will be quite a hard sail to get there against the
wind and current, possibly 6 or 7 days, and once there everything is a
long way off – still, for those sailing from South Africa or Argentina, it
would make a good stopping off point for a week or so. You never know, we
might go mad........

Andy and Lesley have confirmed and booked their flights to come and join
us next year – most impressed – and we are really looking forward to
hosting them for a couple of weeks. Sue and Paull are also planning a
return trip so we will be busy trying to be the host/hostesses with the
mostest! Awful pun stretching back to our distant past – something to do
with hostess trollies I think! Still we are really looking forward to our
visitors as we have so much to show and to share.

In the meantime Susan is making regular trips to the market and
supermarkets dragging her trusty trolley behind her, full of goodies.
Andromeda is starting to gain back her sparkle as the stainless steel is
polished and the decks etc washed and cleaned and all the lockers below
decks have been emptied, sorted and repacked (there are over 100 storage
spaces on board – most below decks). Susan is also looking forward to some
fun as she has material to make herself a dress and the fenders some
covers so the sewing machine will have an outing. Then of course there is
all the tooing and froing up and down the ladder to go and do anything off
Andromeda, we should be fitter soon, and we have got used to sleeping in a
bed that is not rocking.

Birthday wishes – we hope you all had a great – or will have a great
day.......
Sue White, David White, Nick ,Paul, Phil and of course the skipper
celebrates on 1st of July too.

Ps this week a rare treat we will be going to play Mexican Train
dominoes......maybe one of us will beat Carrie-Ann from Sweden who has
seen everybody off the last three weeks and set an unbelievably low score
of 79 to beat.

and this is the link for Fred and Judy's blog if you are interested.
http://wingssail.blogspot.com/


More in due course,


Susan and Andrew
S/Y Andromeda of Plymouth,
Chaguaramas,
Trinidad.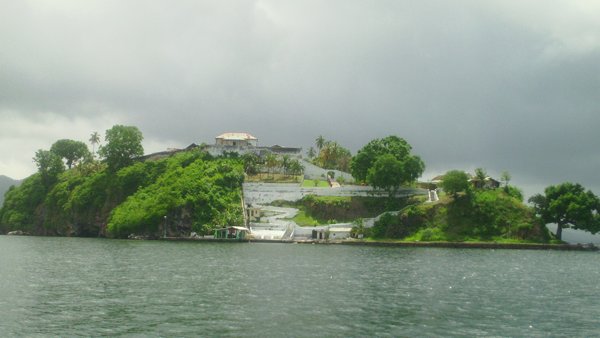 ---