Tripping along to Trinidad

andromeda of plymouth
Susan and Andrew Wilson
Fri 8 Jun 2012 20:04
Tripping to Trinidad..........:-)

The trip from a rolly Prickly Bay to Chaguaramas in Trinidad was both good
and fair – good winds to start with followed by little or no wind as we
approached the coast – which meant some motoring involved. Unfortunately
the engine began to overheat when we went above 1400 rpm so it was a slow
approach and an even slower passage through the Boca de Monos to
Chaguaramas itself. However we did get here and it was nice to return to a
place we enjoyed, expensive though it was, last year.
Naturally, as we've noted in the past, our arrival was not without incident!
We had arranged to spend a few nights in Crews Inn Marina before being
hauled out in Peakes. We duly called in and were directed to berth B17 by
the dock master – wonderful we thought as he said he would be there to
catch our lines. As we approached B17 nice and slow as we needed to put
two lines over stern posts we suddenly weren't going anywhere. Andrew put
some throttle on and still we didn't move – what was wrong? Had we lost
the prop? Was the gearbox failing? Had we caught something round the prop?
No – Andrew glanced at the depth gauge and realised we were aground! And
in a marina! Well we couldn't go forward nor back, we couldn't swing the
bow round, in short we were going nowhere and were attracting a crowd of
amused and interested bystanders. The dockmaster tried to pull us free but
it needed another cruiser with a larger engine to push round and we could
make our way out of the marina until directed to another berth, some 20
minutes after our unfortunate arrival – this time we were ok. Ho hum what
an arrival!

After securing Andromeda it was off to Immigration and Customs, both of
whom had seen our grounding and were quite amused by it – it did however
mean we had something to chat about, at our expense, which seemed to make
the process that much easier and friendly. So now we could relax for a few
days.

The following morning Susan announced our arrival over the Cruisers Net
and subsequently found herself a Net Controller – Friday's will be her day
for running the net until we return to the UK. A Net Controller basically
runs the daily net and follows a structure designed to engage as much
information and dialogue amongst the cruising community in Trinidad,
ranging from the weather, to social events, to parts and services needed,
items to be traded, to security and safety information – all listened to
by the majority of cruisers and marine businesses in the area. Later on
Andrew, not to be out done, agreed to do the weather a couple of days a
week, which he had done last year. Also on the same net a cruiser asked
for folks willing to do some racing, so we duly volunteered to race on
Wings in the local racing series. We also signed up for a 1.5 hour walk to
Maquaripe Bay the following afternoon. Mad fools!

Fred and Judy on Wings have done a lot of sailing around the world but
this is their first visit to the Caribbean. We set off o Saturday morning
for the 12 o'clock race only to find it had been re-scheduled for 1pm
which would probably impact the meeting time for the walk, but Fred was ok
with this – he viewed this first outing as test of the boat and the
scratch crew, which was great. Andrew found himself the bow man, while
Susan was on winches and lines – interesting crew assignments, but we
suspect these may change as the series progresses and Fred inveigles other
cruisers to join him. We started the race and were making good progress
but we had to retire to make the Maquaripe hike. Getting ashore was a
little adventurous as we made our way into the anchorage at TTSA. Fred
skilfully took us passed and around the many anchored yachts and we hailed
a moored catamaran for permission to cross its decks and then stepped
quickly from boat to boat without Wings even stopping. It was then a quick
stroll to the end of the road where the maxi taxi picked us up a few
minutes later- extremely good timing.

The hike itself was over a few hills, though an amazing canopy of bamboo
and then a great and refreshing dip in the sea, with Venzuela in the
distance. We managed to see a howler monkey but heard several more and
came across a wedding party having their photos taken in the 'Bamboo
Cathedral'. Of course we eventually arrived back on Andromeda pretty
bushed and were soon fast asleep.

Sunday was a lazy morning (muscles aching from the racing the day before)
but we energised ourselves enough for the Mexican Train Dominoes – those
that have played will appreciate the fun element, though there is a
competitive side to the game, and we were keen to brush up on our rusty
skills. Oddly enough Andrew won – odd because last year we were both
routinely in the bottom 5, but hey, aching muscles clearly did something!
A swim in the pool was a fitting reward.

Monday saw us arranging haul out with Peakes Yacht Services for Friday the
1st of June. Tuesday saw us off to Long Circular Mall and a supermarket,
and then, as a treat, we went to Movie Town to see, as it was half price
it must be said, The Avengers in 3D – the first 3D movie we have seen –
good fun as well. The rest of the week was about sorting the boat out
ready for the lift first thing on Friday morning.

We left our berth at 7.30 and made our way down to the travel lift
thinking we would tie up first and then sort out our lines but the guys
were ready for us and pretty soon we were off Andromeda ready to watch her
comeout of the water. The lift went well and we are currently on the hard
with the air conditioner working very nicely thank you very much. We had a
great welcome from the folks in Peakes with Greg, Augustus and Nicolas all
making their way over to us to say hello – really nice. Even the ladies in
the chandlers, local shop and Budget Marine remember us – maybe it's down
to how much we spent here last year.....?!

We joined Fred and Judy last Sunday for another race and a good time was
had by all – Fred even managed to get a first on corrected time, despite
the antics of his novice crew – still he wasn't too hoarse from shouting
when we returned! We have another long two day race next weekend which we
will update on in a later blog.

So now we have a lot of work to do before we return to the UK to see lots
of folks, which we are very much looking forward to. So from a warm, windy
and decidedly moist Trinidad (the local met office declared the 1st of
June the official start of the rainy season with 20 millimetres at the
airport) there will be more in due course, with an update on how the
racing series goes, naturally.

More in due course............
Susan and Andrew
S/V Andromeda of Plymouth
Chaguaramas, Trinidad

We hope Virginia gets better very soon and we are thinking of you.

P.S. Yachting Monthly have published an article on our forestay loss (way
back in 2110) in this month's edition – a whole 3 pages – enjoy if you are
interested. They have also said they will be publishing an article on the
mast loss during the ARC later this year – ah! Infamy, infamy..........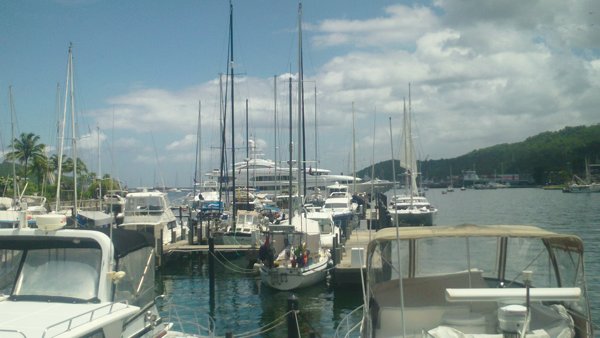 ---