Busy, busy, busy boating times in Trinidad

andromeda of plymouth
Susan and Andrew Wilson
Tue 30 Jul 2013 16:36
Busy, busy, busy boating times in Trinidad........yes we are still up and doing things to the boat – well someone has to!
Well, we've had lots to do since the last blog and this is our last for a while as we return to the UK – yippee! – going to see lots of family and friends – getting excited!
Sean finally delivered the goods – yes, the saloon seats are re-upholstered, the cockpit cushions have been fine tuned and re-covered , the foredeck and aft deck canopies have been delivered and all is well on the upholstery and canvas side of things. Sean and his team have done a great job and he is now in increasing demand as we, and others, tell other cruisers of the quality of work he has delivered. He even worked on Saturday to deliver everything before we leave. Hopefully the pictures will do justice, but we are very, very pleased.
Susan has been keeping Debbie busy on the swimsuit side of things with a couple of commissions for dresses and one more swimsuit, as well as co-ordinating a photo shoot so Debbie can show off the designs she has delivered these past few weeks. The quality of her work is very good and a great value when you consider they are essentially custom made. There is another assault on the fabric shops of Port of Spain planned with you know who in the vanguard! Jimmy Aboud, the key fabric shop, must be rubbing his hands with glee these past few months!
We and 8 other cruisers went for a 7 course lunch at the local catering and hospitality college which has a good reputation and all enjoyed themselves. This is the end of the course for the students and it represented another opportunity for them to showcase their skills. It's now a regular trip for cruisers as it represents very good value for money and the food is of a standard that the chefs next head off to hotels and restaurants with a cordon blue feel, and the waiting staff also head to a hopefully rewarding future. The photos showing the various courses were taken by Chuck Shipley from TusanTakII so you can see what a delicious meal we had.
We have now booked the October haul-out to get the anti-fouling done and the weeping through hull replaced. We have also arranged some dates for the battery replacement so most of what we still need to do has been put on the calendar along with the visits from Sue & Paull, and Sue and Ron(Silver Cloud). Our last weather reports and Cruisers Net have been announced and it will be interesting to see who is doing what when we return. Also we have made arrangements for the boat to be looked after while we are away – the last thing we need is a boat full of water when we return!
More as and when..............
Susan and Andrew
Andromeda of Plymouth
Crews Inn Marina
Chaguaramas
Trinidad and Tobago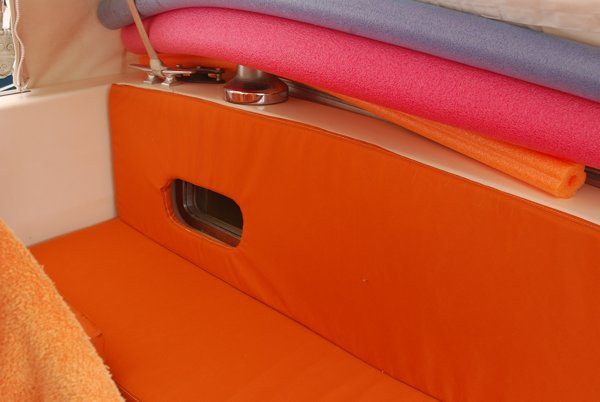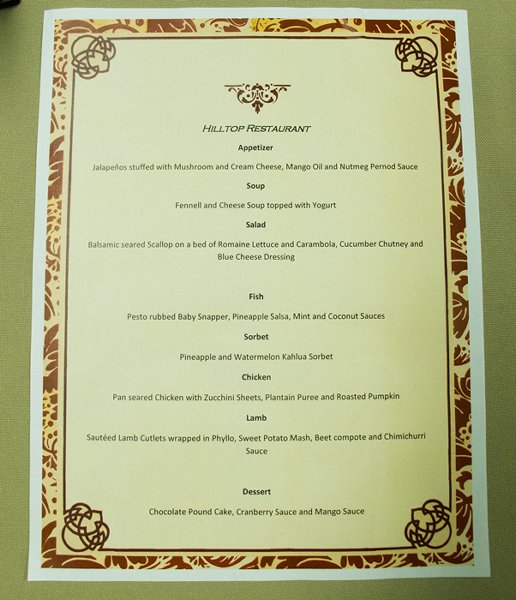 ---