Truths, half-truths and maybes

andromeda of plymouth
Susan and Andrew Wilson
Tue 26 Feb 2013 21:00
Truths, half-truths and maybes
We had a bit of a shock when we went to pay before leaving Spanish Town when the marina lady enquired as to whether we had actually used any electricity on board – and did we not have air conditioning. We replied that yes we had been using the shore power but no we didn't have air con. Looking at the bill we were amazed to see that the charge for the power we used was 39 US$ - more than the 10 days worth we were charged in St. Martin – electricity isn't cheap in some of these islands. Having left the dock before midday we made our way round the coast of Virgin Gorda and anchored in Virgin Gorda Sound for a few hours. We weren't far from the Bitter End but left visiting there till next time. We had a pleasant afternoon bobbing about and even had a visit from the yacht anchored nearby as they had seen our OCC (Ocean Cruising Club) flag so hoisted theirs and came over to say hello. Unfortunately we forgot to make a note of the name of their boat so can't tell you who they were but they were part of the original team that organised the Caribbean 1500 rally which is now run by the World Cruising Club and they know Andrew Bishop very well.
At 4pm we pulled up the anchor and set off for St. Martin and clearing the islands we were waiting for the wind to come round as forecast and the swell to turn, but hey ho no it didn't, and we had a rolly trip with a short choppy sea and no help from the wind, so motored sailed most of the way across, ahead of the heavier winds and big northerly swells due in the following few days.... we had to make the most of this weather window.
We arrived in Simpson Bay with just enough time to make the 11.30 bridge and once again found ourselves being helped to go stern to into a slip, this time on B dock, no 21. The following morning it was off in the dinghy to Electec only to find there were no engineers available for nearly a week so it was back to Andromeda to play the waiting game again.
We 're getting very good at this and took the opportunity for a few trips to the local beaches and a bus ride round to Marigot bay, punctuated by a lot of serious reading of the 'Song of Fire and Ice' books by George R R Martin. Andrew had picked up this series when it was first published a few years ago and last summer when back in the UK we had been given the HBO series of the first 2 books, 'The Game of Thrones', and now watched it all again. This resulted in Susan picking up the first of the books and that was all the sense that Andrew got from her as she ploughed her way through 2 paperbacks and 5 books on her kindle.....but hey it really did pass the time and if you haven't either read or seen the series we would recommend you do so as George Martin is a true storyteller, with this series becoming a classic especially with the pretty good job that HBO have done in dramatising it.
One of the beaches we went to has the airport runway running right next to it so you get a very good view of the landings and take-offs whilst paddling and swimming in the turquoise water with an excellent view of what the pilots have to do to avoid the mountains on the island. It's a very steep ascent and fairly sharp turn and we were glad we were watching from the beach.
When we went round to Marigot – on the French side of the island - we walked down and saw the other bridge at Sandy Lane, very similar to the Dutch one but not as big. It was interesting to see it and maybe next time we will go in that end as the fees for clearing into the country are less and they don't charge for using the bridge, so in consequence a lot more cruisers anchor on that side. Fortunately they take US$ as well as Euros and their supermarkets have a lot of French items in them which makes a change from the usual stuff, we certainly appreciated the price of their wine.
Dave, Bethany and Bryn from Cape popped by to say hello one day and eventually Adam from Electec arrived with his load tester. An hour later he was telling us that all 4 batteries were ok with one not quite as good as the others but none failed the test, and he tested the supposed failed battery twice. This was in stark contrast to what we had been told in Virgin Gorda.....what a conundrum.
We decided to do some tests over the next few days to see what happened and the end result was that things were not looking as bad as we thought and we have decided to hold off buying new batteries for the time being, especially as the ones we have are only just over 2 years old and to get ones of similar size would need sourcing from Europe. For once the bill was smaller than we expected.
In the midst of the testing we had the very exciting news that our latest grandchild had arrived. Jenny and Paul's second daughter Amayah was born on Tuesday 19th February at 11.30am and weighed in at 7lb 2 ½ oz. With the wonders of technology we were quickly able to see photos of this beautiful addition to the family and we wish them every happiness.
We celebrated by going to a wine tasting event at a local warehouse. Dave and Sarah from Cape had told us about it and we met up with them and also bumped into Rheinhard and Silvia from Black Elise2 again. The French wines went down very well with no mishaps in the dinghy on the way back to the marina.
A weather window appeared so we could plan our trip down to Antigua and we left C21 on Friday afternoon in time to get the 4.30 bridge out of the lagoon. With 88 miles to sail we were again making an overnight passage to beat the next lot of heavier winds and big swells due. Leaving St. Martin we passed Phillipsburg but there was only one liner in residence this time. By sunset we were off St. Barts enjoying a very pleasant sail in a reasonable sea making good time through the water and holding our course with not too much difficulty and by first light could just see Antigua through the rain clouds. We kept sailing all the way till we turned the corner of the island to head for English Harbour when the wind was directly on the nose so motor sailed the rest of the way. English Harbour was pretty crowded so we went round to Falmouth instead where we dropped our hook in time for lunch.
We now have a fortnight before Andy and Lesley from Kodiak arrive to spend two weeks with us here in the Caribbean.....and then it will nearly be time for some racing.
On the last post we forgot to say Happy birthday to Liz and to Susan's Mum Virginia. We hope you both had great days.
And with Mother's day coming up we wish both our Mums a lovely day and we will be thinking of you.
More in due course
Andrew and Susan
Andromeda of Plymouth
Antigua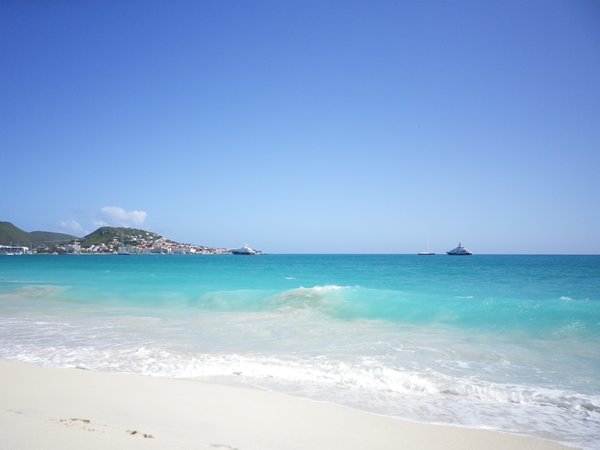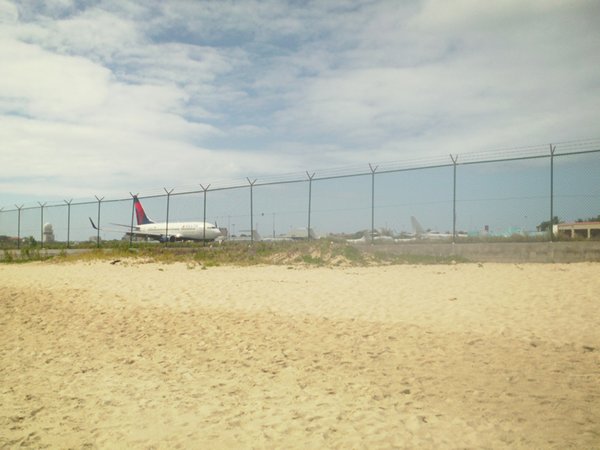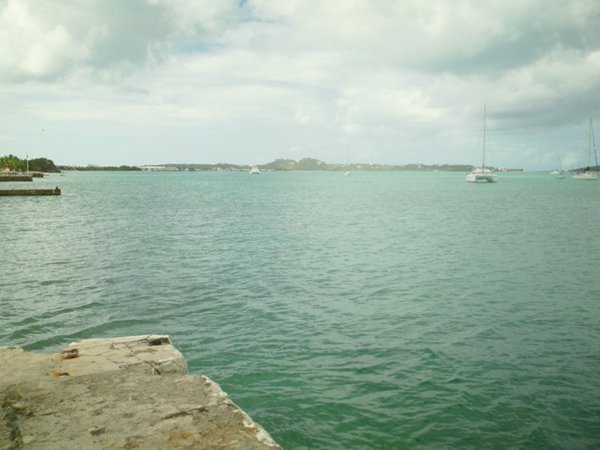 ---