Villefranche (Nice) to Cannes to St Tropez

Mor Toad / Moy Toad
David and Jocelyn Fawcett
Fri 10 May 2019 09:21
43:32.95N
7:00.93E

Route along the coast




Never seen a 4-5 person paddle board before!!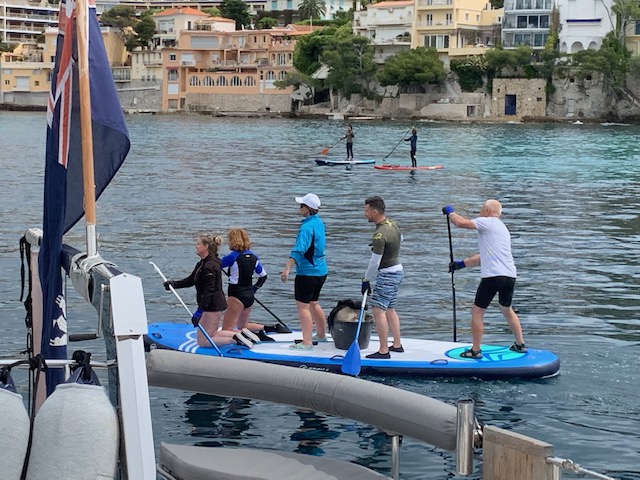 We picked up Andy and Steph by dinghy from Villefranche and had lunch ashore then returned to the boat. Andy helped David by diving to further clean the propellor and change the anode . So another of the many jobs that always needs doing on a boat.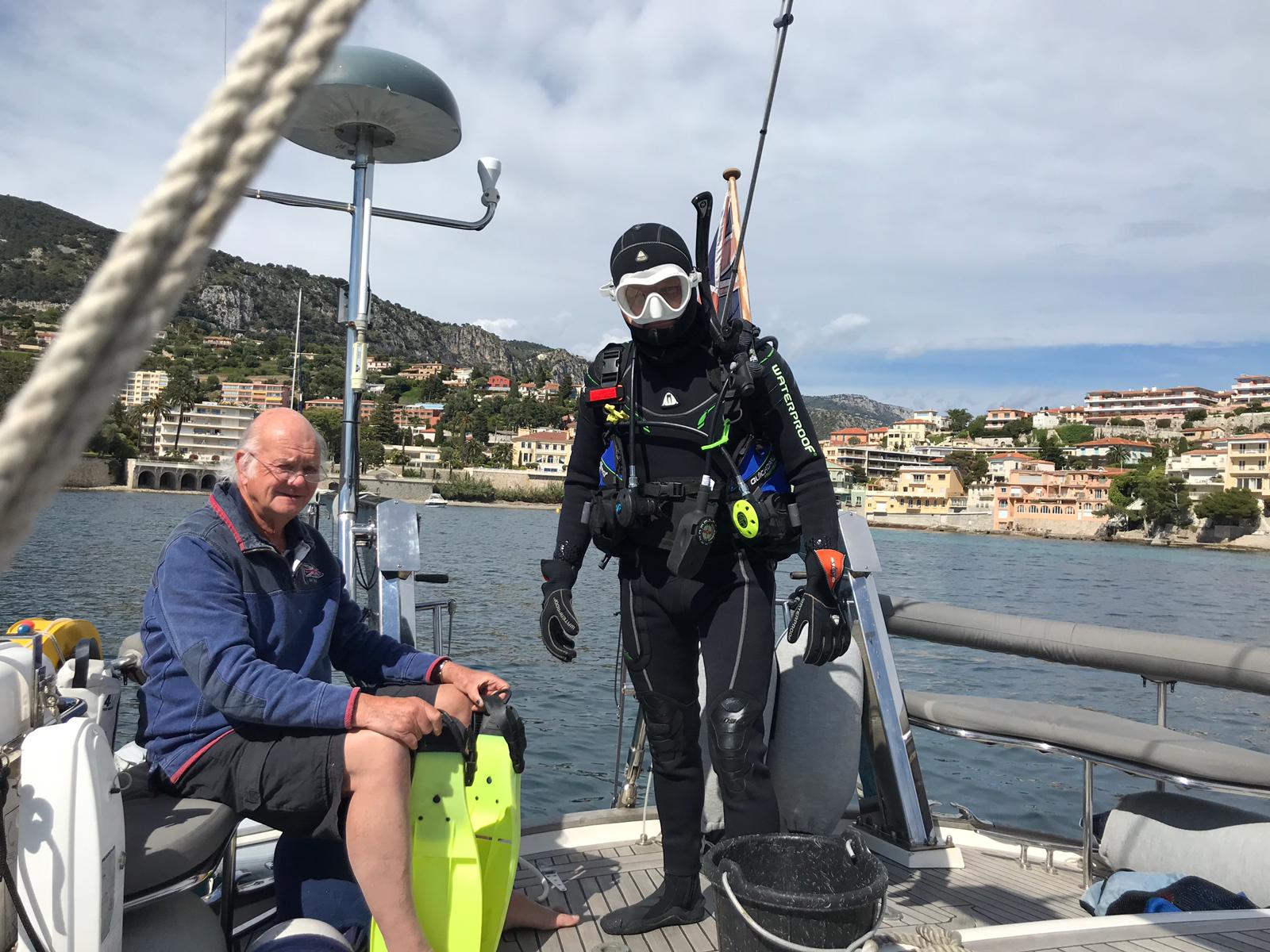 Villefranche at sunset



So the next morning on 7th May with Andy and Steph onboard and having had another early morning swim this time with the sun shining so it didn't take quite as long to warm up we motored out of the bay past a huge cruise liner. Although early in the season there do seem to be plenty of these around now. We motored out along the coast past Nice and headed for Cannes. Not that warm at sea and still snow on Les Alpes Maritime!





Plenty of snow!!




Cannes Marina proved to be very good and as a municipal marina much to our surprise was half the price of Port St Jean 65 euro. Very busy a helicopter on the end of the wall as you entered, a lot of Superyacht of varying large sizes and tents galore going up next week is the Cannes Film Festival. Couple of other British yachts by us too.

Not only was the marina good but we really enjoyed the old town of Cannes and lots of narrow streets we didn't venture into the glitzy bit though close by was the large Casino. We were also very fortunate to be actually able to visit a Superyacht as Steph and Andy know the skipper of one and she happened to be in port in another marina down the coast. Another world and fascinating to hear first hand of what is is like to be the skipper of a super yacht and hear about the owners. We also met the chef - she and the skipper have worked together on different yachts for 20 years and on this yacht as owners are vegetarian all the crew have to be vegetarian too!

So a couple of nights spent in Cannes a good explore , wonderful food market, several good meals on shore including Galette Complete for lunch one day.

We then set off on Wednesday 8th May heading west for St Tropez though for some reason they wouldn't guarantee us a Berth in the marina !! A very cold grey day but we did have a great sail after lunch having picked up a morning in a bay Rad D'Agay for lunch though someone did come out and tell us we were too big !!!! Our length is 16.05 m. We knew that max length for a visitors mooring was 16m.!! So we quickly finished our lunch and as we weren't that impressed with the place anyway happy to move on. The bay's claim to fame is where the Americans landed 20,000 troops in the Second World War in 1944.

So pretty cold and grey very un-Mediterranean like (or so we felt but it is still early in the season) but a good sail doing 8 knots at one point . After various phone calls we did establish we could get a berth in St Tropez so that was a relief. Coast line fairly built up with wooded hillsides though not too many high rises and we passed places like Frejus and St Raphael.

St Tropez is a delightful small place not the glitz we expected or the traffic compared with Cannes which was a pretty busy place as the road goes right round the harbour. Lovely sandy coloured building no high rise and yes the usual super yachts especially along the edge of the old harbour in front of the cafes and shops. Apparently though many of the houses which look old are in fact rebuilds as St Tropez was bombed by the Germans at the very end of the Second World War!

We've spent two days exploring - Artists selling their wares along the quayside, many shops - some lovely little boutiques all selling variety of clothes in any colour or style you want along with Dior, Chanel and Louis Vuitton. Definitely for the Superyacht crowd. But great streets to wander around and people watch, lots of cafes and restaurants, a citadel which we walked to giving great views, a large cemetery by the sea and further along little bays with beaches which I am sure in the summer are very full but we walked to one which was quiet and had a drink at a cafe there though 10euro for a Blonde St Tropez Beer might not be repeated!!

Our friends Steph and Andy left after lunch yesterday which unlike the previous day was sunny and out of the wind very warm but at times it was gusting 30 knots and in the morning the marina a hive of activity as people adjusted morning lines to make sure they were secure including ourselves. The Maranieres were out in their RIB going around all the boats helping people. We decided to stay in port one more night. The continuous noise of the wind I found very wearing and its also impossible to wear a hat. Walking around was funny because all the women we saw like myself were carrying them. However very good for drying the washing and we thankfully didn't lose any - the towels felt as if they had been in a tumble drier! This morning I have more out and thankfully less windy - thankfully it died down during the night so a peaceful sleep.

We are intending to head for a bay to anchor overnight later today and as wind due to increase again on Saturday we have booked into a marina in St Raphael so heading a little east again but thought it would be worth a visit as next week we shall definitely be heading west towards Marseille where we pick up Alex and family for half term week.

As the wi if on board is very weak I am going to have to send this from the Capitainerie when we go and pay our dues before heading out- so fingers crossed I can download some pictures and send .



Sent from my iPad
---