4th October: Cinque Terra

Mor Toad / Moy Toad
David and Jocelyn Fawcett
Fri 12 Oct 2018 06:11

>
> 44:08.45N
> 09:38.99E
>>
>>

>>
>>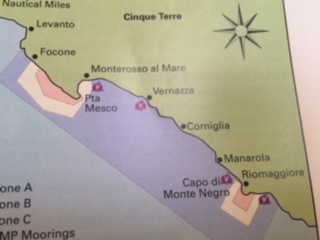 >>
>>
>> We left our overnight anchorage and motored back across the bay and round the islands heading for Vernazza where Steph and Andy who were on board had booked one of their favourite restaurants for a late lunch to celebrate their wedding anniversary.
>>
>> Cinque Terra as the name suggests is made up of 5 colourful villages clinging to the hillside and down to the sea mostly. Riamaggiore, Manarola, Corniglia. Vernazza and Monterosso. They are only accessible by sea or train or walking between them.
>>
>> We motored up the coast looking at these various villages hoping we would be able to anchor or even better find a buoy but late in the season and there was concern this might not be possible as we'd already visited places where the buoys has been removed 'end of season'
>>
>> A way we were in luck and there were several empty ones though no other yachts. David is always and understandably a little wary as to whether going to be safe anchorage or buoy and whether safe to leave the boat. But we did and called the water taxi to fetch us.
>>
>> Lovely little harbour surrounded by these colourful houses.
>>

>>
>>
>> Very busy with tourists who'd arrived by train, walked ( lots people with poles and knee braces on!) or on visiting tourist boats that ply up and down the coast. Lots of tourist shops gelateria cafes etc . The restIarant we went to was above the harbour with a good view and of the boat too so Mr F could keep his eye on it over lunch.
>>

>> Moy Toad visible :-)
>>
>> Excellent lunch and wine had by all followed by a walk further up the hill to another little restaurant that also sold lemonade but they'd run out so it was a refreshing orange juice . No time for further exploration as we needed to get back to the boat as it was felt not a good spot to stay overnight and we wanted to move the boat to hopefully another mooring or anchor in the bay outside Monterosso just up the coast and hopefully less swell. I
>>

>> Moy Toad to left of castle. View from cafe with orange juice. Restaurant was just below tower. Monterossa visible top right
>>
>> Again water taxi back to the boat and away we went. We found a large buoy to attach to and all was fine until in the middle is supper we were approached by two boats a fishing boat and a rib with a spotlight on and told we'd taken the fisherman's mooring and we needed to move!!
>>
>> No mean feat in the dark but we spotted another buoy the locals seemed to think it was ok and free and so we motored across and Andy managed to pick it up and we were soon attached and continued with our light supper. Early night for all concerned.
---