Heading further North

Mor Toad / Moy Toad
David and Jocelyn Fawcett
Mon 1 Oct 2018 18:00
Sunday morning (30/9) ( previous blog should have read Saturday!!) we left Pisa Marina and again a cloudless sky though a little more haze around. Once outside the harbour wall we were amazed to see at least a 100 little fishing boats bobbing around( are there any fish left?) . Quite a few yachts had headed out before us but local yachtsman enjoying a Sunday sail. So for a while it took quite a lot of concentration to avoid fishing boats and innumerable pots!

We sailed up the coast still very flat long sandy beaches with low shrub behind no habitation and we think it was a nature reserve .




As we headed further north the mountains we'd seen in the distance which looked as if they were snow covered became clearer. Quite stunning and a privilege to sail past. The coast was well inhabited and the beaches covered in parasols and bodies. Again lots of sailing boats out Sunday morning racing.



Marble mountains - Alpi Apuan - Carera Marble

We had a day of sailing and motor sailing but very relaxed watching the coast as we headed to our destination La Spezia .

We arrived around 4.00pm and it was chaotic entering the bay as Sunday Italians were returning home and they drive their speedboats line their cars for anyone who's driven in Italy. They were coming in all directions as were the yachts. Veritable Armada. We finally made our destination a bay with an anchorage on the west side La Grazie

44:04.067N
9:50.39E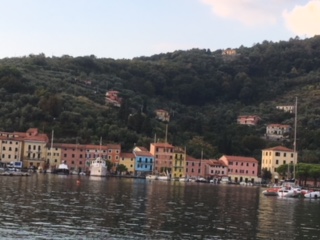 A lovely bay with quite a few boats st anchor, busy with yachts coming into the marina at one side , a colourful village at the end , a Naval establishment st the entrance and a church whose bells were quite vocal Sunday evening but fortunately quiet the rest of the time.

Downside last night a violent thunderstorm which did keep us awake but washed the boat!!
---