Siracusa to Marzamemi

Mor Toad / Moy Toad
David and Jocelyn Fawcett
Sun 15 Oct 2017 19:49

>
> 36:43.97N
> 15:07.25E
>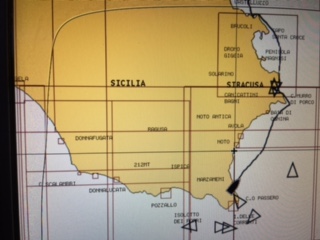 >
>

>
>

>
>
>
>
> Firstly I'll report that David and Andrews' efforts on sorting out the rear heads fingers crossed seems to have worked. It was an un pleasant job and we will get the marina in Marsala to have a good clean out of both holding tanks when the boat overwinters to hopefully avoid a reoccurrence !
>
> After our first night spent at anchor in the bay where we did roll rather badly for several hours in the night we then moved over to the town quay. David and Andrew had met another British boat when they'd gone across for a well earned drink and they had agreed they would be there to meet us at 9.30 am to help us onto the quay. Unlike other marinas there were no bow ropes so you had to put down your anchor a way off and then reverse in and throw lines onto the shore but it needed the help of people already there as no marina staff as such and with their help we managed. This was the first time we'd done this though we understand quite common in Greece and Turkey.

>
>
> Moy Toad to the left.

>
>

>
>
> Great sunsets too.
>

>
>
> Moy Toad on the right.
>
> So we spent two nights on the town quay and explored the city, walked out to the Greek Theatre - apparently the largest outside Greece and also Roman remains.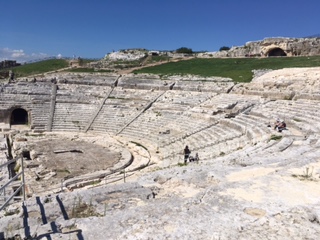 >
>
>

>
>
>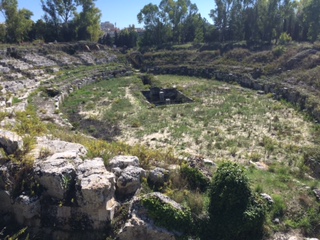 >
>
>
> Siracusa is a lovely city, lovely ambience, pale yellow stone ( limestone) which glows in the sun, some very elegant buildings and lots of pedestrianised narrow streets full of restaurants and different shops along with the usual tourist tac. Busy but not overwhelmingly so as it has been in other places and pretty traffic free in the centre - yes the odd moped around. Just a great place to wander around and soak up the atmosphere , wander into few churches and we went to two museums. One for Papyrus - apparently Sicily grows the greatest amount of Papyrus outside Egypt and Africa so that was interesting and then another museum on Leonardo da Vinci and Archimedes ( who devised many devices to defend the city against the Romans but was captured and killed by the Romans in Syracusa in 211 BC) and their drawings and inventions. We will have to admit we didn't make the archaeological museum this time??
>

>
>
>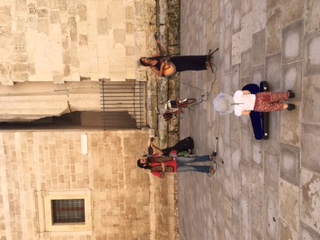 >
>
>

>
>
>

>
>
>

>
>

>
>
>
> Along from the town quay there was a little beach and I had several swims there but quite crowded actually on the beach but not that many people in the water 20deg. So warm by our standards. I enjoyed the swims.
>
> On our last night walking back from a pizza restaurant there was a brass band playing outside the Duomo. Wonderful.
>

>
>
>
> This morning having been woken up by the noise of a cruise ship coming in it was time to leave and head south.
>
> I will put more pictures and continue today's sail in the next blog as although we at last have working wi fi I do struggle to send out the pictures .
---