Stromboli

Mor Toad / Moy Toad
David and Jocelyn Fawcett
Sat 30 Sep 2017 14:31
38:47.96N
15:14.57E

After a swim and breakfast we set off from Panarea towards Stromboli motoring but the wind got up and we managed a sail for a couple of hours until we got in the Lee of the island which was great.


We were heading for a mooring buoy off the beach at Stromboli and these we found. We tried radioing for help/permission to use but to know avail. Very small buoys in fact fenders so earphones on ( being able communicate stern to bow is wonderful and helps 'harmony') . I attempted to pick one up but very small eye and nothing obvious to attach to . After several attempts with boat hook with everything bobbing around we decided eventually only way was to lassoo which I managed second attempt. David then jumped into the water to find the rope loop below the surface and we were finally securely attached. Certainly was a challenge and I was pleased to see a yacht with quite a number of men on board come in this morning and struggle. In fact they went off put two into a dinghy and they helped attach the boat to where we were. We'd had to move quite early this morning as there was no wind and we were almost on top of the boat next door so after watching for a while decided better to move ( it was a French boat and we'd met the guys and spoken to them previously in a different anchorage but there was no sign of life on board as we think they did the night time walk up Stromboli so were presumably having a well deserved lie in and were totally unaware of what was happening). This time we found a floating loop attached to a float which David managed to pick up so easier this time . Another boat in fact English - one of the very few we've seen on this trip with a young family on board were on this yesterday but we knew they left before dawn this morning to check out the 'fireworks' round the corner and then sail to mainland Italy where they were leaving the boat.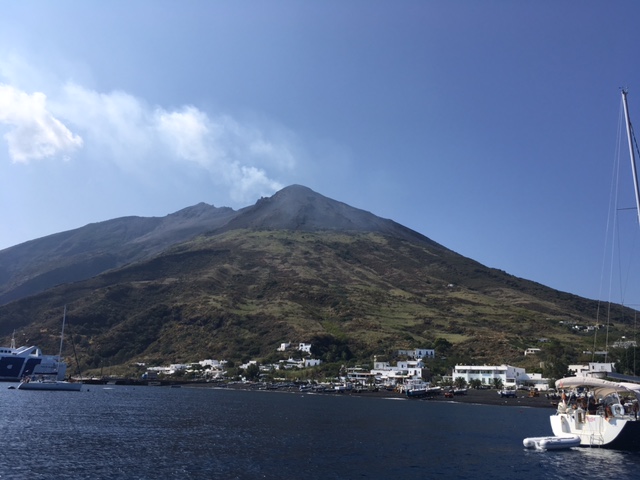 So an afternoons walk round the village, an ice cream and we booked on a boat to go round to the NE corner to hopefully see the 'fireworks' leaving at 7.00pm after our difficulty with picking up the mooring taking the yacht round and then returning in the dark to try and re attach seemed a challenge too far?!




Stromboli had been putting out quite a lot of smoke/steam all day but it's very much luck of the draw as to whether we would see anything.

Well we did - in amongst the smoke lava welled up you could see the glow and then it threw out 'fireworks' Difficult to describe very difficult to photograph but we certainly saw several lots of activity.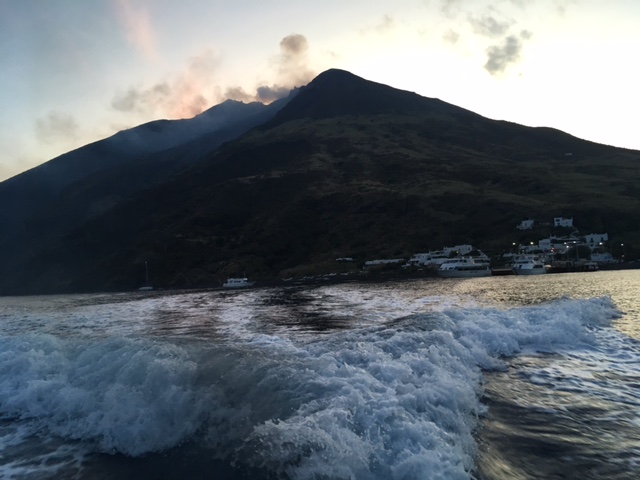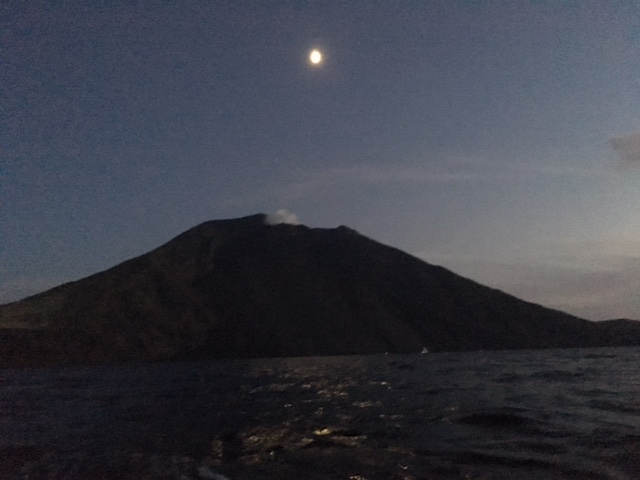 Moonlit night




So after an hour bobbing around and seeing several lots of 'fireworks' the boat returned to the harbour and we went for pizza and a glass of wine! Good end to the day. Then found our way back in the dark to the beach ( black sand) found the dinghy and got back to the boat not after a bit of a contratemps with a guy demanding money for the mooring as we'd just got off the beach with difficulty as waves breaking and he wanted us to go back and pay!! Yes we owed the money happy to pay ' come to the boat in the morning ' but he wouldn't so 50€ sort of got thrown at him !!

This morning beautiful sunrise, Stromboli doesn't appear to be smoking though wind might be taking it the other way, people already walking up to the summit ( slight regrets we didn't do the walk but we would have preferred a better mooring if leaving the boat all day and it would have taken some organising and we don't have walking boots with us - walking sandals yes but as the picture shows scree at the top )



View of the crater from NE side and where we were last night



Goodbye Stromboli heading for Lipari
---