Sanremo 15/10

Mor Toad / Moy Toad
David and Jocelyn Fawcett
Tue 16 Oct 2018 17:22
43:49.09N
7:47.53E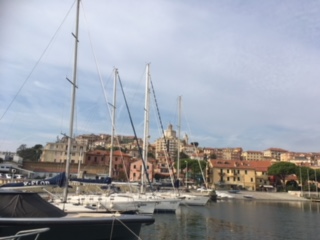 Yesterday we left Imperia around 10.30 and motored out of the harbour. Again full of super yachts and some very James Bond types gold and silver hulls in amongst many white and the odd dark blue ones. Another world and one just wonders how many of them go to sea how far and if so the Med must be very full in the height of summer.



Imperia west side and start of the walk we did.

We had a gentle sail 4-5 knots toward Sanremo just under the Jenny. No other boats out .

The scenery along the coast for the last week has been gentle green hills set back with the occasional hill village but the coastal plain now very built up still with the odd old village but a lot of new development. Some impressive viaducts along the way taking the motorway .




We were on the pontoon in Sanremo again a very large marina ( not our favourite) and the usual large numbers of big boats around 1'oclock and apart from tying up on the pontoon we had lunch of Tomato and Mozzarella Salad ( some really yummy buffalo mozzarella out here) before doing other jobs. Attaching electricity and putting the passarelle put so we could get onto the pontoon.

We then walked into Sanremo bit of a hike David had already hiked round to the marina office way over the other side . Lots of bikes and scooters parked on the pontoon belonging to people working on the various large motor boats. There was another marina we tried to get into nearer the old town but told 'too big'!

After a wander around town faded elegance in amongst the post war buildings and tourist shops. We did find the Casino and had a quick look inside but didn't seem that special and lots of slot machines!





Both quite tired so a quick meal at a restaurant on the quayside and an early night having watched a film we'd managed to download!

Today we hired bikes (we tried electric ones as David has been an advocate for a while and I have been very sceptical but maybe converted?) to do the cycle trail along the old railway line I'd mentioned in previous blog. We did a total of 26 miles going east to try and find the flower market but not really open and then west back through centre Sanremo and along the coast as far as it went. We then took to the road over a headland ( little scary with traffic) as we wanted to check the next marina which we have debated going to. Just as well small and very little space so idea abandoned. Been a good fun day and good exercise even with electric bikes . Excellent lunch stop at a little trattoria at end of bike trail however we did get rained on so just a little damp round the edges.






Tomorrow we head towards Nice and hope to have an anchorAge for a couple of nights before heading into the marina where we shall leave the boat for the winter.
---