6th October Rapallo

Mor Toad / Moy Toad
David and Jocelyn Fawcett
Fri 12 Oct 2018 06:18
44:19.98N
9:12.98E





Steph and Andy left today and were catching the train back to Pisa to fly home and we were heading further up the coast. The day was grey and wet and much colder.

Once David had returned from taking them ashore we got ready and motored out of the bay.

There is always something to see ashore and this time some impressive geology.





We motor sailed both feeling quite chilly ( not used to it!!) and dropped anchor in a place called Sestri Lavant for lunch. We needed soup but none on board so had hot oxo drink!

This place is famous for the tower (just visible on picture) on the headland where apparently Marconi conducted his early experiments with radio transmissions.





Again still quite a swell coming in so we upped anchor and continued to the bay with Portofino on the corner and Rapello and Santa Magharita at the head of the bay.

We elected to go into the marina at Santa Margharita but in the end anchored in the bay where there were several other yachts as it took sometime for the harbour master to respond so we gave up on the marina as the bay seemed quite calm.

That was the case although tripper boats came past to go on a pontoon close by but they did slow down so not too much wash.

Sunday morning turned out to be beautiful again and I had a swim round the boat listening to church bells and singing on the quayside. Another experience. We then had an explore of the town and harbour area before we took up the anchor and headed out to see if we could find somewhere else to anchor.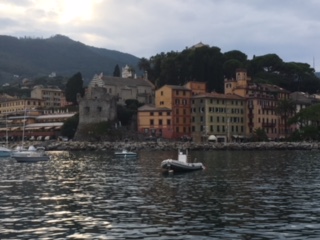 St Margherita and Moy Toad at anchor




David fancied a place out of the bay further up the coast a narrow inlet so we had a look but the sun had gone in and generally looked foreboding plus a swell going in and it wasn't obvious where to anchor but tad frustrating as looked interesting with a church and abbey st the end of a steep sided valley. Apparently a marine reserve and also if diving there is a 4m. high statue of Christ in the water.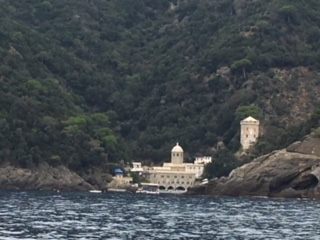 So having abandoned this idea we went back into the bay and found an anchorage just up from Portofino with lovely clear water and a back drop of some quite large Italian mansions on the hillside.

We had tried to see if we could get into Portofino on our way in the previous night but they seemed reluctant and gave various excuses and in any case €205 a night!! It is super yacht territory along with summer houses of the rich and famous




Sunrise on the hillside



Christine O apparently owned by Onassis many moons ago one can now charter!!



Cruise ship at anchor
---