Sailing

Mor Toad / Moy Toad
David and Jocelyn Fawcett
Mon 15 Sep 2014 20:56
37:06.61N
8:40.47W

Last nights anchorage worked well and this morning Jos swam round the boat 7 times and although the water temperature might have have been 24 deg. It didn't feel that much warmer than The Percuil this summer but still great to do. David dived to clear the water maker sea outlet and then having had breakfast we were ready.

We sailed out of the bay - no engine - wonderful. For once although the wind was still southerly we were going East. So 9-10 knots on the beam. For just over 2 hours a great sail just a shame we weren't going further East but our destination was Lagos.

This is a huge marina complex with all the facilities but as the weather meant to deteriorate (stronger southerly winds, thunder and rain) we might be here a few days. BBC weather forecast is showing some northerly in the wind early next week. So who knows.

We have a town to explore and ? further afield, washing to be done and victualling with fresh produce once we know when we can set off for the final leg to The Canaries by whichever route seems appropriate once the wind changes from southerly.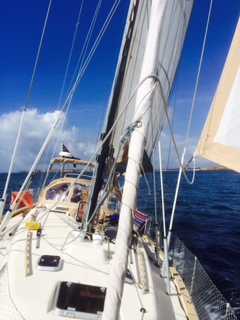 ---