Isola Capraia to Mainland Italy

Mor Toad / Moy Toad
David and Jocelyn Fawcett
Sat 29 Sep 2018 08:47
43:24.045N
10:25..00E






Yesterday's crossing couldn't have been more perfect . Cloudless skies incredible visibility we could see the Italian coast, Elba and Corsica behind the island we'd just left. We had to motor half way across but then the wind changed and we had a great sail 6-8 knots in pretty calm seas. My kind of sailing:-)






After nearly 6 hours at sea ( lunch was another tomato and mozzarella salad made earlier!) we arrived in Castiglionecello south of Livorno. Fortunately there was an anchorage tucked behind a headland which was covered in pine trees with a few interesting old and new buildings in the trees and on the shoreline.



Occasionally we could hear the trains but not intrusive and we couldn't see them .

We both had a swim water still 24.5 and then a small fishing boat came by ( private) and he asked in very good English ' where were we from and would we like a fish Dorado as a gift.?) So that was supper sorted although we did have other choices. It turned out he'd worked in the midlands for years although Italian . His boat was called Lola/o after his granddaughter!!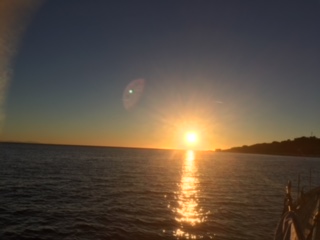 So our plan now is to head up the Italian coast finishing this seasons trip in Nice where we have a berth in a marina for the winter. We have friends joining us at the start of next week for a few days near Cinque Terra a place I've always wanted to visit . Tonight we intending to spend in a marina on the coast near Pisa.
---