Saturday 15th September - Corsica

Mor Toad / Moy Toad
David and Jocelyn Fawcett
Sun 16 Sep 2018 15:48
Moy Toad set sail or ? motored to Bonefacio yesterday morning and arrived around lunchtime .

4:23.29N
9:09.76E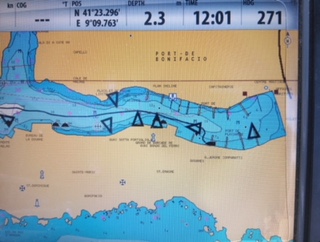 At the same time I left Basel and caught the train to Zurich airport and managed to catch up with the blog owing to a delayed flight to Figari in Corsica . I eventually landed in Corsica two hours late after a long queue for passport control retrieved my bag quite quickly and got a taxi and joined the men on board Moy Toad in Corsica.

Before I left Basel I swam/floated down the Rhine with my friends - certainly a different experience and a good view of the town as we floated past. You enter the river at one bridge and you can buy these special bags to put your clothes in and inflate to aid buoyancy. The night I arrived there must have been at least a dozen swimmers in .




Over the summer months it is a popular activity in Basel and one day during the summer they close the river to all traffic ( some big barges and pleasure boats go up and down normally) and apparently 1000's of people go in and it's quite a colourful spectacle as everyone has different coloured Wikelfisch as these bags are called).



There were only the 3 of us in the water that morning at 7.45am!! You can officially go 4 bridges down river but we did just two ( about 2km.) and were actually quite chilly by the end. After several cups of coffee we then caught the tram back to the flat which is near the start.

Photographs to follow as internet in Bonefacio not good!











Sent from my iPad
---