Filicudi

Mor Toad / Moy Toad
David and Jocelyn Fawcett
Mon 25 Sep 2017 19:28
38:33.66N
14:35.00E

Halfway across from Cefalu we hit a rainstorm but not a squall. We had watched the storm go across the islands we were heading for but hoped we'd miss it. In fact we just caught the back edge so not too bad. Unfortunately not really enough wind to sail across.
It was great seeing the islands appear not only those we were heading for but all the others to the east including Stromboli.



We arrived at this island around 2pm and were able to pick up a mooring buoy. Only 2 other yachts here but now this evening 8 of us and a couple more yachts have come in later and anchored.

After lunch we went ashore and walked up a very very steep cobbled path from the quay ( several ferries of different sizes have come in and out during the afternoon) . We were intending to walk over to the village on the south of the island another bay you can moor in but we decided against it as too exposed ( although when we walked over there were 2 yachts there. Good exercise and good views.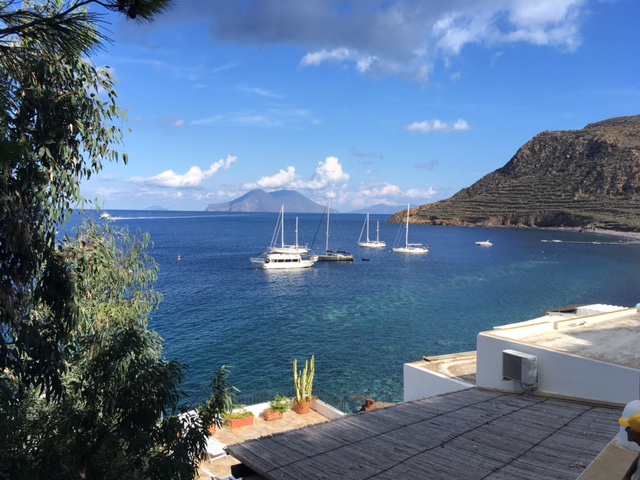 Back onboard having checked out the shops on the quay and bought tomatoes and a peach David cooked spaghetti bolognase and I went for a swim round the boat. We then went to visit another boat having been invited for drinks as David had helped them attach themselves to a buoy as they didn't have the cunning system we have and there was no one in the harbour to help.

Well you just never know who you meet sailing but an interesting hour plus spent with 2 Dutch journalists who have been based in Moscow for 25 years!!!

Tomorrow another island
---