3 anchorages

Mor Toad / Moy Toad
David and Jocelyn Fawcett
Wed 16 May 2018 18:39

>
> 41:11.06N 9:27.94E
>

>
> Today's exploration and tonight's an

>
> A peaceful night, dull start to the day with the wind getting up again however i did brave 6 times round the boat 14.5 and slightly choppy did take a while to warm up!!
>
> After breakfast of scrambled egg and smoked salmon we motored out of Cala Spalmatore ( last blog i called it Cala Lunga not sure why that's on another island !!) in the north east corner of Isola Maddelena and motored north to another island Isola Budelli and entered a bay through Deadmans Reef Passage!
>
> Today although the wind is still chilly it was 15 knots compared with 25 yesterday. The sun has tried today but we've had rain too.
>
> We anchored in a lovely bay and with more yachts there than we've seen anywhere and 2 tripper boats.

>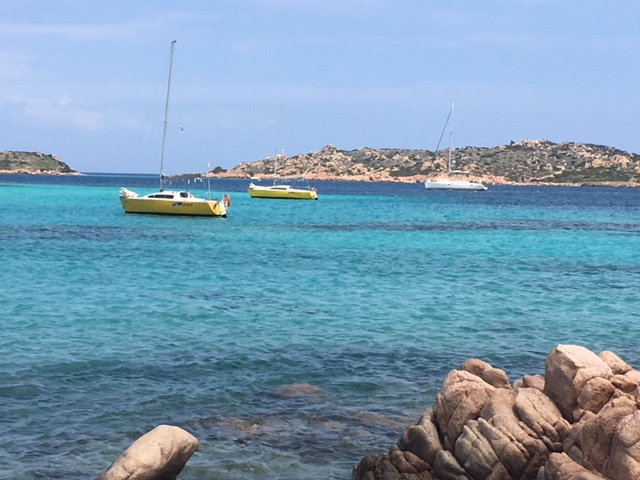 >
>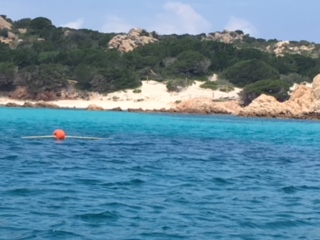 >
> The 'pink beach '!
>
> We dinghied ashore to try and walk over to 'Pink Beach' . No footpath so we went in the dinghy - it didn't look that pink it is buoyed off and all access forbidden including swimming. Disappointment. Lunch on board then we headed south back toward Isola Maddelena and then sailed down the west side of Isola Caprera which is attached to Maddelena by a causeway at the southern end so in a yacht you cannot go between these islands!
>

>
>
> The scenery is all granite rock boulders and scrub as far as you can see. Very little habitation.
>
> We stopped of in Cala Cotticio - according to the book 'a very popular day anchorage in summer for the 'Riva' set and can be crowded'

>

>
>
> Again surrounded by large granite boulders but we stopped only long enough for a cup of tea as we decided to head further south to where we are now Cala Portese at the southern end. 3 yachts here all British flying red, white and blue ensigns. that doesn't happen very often !
>

>
> Red and White ensigns.

>
> The unopen beach bar!
>
> The wind has died the sun did try but not for long but a peaceful anchorage glass of rose wine and The skipper is cooking Spaghetti Bolognaise for supper.
>
> Tomorrow we head south back to the mainland heading for a marina as the crew leave at crack of dawn on Friday to fly back to the U.K.
---