Marina Portisco to I. Tavorala

Mor Toad / Moy Toad
David and Jocelyn Fawcett
Fri 18 May 2018 20:25
40:53.54N
9:40.87E






Our track is beginning to look like knitting and will most probably become more so over the next few weeks!

The crew we believe left at 5.00am I didn't hear them! We had a leisurely start to the day . We walked over the hill to Portisco beach partly to see what it was like and secondly the crew who'd walked over their yesterday evening said there were a couple of beach cafes. Yes but both closed so no breakfast there! Nice beach though and very convenient for the marina.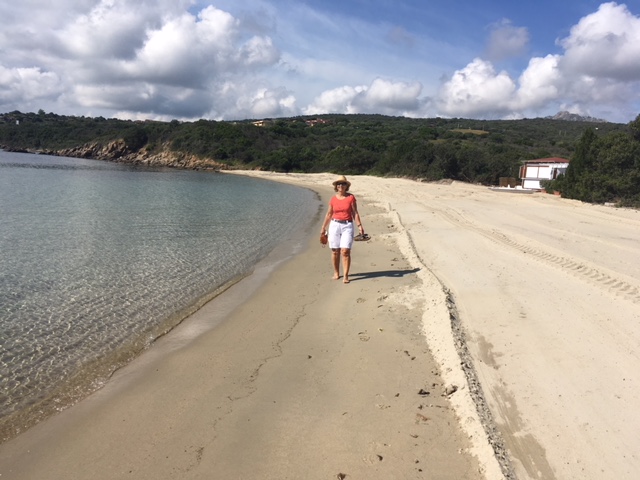 So back to the marina where we did find breakfast. we also checked out the supermarket bought ourselves a few things but will have to go back to buy more supplies for the incoming crew on Sunday morning .



Somebody has had fun painting these in the marina!

We'd set one load of washing going whilst we were away and when we got back David washed the outside of the boat and refilled the water tanks. We were then ready to set off.

Weather definitely improved warmer but now 'no wind!' The joys of sailing! We decided we'd go to this anchorage on Isola Tavolara which we'd seen on our way north earlier in the week. Motored all the way a couple of hours saw some dolphins in the distance. Lots of rock around!



Stunning. Few other yachts here too but certainly not crowded. Few day tripper boats and ribs that have now left early evening very peaceful.

We had a walk ashore - think this beach pinker than the one we weren't allowed on in The Maddelenas? couple of beach bars and restaurant ashore open but 'no ice creams' and we really fancied one. The gelateria in the marina wasn't open yet for business yesterday!! Definite ice cream deprivation :-(

Few houses on the spit ? holiday homes and also preparation going on for a wedding tomorrow the ferry decked out with white ribbon and bows too.



So a warm evening in the cockpit with a G and T watching the sun go down. At last !

---