Sciacca West

Mor Toad / Moy Toad
David and Jocelyn Fawcett
Fri 3 Nov 2017 19:07
37:38.82N
12:35.1E





After our later start today we motored west but unlike yesterday's turquoise calm sea a swell had developed from the south totally unexpected not a lot but enough to make the boat rock. Very little wind 8-9knots so a little help from having the mainsail up. We pottered down the coast very different from yesterday once past Sciacca low grassy hills and few houses and beaches. Our intention was to anchor near the first harbour we came across by a beach and spend the rest of the day and night there but not to be. We anchored and had lunch but not really tenable because of the swell, secondly if we were going to take a walk along the beach David would be happier having checked the anchor - water now only 15!!!!!! Also the water wasn't that clear either so we decided to carry on. To where we are now Mazaro de Vallo . However the coast we have sailed along today until we rounded the corner I would say had some of the best wildest beaches we've seen on the whole trip. How often you can anchor along them is another matter.




On the way we past the Greek temples of Selinunte right on the cliff edge. Unfortunately we were some distance out so the photographs don't do them justice. Maybe you can scroll in. Apparently this sight is as impressive as the one at Agrigento. We had been told by some people we met earlier on in the season that you could anchor underneath them and go ashore. Today with the swell would not have been one of them but would have been a great thing to do!!





So we rounded the SW corner of Sicily still motor sailing but with the revs on the engine going up and down quite a bit ( ? Due to David fiddling with the fuel system yesterday - we had a red light!) so a little concerning - perhaps just as well only one more day to go.

The corner.


This bit of the coastline was still low lying but houses all the way along - not high density but just a ribbon along the shore.

David tried to radio the harbour but no reply - apparently a big trawler port .( home to a lot of Tunisians ) We motored slowly in and got near the pontoons and two guys showed us an empty space at the end of one so we started reversing and all of a sudden a guy comes racing up on his bike and said 'no space no space ' and a stream of Italian. Then chat about our length and draft and the man on the bike said 'not enough sea - no space '. So we turned round debated whether we could get to Marsala but it would be dark and ? The engine playing up so we are at anchor outside the harbour but inside a long mole which hopefully will keep the swell to a minimum. So we are at anchor on our last night which is what we wanted though perhaps in not the most attractive spot but it is relatively calm and certainly quiet although close to the town and another good sunset and then the full moon rising - orange yellow but the picture doesn't do it justice.


The only space on the pontoon that we were trying to reverse into was apparently this chap's space. He's the only yacht out we've seen for several days. Defintely the end of the season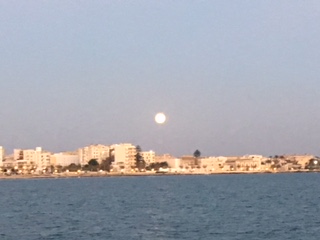 So the last night before heading to Marsala where we shall sort ourselves out and the boat . She will come out here and stay on the hard over the winter . Few jobs to be done before we return next May. A quote I saw on an Australian yacht in one port - ' no plans just options' . So who knows for next year?

There are gaps in the blog on places we have visited and I hope to fill those in - working wi- fi would help and hopefully a bit of time in the next few days whilst clearing up and sorting out.






Sent from my iPad
---