Sailing up the Italian coast

Mor Toad / Moy Toad
David and Jocelyn Fawcett
Mon 1 Oct 2018 17:29

43:40.705N
10:16.31E






Sunday 30/9 after a good nights sleep (the anchorage remained calm) a swim and then breakfast we left Castigliocello and sailed north up the coast heading for Pisa Marina. On the coast at the mouth of the river Arno which runs down from Pisa.

The first half of the journey was a good sail up the coast following the gentle tree lined hills with some interesting bridges and some good mansions in the trees. Rocky shoreline but Italians do seem to manage to sun bathe on the hardest of ground ( we've noticed this before on several of the Italian Islands we've visited!).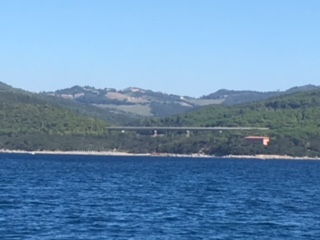 The hills all of a sudden came to an end just before Livorno and we were onto the flood plains and shallow water at sea ( colour changed from the normal dark blue to a greenish colour hard to photograph but very noticeable) .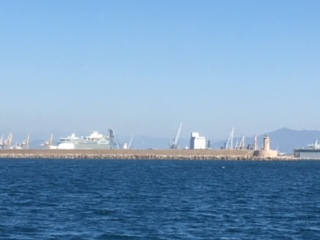 Lots boats out and about and fishing seems to be a local pastime lots of little boats bobbing at anchor.

Passing Livorno a busy ferryport and shipyard it reminded us very much of Portsmouth on a good day.

We continued sailing up the coast lots of people out on the beaches enjoying their Sunday . The whole area very flat- no hills visible other than the marble mountains in the distance well beyond where we were heading.

Pisa Marina was right on the corner of the town on the sea front and the river. Narrow entrance but once inside quite a large marina with a very helpful Maraniera. Unfortunately cross wind blowing so we made a bit of a 'pigs ear' getting onto the pontoon and I definitely need to go back to rope throwing classes - last year I was very good not sure what's gone wrong this year but still a few weeks to go and practice!!

Once tied up and after the statuary cup of tea we headed into town for a walk. Fascinating sea front part of the beach was behind a man made rocky sea defence!!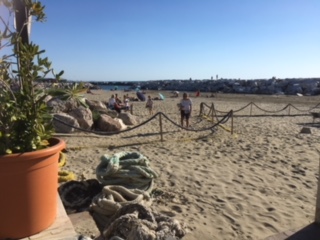 The fascinating thing on the walk were the fishing huts and nets on the river defence walls. Looked like something from the Far East or India not Italy.





So the end of another day cloudless skies good sailing and another interesting and different place to be
---