10th October

Mor Toad / Moy Toad
David and Jocelyn Fawcett
Tue 5 Nov 2019 14:42
There is never a quiet moment on a boat and always jobs to do!!!

David took the anchor up this morning whilst I steered the boat and he managed to jam the anchor by not moving the chain away from the gear box as it comes up and heaps up in the locker!! His comment in the log is "Anchor winch broken- careless"

We did have a good 1.5 hours sail under Jenny from Cala Longa to the main port

Our next port of call was to be Ibiza port itself which was just as well under the circumstances. We much prefer anchoring and it is a large anchor and heavy chain to pull by hand so we hoped that something could be done to sort.

After a bit of negotiation over the phone we managed to get a berth in the old port Ibiza Magna below the old town. The port has several marinas and is indeed a very busy port with ferries and cruise ships.

38:54.68N
1:26.17E




After lunch David headed off to the Maraniere's office to register us and also to see where we could get some help to sort the anchor winch. Fortunately they were very helpful in there and told him to go to a chandlery not far away where they thought someone could help. That was indeed the case and two men came out to the boat late afternoon and sadly it was not going to be an easy solution . David had thought it might be a broken pin but no it was the gear box that had failed!!!

The next morning David went to see them and the guy thought having rung Lewmar in Barcelona that we would need a new unit - expensive!!! The problem is ours was a obsolete model - the original winch and a new one wasn't quite the same - new holes would have to be drilled. In the event and we were so lucky they had an old version in BArcelona half the price. So this was Friday morning they thought they could get it for us on Monday morning. Fingers crossed.

As it was the weekend and we wanted to go out to Formentera island and D was sure he could get the anchor down and up by hand that was were we set sail for.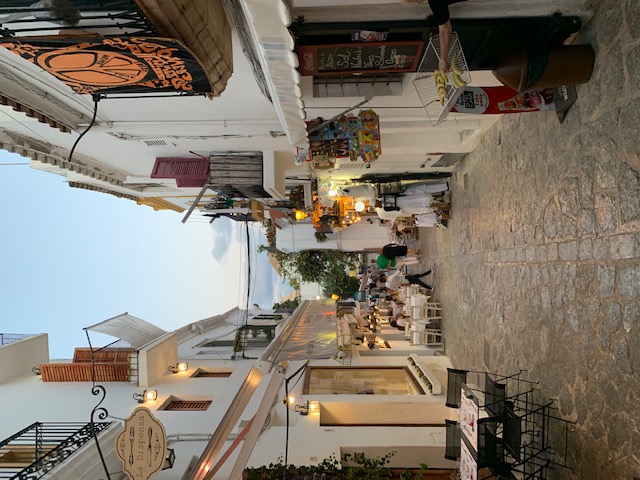 WE spent the evening once we thought the anchor problem had been sorted exploring a bit of the old town and having a nice meal.







Sent from my iPad
---