The Maddelena Islands

Mor Toad / Moy Toad
David and Jocelyn Fawcett
Tue 15 May 2018 19:05
41:12.40N
9:23.87E




The chilly wind still blowing but the sun keeps trying but getting little fed up with this weather but it is due to change for the better!

First thing today we all walked round to where the village and Prada etc etc are. Quite attractive no one around and only few shops open but interesting to see . Sure in the height of summer would be very chaotic but sure the 'people watching' would be interesting. This morning just a few straggly tourists in rainwear including us!! We did notice a cruise ship at anchor as we came out of Porto Cervo. So a damp walk there - breakfast of palma ham and melon and coffee and a walk back in sunshine.

As mentioned yesterday marina fee €140 which we think is steep - well apparently in August goes up to €400 plus when the rich and famous arrive!!!

Late morning we left the marina and headed for the main port in the Isola Maddelena as we need to get a cruising permit. Well a chaotic entry mixture of very strong wind, crew not sure what to do and the local maraniera also wanting something different - a bow line to attach us to a large buoy before being attached to the pontoon at the stern. Finally all sorted and a well deserved lunch - goats cheese and walnut salad with honey mustard dressing. Went down well!!

Main port very busy lots ferries and traffic and we were on pontoon free 2 hours to sort ourselves out. we needed to get a permit to sail the islands!! it took the full 2 hours plus as no one seemed to know where to go we had several false starts but eventually found the right place. Then took forever with form filling and the fact one card machine didn't work!! We were given a calendar for our patience!! Some great pictures we need to find the anchorages. We bought a permit for a month as we will be back here later in the month and early June. We couldn't face going through that hassle again. The crew went off for a walk and got some good pictures (need to get them). We all succumbed to an ice cream!!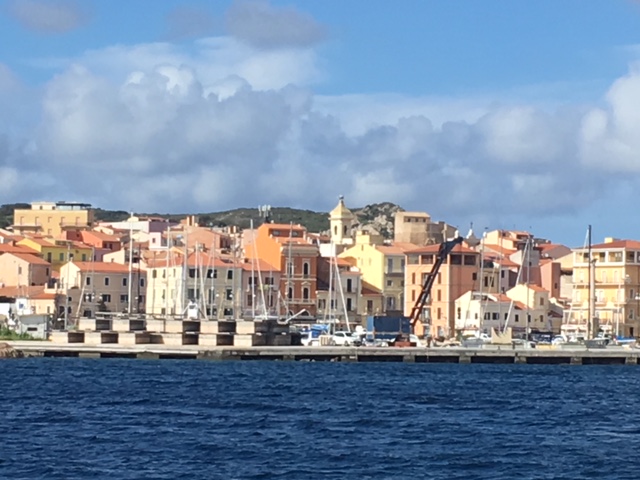 Back on the boat finally by 4.30 well over our 2 hour free stay we then left and motored and sailed round the west end of the island round the top into a sheltered anchorage Cala Lunga. Only yacht here wind still blowing but seems like calm anchorage fingers x'd for a good nights sleep and a swim in the morning but water 14.6!!

Some impressive granite boulders ashore in this anchorage and we sailed past some very spiky rocks.




The family quote is 'we don't do holidays just experiences and destinations'

This trip is definitely fitting into that pattern!
---